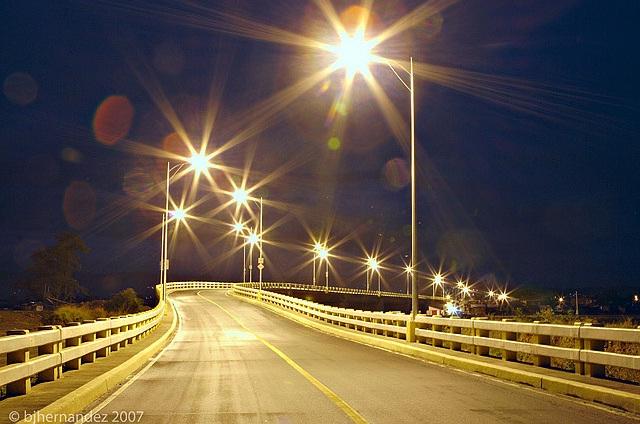 The Gil Fernando Bridge, more popularly known as Tumana Bridge, serves to connect the two busy cities of Quezon at Barangay Balara and Marikina at Barangay Tumana. On August 2009, the Philippine House of Representatives released its new name, Gil Fernando Bridge, under R.A 9684.
The bridge, which had already shown signs of age and wear and tear, had undergone improvements and renovations because of its relatively low elevation. Particularly during the rainy season, or when there is a sudden downpour, the bridge became impassable as a result of the rising water levels from the river. From its beginnings as a low, simple bridge, it has been elevated as a flyover that traverses Quezon City and Marikina City.
This newly constructed bridge has cost about P130 million. The renewed 175-meter Tumana Bridge has become a solution to traffic problems particularly during rainy season and travel from two cities has become a lot more manageable, cutting almost half an hour from the travel time between the two busy cities.
Strict security is implemented in the area as is discipline. Bicycles, pedicabs, and heavy trucks are not allowed to pass through the bridge. The bridge even prohibits pedestrians.
Upon traveling through the bridge, a panoramic view of rivers and fields are featured. Motorists will surely feel relief and some measure of enjoyment as they traverse the bridge because of the view.
Accommodations
Marikina Hotel - Pio Del Pilar St. cor. Tangerine St., Brgy. Concepcion II, Marikina City Philippines

La Trinidad Pension House

Family Lodging House - 31 Liamzon St., Brgy. San Roque

Family Lodging House - 31 Liamzon St., Brgy. San Roque

Villa Ronar Garden Resort & Hotel - 112 Dao corner Champaca St., Marikina Heights, Marikina City

RELC - Dormitory

MIST-TESDA
Getting around
Currently, elevated light rail systems run through Marikina City. The first or last station of LRT 2 is Santolan located along Marcos Highway. The station connects to Claro M. Recto Avenue in Manila.
Public transportation within the city, like in most of the urban areas in the Philippines, is facilitated mostly using inexpensive jeepneys and buses. Tricycles (motorbikes with an attached two seater carriage) are the usual transportation used for short distances, while Taxi cabs are used by the upper middle class. The roads are organized around a set of long narrow and circumferential roads that radiate and circle in and around the city.
Rating:
0 people rated this.