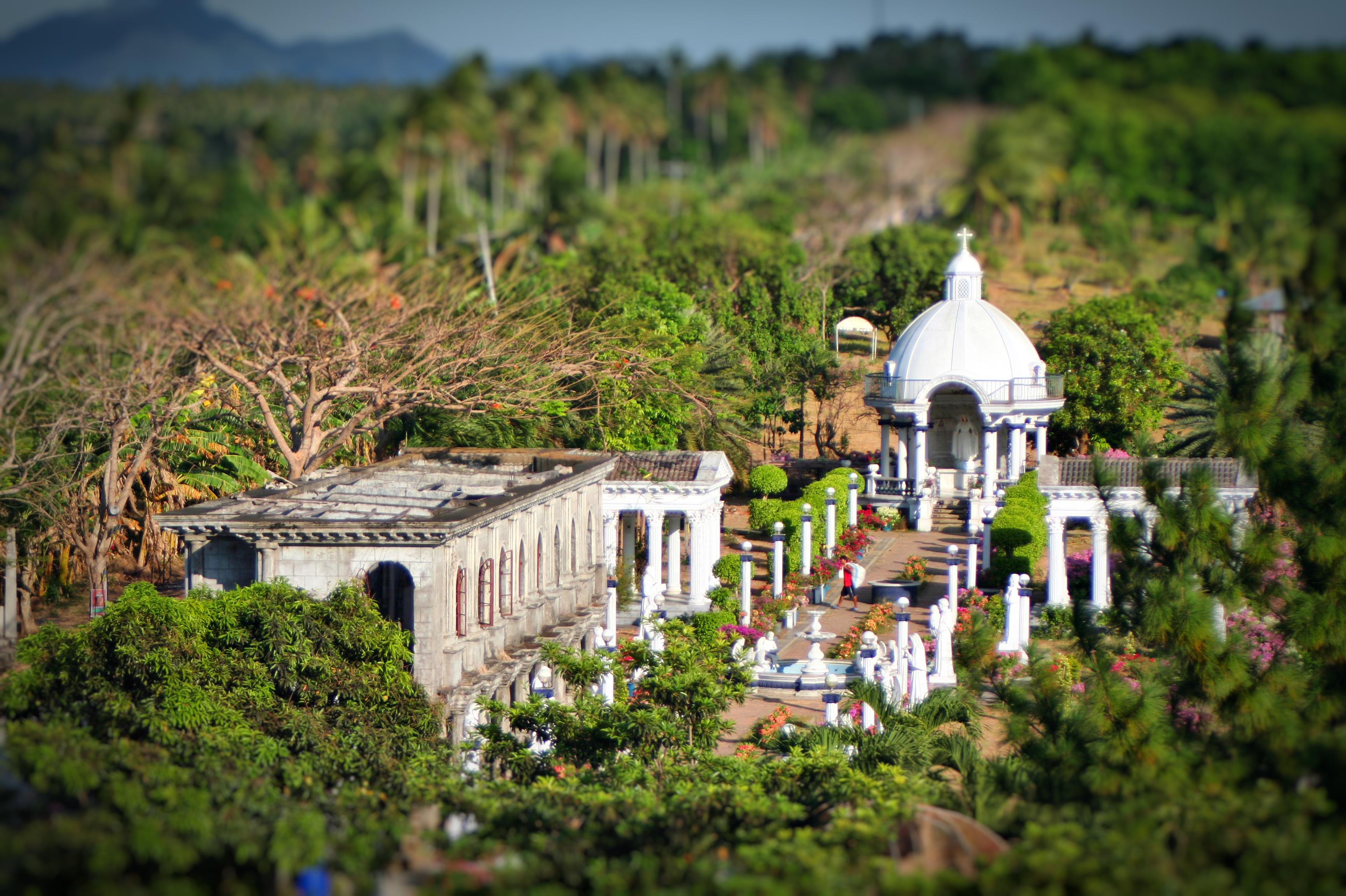 Overview
Marian Orchard is a haven of artistry that provides either the casual adventurer or devout pilgrim with tranquility and peace of mind amidst the natural beauty of the province of Batangas. Located in Brgy. Malabanan, Balete, Batangas, the orchard is run by the Cristopolis Foundation Inc. Before you reach Balete town proper, you are sure to pass by this orchard. This place is just a twenty-minute drive from Lipa City San Sebastian Cathedral.
The Marian Orchard started out as anything but an orchard, according to Larry Katigbak, whose family owns the land on which it is built. The scenery at Marian Orchard were inspired by the beauty of religious shrines in Italy and other European countries.
One of the highlights in this orchard is the Sacred Heart Tower, which is a replica of Brazil's Christ the Redeemer. When you climb on the tower, you can get a view of Taal Volcano. Anyone can enjoy the various attractions in this place, especially during the Holy week. At the top of the list is the Stations of the Cross–a winding trail that also features prayer sheds for the faithful. Located within the same area is the so-called Meditation Garden—a three hectare site that easily reminds one of Baguio's scenery because of the towering pine trees that were planted in the area. Here, concrete benches are provided for those who seek serenity and privacy amidst the scent of pines.
Another notable area is the Plaza of Apostles which ultimately ends at the steps of the domed chapel of Our Lady of Mediatrix. It is lined with statuary of angels and saints, bordered by manicured lawns and flower beds.
Accommodations
Guests can stay in any of the numerous comfortable hotels in the Batangas Province.
Cintai - Coritos Garden Hotel
Location : Balete Road, Lipa, Batangas, Batangas, Philippines
Hacienda Darasa Garden Resort Hotel
Location : 791 President Laurel Highway, Darasa, Tanauan City, Tanauan, Batangas, Philippines
Location : Kilometer 84 President J.P. Laurel Hi-way, Pilahan, Lipa City, Batangas, Philippines
Location : National Highway, Lipa City, Batangas, Batangas, Philippines
Location : Malvar, Tanauan, Batangas, Philippines
How to get there
Tourists can ride a bus to Batangas then get off at Tambo/Lipa exit (CALABARZON) where one can ride a jeep going to Levi Town. From there and at the corner one can ride a jeep or tricycle going to Marian Orchard.
From Manila, you can ride on a bus going to Lipa then drop off to Levi Town then turn the corner to Balete where you can ride a jeep or tricycle going to Marian orchard.
Rating:
0 people rated this.