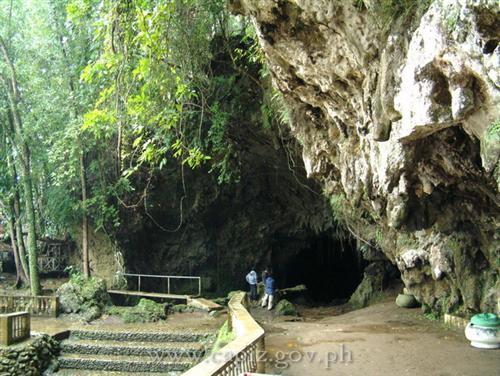 Capiz is a province noted for ancient churches, historical sites, wide beaches, isolated coves, white sand and cultural events, but Capiz also boasts of truly amazing caves that have left explorers in awe at these mysterious creation of the elements, definitely something to look forward to during any trip to this beautiful province.

Spelunking, or cave exploration, is a challenging and pleasurable activity to be had in the many caves in the province, giving delight to explorers and spelunkers. Getting into these nature-built dungeons, seeing the wonders that were hidden for centuries creates a grand feeling of fulfillment as one views the grandeur of the chambers as big as the present-day cathedrals. Flaked tools and fossilized bones of Stone Age man were recovered in some archeological caves.
Quipot Cave, Brgy. Burias, Mambusao
A thirty minute ride over rough road, from Mambusao Agricultural and Technical College or around 9 kilometers from the town proper; has many chambers some of which are as big as hotel ballrooms with plenty of stalactites and stalagmites.
One and a half kilometers from the poblacion of jeepneys, tricycles and cars over rough roads; one and a half kilometers with chambers of varying sizes; different plants and orchids hang from the cliffs.
Situated in Dumalag, Capiz; 300 meters away.
Igang Maayon, Tapulang, Maayon
A limestone cave; around 7 kilometers away from the poblacion; 15 minutes ride by car or jeepney.
Has multi-layered chambers in its vast interior.
These are just a few of the better-known caves, but the province of Capiz invites you to come and discover many more of these wonders of nature.

Where to Stay
Here is a list of hotels and inns for your stay in the province:
San Antonio Beach Resort -

Brgy. Baybay Roxas City
MVW Restaurant and Tourist Inn -

Roxas Ave. Roxas City
Roxas President's Inn -

Rizal Cor. Lopez Jaena St.
Baia Norte Beach Club -

Baybay Beach, Roxas City
Roxas Midtown Hotel -

NSF Bldg. Burgos Cor. San Jose Sts.
Urban Manor Hotel -

Pueblo de Panay, Lawaan, Roxas City
Where to Dine
Here is a list of some of the restaurants, bars and cafes located in the city:
Jo's Inato Kamayan Sa Ilog Restaurant -

Washington St. Roxas City
Coco Veranda Bar & Restaurant -

Lawis Baybay, Roxas City
Pizza Junction -

Rizal St, Roxas City
Cake Eatcetera -

Legaspi St. Roxas City
Arashi Bar & Restaurant -

Lawis Baybay Roxas City
Acc Coffee & Crepes -

Osmeña St. Roxas City
Café 1927 -

P.Gomez St. Roxas City
Accessibility
Travel time to Roxas City is 45 minutes by plane and around 16 hours by ship from Manila. From Iloilo City, it is approximately 2 hours by bus or private car. It will take approximately 4 hours of travel going to Boracay Island by land. There are two airlines operating in Roxas City (RXS): Philippine Airlines (PAL) and Cebu Pacific have a daily scheduled flight from Roxas-Manila and Manila-Roxas. There is one passenger ship operating in Culasi Port, Roxas city, Capiz: Moreta Shipping Lines' M/V Love 1, which embarks for Capiz twice a week. There are also ferry boats that travel from Romblon and Masbate and also Roll-on Roll-off (ro-ro) buses that cross through Capiz.

Capiz is part of the Strong Republic Nautical Highway, which is a major tourism gateway in Western Visayas. Roll On-Roll Off (Ro-Ro) buses are operating to fetch passengers from Roxas City to Manila (Cubao or Pasay) via Catiklan, Aklan-Mindoro-Batangas-Manila.

Jeepneys and tricycles are the primary modes of transportation from one municipality to another. There is the "Capiz Cab", the city's new taxi that plies the streets of Capiz.
Rating:
0 people rated this.