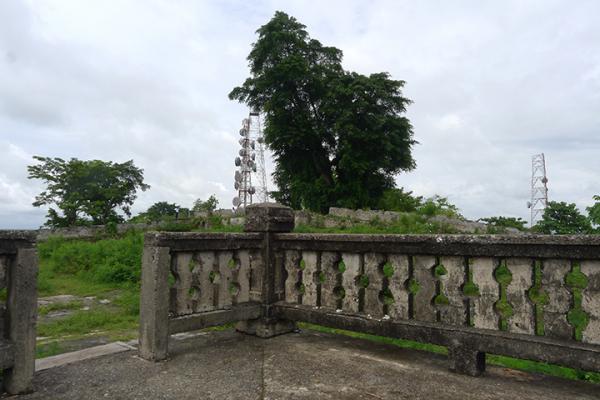 Fort Pikit is one of the remnants of an old spanish fort in Mindanao, which is located in the municipality of Pikit in the province of North Cotabato.
The municipality of Pikit is a major producer of corn and coconut and freshwater fish. The coconut meat or copra is made from mature coconut nuts. Copra is the major raw material used in productions of cooking oil and other coconut based products. The name "Pikit" was given to the place by the Spaniards. Before, it was called "Malasquit" because it was situated within the shadows of hills located near the town.
Fort Pikit was built by the Spanish military in 1893 to consolidate its hold on Cotabato and the Pulangi River that runs through it. Made of rubble, the walls and the plain bastions are in place while some ruined structures are found inside. It was made into a public park but had been abandoned in 1970's due to the conflict in Mindanao. The fortification was cleared of vegetation in the 1990s, but was somehow neglected again. It was designed as a bastioned fort but adapted to 19th century armament; the design was similar to Regina Regente in Dulawan, which is near the place. Citing the repot of Gen. Julian Gonzales Parrado, Aguilar Nieto describes Fort Pikit as follows:
"Pikit. On the right bank of the river and 34 miles from Regina Regent we find this fort. The perimeter is surrounded by a rubble wall 38 meters per side, two corner towers on a diagonal to each other, and two batteries at the remaining corners. Inside the perimeter is a quarter of two floors, made of wood and covered with a metal roof, an infirmary of tabique pampango and roofed with zinc. Central command, quarters for the artillerymen, workshops—all covered with nipa and wood. A powder magazine of rubble and an armored roof. Total personnel: one officer and 60 members of the infantry and 6 of the artillery.
For better control and dominion of the era, the establishment of a fort 46 miles upstream of Pikit, where ends the influence of the Malayan Muslims of Mindanao and where begins the settlement Montesa de Misamis (Bukidnon) is under study. To this garrison must be assigned one officer, 60 soldiers and 6 artillerymen."

This fort can still be visited today and you can still climb the bastion overlooking the area, although the place is now thick with vegetation. You can see lots of coconut tree and hectares of farm planted with corn.
This is a remnant of the history of Mindanao. Our brothers in that area have been suffering the aftermath of too much conflict and clash of power. Wars have always been dark chapters in our country's history and even though we're all moving on from these sad events, rubbles like the Pikit Fort are silent reminders of what we've gone through in the past. It is a lonely reminiscence, yes, but just the thought of our country's condition today – that we are free and continuously progressing – ought to put us in a festive mood again.
Time heals all wounds, anyway.
How to get there
By air, Philippine Airlines flies from Manila to Cotabato City daily. Travel time is 1 hour and 30 minutes.
By land, one gets to North Cotabato via Davao City. Philtranco serves the Manila-Davao City route. Travel time is about 48 hours from Davao City; one takes a bus bound for the capital, Kidapawan.
By sea, William Lines and Sulpicio Lines serve the port of Polloc in Parang, Maguindanao. From Polloc Port, take a jeepney ride to Cotabato City wherein one has to take a bus or jeepney to Kidapawan.
Rating:
1 people rated this.