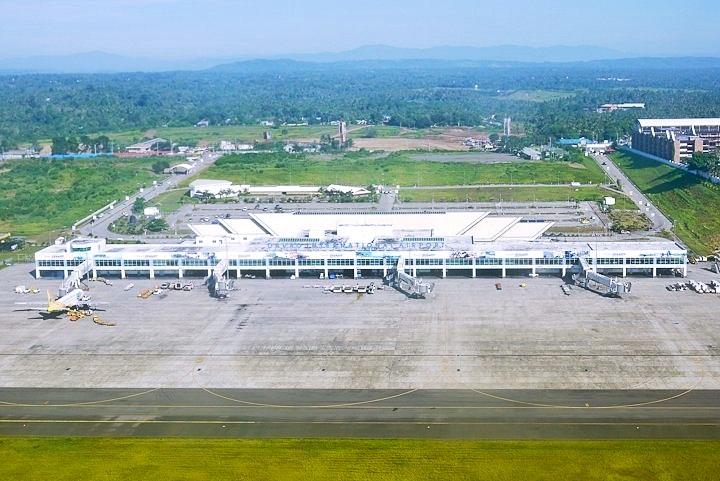 Davao International Airport

Francisco Bangoy International Airport, also called Davao International Airport, is the main airport serving Davao City in the Philippines. It is the busiest airport in the island of Mindanao. The airport has a single 3,000-meter precision runway.
A new terminal replaces the previous airport terminals, which lie just across it, in handling both domestic and international flights operating to and from Davao. The modern facility is designed to handle approximately 2 million passengers annually and 84,600 metric tons of cargo annually. The added capacity is also complemented by the latest navigational, security, and baggage handling equipment.
The modernization and upgrading of the airport facilities aims to cement Davao as a hub for tourism and foreign investment in the region. Development was funded by a forty million-dollar loan from the Asian Development Bank, co-financed by the European Investment Bank for twenty-five million ECUs, and through budgetary allocations from the government. The total cost of the project amounted to $128 million.
After almost a decade, the new terminal was finally inaugurated on December 2, 2003. Initial construction began in 2000 while plans for construction were announced in 1992.
On November 12, 2007, Cebu Pacific announced this airport as its third hub.
History
Francisco Bangoy International Airport began operations in the 1940s with a donation of land in Barangay Sasa, located in the Buhangin district of Davao City, by Don Francisco Bangoy, the patriarch of an influential family residing in the city. At the time it began operation, the airport merely consisted of a 1,200-meter unpaved grass runway and quonset huts serving as terminal buildings. At the time, and throughout much of the 1940s and 1950s, both Philippine Airlines and the Philippine Air Force provided air service to the city.
By 1959, the complex consisted of a small control tower and several low-rise buildings. A new terminal designed by Filipino architect Leandro Locsin, with a capacity of one million passengers, was constructed in 1980 and the runway was progressively extended from its original length of 1,200 meters to its current 3,000 meters. Both projects were funded during the term of then-Congressman Manuel Garcia, whose congressional district covers the airport perimeter.
Rapid growth at the airport precipitated the construction of a P15-million interim international terminal beside the airport's then-existing terminal, and then eventually a new, larger terminal building which would consolidate the two existing terminals. In planning since 1992, construction began in 2000 and subsequently inaugurated on December 2, 2003, with a capacity double that of the old airport terminal. The construction of the new P2.7 billion building was funded by both the Asian Development Bank and the European Investment Bank.
Structure
Terminal
The P2.7 billion passenger terminal is a Malay architecture-inspired building which is four times larger than the old terminal. It is highly computerized, more secure and has more commercial spaces for concessionaires at approximately 9,000 sq. meters. It has four units of jet bridges for passengers. It has also a Flight Information Display System and Closed-circuit television system complementing the terminal's security system.
The terminal has 14 domestic and 14 international check-in counters that can handle a steady flow of passenger traffic. The check-in counters are equipped with electronic weighing scales and conveyors and its baggage handling system is also computerized. It also has 2 arrival areas, for domestic and international with 2 baggage conveyors each. The Cargo Terminal Building covers almost 5,580 sq. meters and can handle up to 84,600 metric tons of cargo a year.
Runway
The airport's Air Traffic Control Tower is considered as one of the most sophisticated in the Philippines.
The airport has a single 3,000-meter long runway that can handle wide-bodied aircraft such as the Airbus A330, the Airbus A340, Boeing 747 and even Airbus A380. The installation of a new instrument landing system (ILS) for both Runways 05 and 23 upgraded its compliance to International Civil Aviation Organization (ICAO) operating category-Precision Approach Category 1. It can accommodate 8-10 aircraft landings per hour, depending on size and has the equivalent 8 gates holding areas for those aircraft. The airport has also 2 dual access taxiway. Taxiways A3 and A4 are used to access the new ramp and terminal; taxiways B and C are used for access to the old airport ramp.
Other structures
Besides the main terminal building, there are also new support facilities like the Administration Building, Airfield Maintenance Building, Central Plant Building, Hangar for Military and Training aircraft and Fire/Crash/Rescue Building. It has a 688-slot car parking area and 4 slots for shuttle buses. It has a 3-megawatt standby power generator. The Air Traffic Control tower is considered as the most advanced in the Philippines. There are also 2 Mabuhay lounges of Philippine Airlines inside the airport premises.
List of Accommodations around the City
111 Pacific Residence Inn - #498 Quirino Ave.305-6183

Abi Yhors Inn - Matina Aplaya

Alta Pension House - J.P. Laurel Ave.

Ashnor Traveller's Inn - #276 Mini Forest, Quezon Boulevard

BB Inn & Apartelle - #3 Panacan Ave.,

Big Apple Hotel and Bar - Mamay Road, Lanang

Casa Leticia Boutique Hotel - J. Camus St.

Courtside Princess Inn - J. P. Cabaguio Ave., Agdao

Cover Inn - Shanghai, Matina Aplaya

Danking Apartelle - #16 Sapphire St.,Gem Village, Maa

Davao Fortune Inn - R. Magsaysay Ave.

Davao Lodging Inn - C. M. Recto St.

Ecoland Suites - Tulip Drive Corner Walnut St.,

Elles Pension House - A&J Bldg., Mt. Apo St.

Emma Victoria's Inn - New Bonguyan Beach, Matina Aplaya

Garnet Country Inn - #9 Garnet St., Marfori Heights

Hari Royale Suites - Narra St. corner Sta. Ana Ave. 3

Hotel Cabaguio - J. P. Cabaguio Ave., Agdao

Hotel Galleria - Gov. V. Duterte St.

Jen & Cats Family Lodge - 8-B Villa Abrile Hunry Bldg.

Leanzo's Guest House - DIHO Subd., Buhangin

Marco Polo Hotel - C. M. Recto St.

Metropolis Suites Davao - Macopa St. Corner Cabaguio Ave.

Prince Court Hotel - J. P. Cabaguio Ave., Agdao

Rosewill Lodging Inn - #164 Vicente Bldg.,

Sunny Point Hotel - #30 Evergreen St., Brgy. Maa

Villa Carmelita Inland Resort & Hotel - Km. 14 MacArthur Highway, Toril
Getting There
By land
The common modes of public transportation are multicabs, jeepneys, tricycles, buses, and taxis. Multicabs and jeepneys ply 82 designated passenger vehicle routes around the clock. Tricycles ply the routes that are outside the main streets of the city. Taxis have several routes in and outside Davao City. In mountainous areas, the habal-habal passenger motorcycle is the main mode of transportation.
Davao City offers a wide bus network connection to major cities and provinces, not only in Mindanao but even as far as Manila and Pasay City in Luzon. The city is accessible by bus to and from points in Mindanao like Cotabato, Monkayo, Kidapawan, Midsayap, Digos, General Santos, Koronadal, Isulan, Tacurong, Tagum, Cagayan de Oro, Surigao, Butuan, and with Manila in Luzon.
The DPWH is proposing to build the Tagum-Davao City-Digos Light Rail Transit, which will be the first on Mindanao island, and the construction of the Davao-Samal Bridge, which will be like the San Francisco Golden Gate Bridge in the United States, to begin in 2017.
By sea
Davao is connected to Manila by a series of roll-on roll-off or inter-island ferry connection.
The city is served by domestic passenger ferries at Sasa Port and Sta. Ana Wharf, both of which are the international seaports of the Port of Davao, the busiest port in Mindanao. This port could service both inter-island and international shipments. It is located the Davao Gulf and its port of entry has two approaches; one is at the Pakiputan Strait between Davao and the water west of Samal Island.
By air
Davao City has direct flights to major cities in the Philippines and some Asian cities. The Francisco Bangoy International Airport serves the general area of the city and its surrounding areas.
Rating:
11 people rated this.