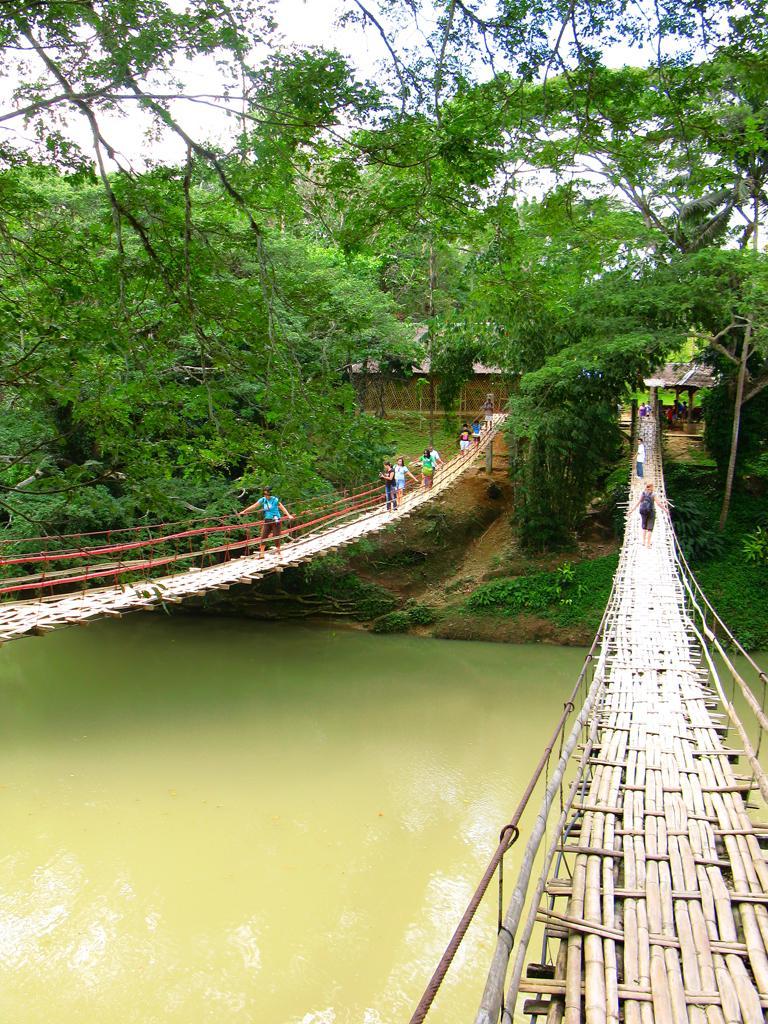 Bamboo Hanging Bridge can be found in the town of Sevilla, Bohol. It is situated 36-kilometer east of Tagbiliran City. This bridge is made of bamboo, and the bridge handles are made of steel. The bridge is quite long, about 40 meters, and looks very flimsy but it's not. It can bear the weight of several persons, and sometimes, small motorcycles cross it.
It was originally made for locals crossing the Sapitan River, but it became one of the well-liked attractions in the province, maybe because of the fun and adventure that you could feel while crossing on the bridge. That is why it is mostly visited by both local and foreign tourists. The bridge is swaying and bouncing every time someone is crossing. Well, that's the adventure!

The bridge has become more exciting and challenging when you meet someone coming towards you because the bridge gets more shaky. But today, there are two bridges in the area made for each direction to lessen the fear and traffic when crossing the bridge. Children who are crossing the bridge need an older guide so that there wouldn't be an accident.
The area is very beautiful covered with lush of greenery. It possesses a stunning view overlooking the Sapita River.
Before you cross, you need to pay about P 10.00 as an admission fee. Visitors are still advised to put much attention and watch every step when crossing the bridge. Near the area, souvenir items are for sale. There are also stores in the area where you can buy snacks and drinks.

Accommodations

Here is the list of accommodations around Tagbilaran City, Bohol.

Gie Gardens Hotel - 18 M.H. Del Pilar St., Cor. C.P.Garcia Ave, Tagbilaran City

Darunday Manor - 22 J. A. Clarin Street, Tagbilaran City

Metrocentre Hotel - C.P.G. Avenue, Tagbilaran City

Vest Pension House - Tamblot Extension, Cogon District, Tagbilaran City

The Meredian Hotel - 4-S Matig-a St., tagbilaran City

Hotel La Roca - Graham Avenue, Tagbilaran City

Matig-a Seaside Pensione Bohol - 26 V.P. Inting Street

Via Bohol Tourist Inn - Graham Ave., Tagbilaran City

Villa Alzhun Tourist Inn and Restaurant - 162 V.P Inting Street, Mansasa, Tagbilaran City

Vest Pension House - Tamblot Extension, Tagbilaran City

Taver's Pension House - Taver's building, Remolador St., Tagbilaran City

Sky High Lodge - CPG Ave., Tagbilaran City

Shores Apartelle - Mansasa District, Tagbilaran City

Wregent Plaza Hotel - CPG Ave., Tagbilaran City

Share House Bohol - Sacred Heart Village, Tagbilaran City

Esta Villa Residencia - Mansasa Seaside, Tagbilaran City

Soledad Suites - J. C. Borja Street cor. M. Parras Street, Tagbilaran City
Accessibility
By Air
The main entry point to Bohol is Tagbilaran City (Tagbilaran City Airport) which is only a one hour-and-15 minute flight from Manila and 20 minutes from Cebu.
By Sea
The most convenient way to get to Bohol from the neighboring islands is by fast ferry. Fast ferries offer a high speed passenger service. These have a cruising speed of about 50 kilometers per hour.
Getting Around in Bohol
Once you arrive on Bohol, there are various ways to get around the island. You can find plenty of tricycles and some taxi waiting to bring you to most locations within Tagbilaran and neighboring towns. If you need to go to one of the other towns on the island, you have a choice of jeepneys, busses, V-hires, or even habal-habal.
Rating:
9 people rated this.