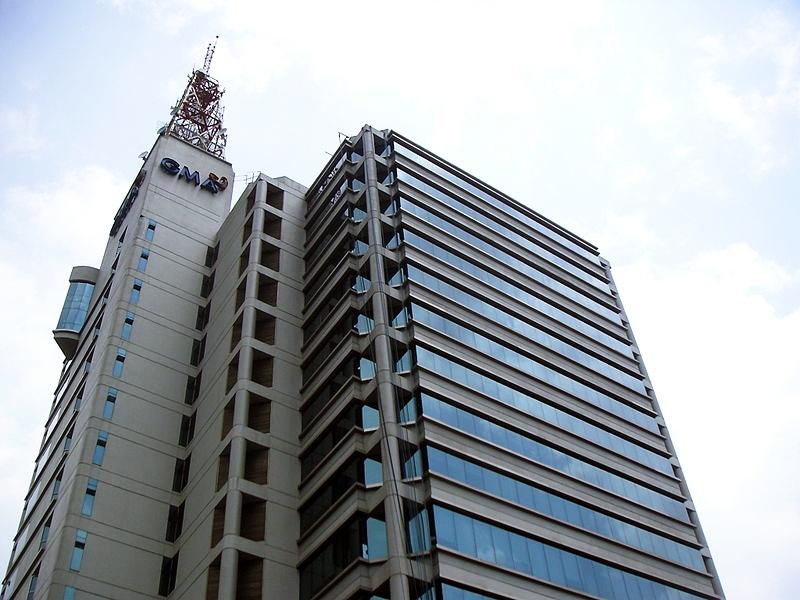 GMA Network Center
The GMA Network Center is the headquarters of the GMA Network, a major radio and television network in the Philippines. It is located at EDSA corner Timog Avenue, Diliman, Quezon City. It is the network's main television and radio production center, and its main transmission facility for most of Metro Manila. The building houses Super Radyo DZBB 594 AM, Barangay LS-FM 97.1, GMA-7, and GMA News TV. The center housed the UHF channel DWDB-TV 27.
GMA inaugurated the facility on June 14, 2000, The birthdate of GMA Network, as part of the kick-off of its year-round celebration of its 50th golden anniversary. While the first phase of the project has already been completed with the completion of the 17-storey high-rise, the center has an option to upgrade the older, existing facilities in the GMA compound, as originally planned.
The Center is equipped with MARC (Multiple Automated Recorder Cassette) System with a D3 format digital video recorder and a Broadcast Automation System that allows the network to manage live feeds and international feeds that will be carried out to GMA Pinoy TV subscribers around the world.
Although the Network Center was inaugurated in 2000, GMA has held office in its current EDSA headquarters since 1957, having moved from the Calvo Building in Escolta, Manila (where the network, then known as the Loreto de F. Hemedes, Inc., later renamed Republic Broadcasting System, had its first studios and corporate offices since its inception in 1950).
The GMA Network Studios
The GMA compound has seven studios, three of which (Studios 1, 2 and 3) are in the network center, two (Studios 4 and 5) in the new GMA Network Studio Annex, and two (Studios A and B) in the old GMA Building, Studios A and B is one of the oldest GMA Studios. The Center serves as the Corporate Headquarters for the network and also houses radio stations Super Radyo DZBB 594 AM and Barangay LS 97.1, as well as the newsroom. A convenience store and a coffee shop services the employees who work in the center. Meanwhile, the Kapuso Center, located along the GMA Network Drive (11th Jamboree Street) entrance of the compound, serves as the offices for the GMA Kapuso Foundation, the "Action Center" of Mike Enriquez's Imbestigador, and the public service program Kapwa Ko, Mahal Ko. On the building's courtside is a sculpture by artist Eduardo Castrillo.
The GMA Network Studio Annex
In 2006, On an 18,404-square-meter complex GMA built a 3,000-square meter 4-storey structure beside the old network complex. The structure houses two state-of-the art sound stages, one of which can accommodate up to 1,000 studio audience. The new building, dubbed the GMA Network Studios, also houses studio support and set construction facilities, technical equipment for broadcast and theater systems, props storage, garage areas, rehearsal rooms, talent dressing and makeup rooms, as well as administrative and production offices. A bridge also connects the new building to the rest of the compound. The new structure costs as much as PhP1 billion. The New GMA Network Studios was unveiled on Friday, October 17, 2008 with a red carpet event. And the tour of the new studio was shown in GMA Pinoy TV, worldwide by the famous Bubble Gang characters, Angelina and Yaya, which are played by Ogie Alcasid and Michael V., respectively. They've shown the features of the studio and they've shown the dance studio where the audience including Felipe Gozon watched them dance.
Where to stay
Here is the list of some of the accommodations that can be found around the city of Quezon. It offers good services and comfortable rooms for all visitors.
Imperial Palace Suites - Timog Avenue Corner Tomas Morato Avenue, 1103 Quezon City

Torre Venezia Hotel - 170 Timog Avenue cor Scout Santiago St.,, 1100 Quezon City

Dangay Suites - 99-A Dangay Street, 1105 Quezon City

Eurotel Araneta Center, Cubao - General Araneta Corner General Roxas Streets, 1109 Quezon City

The Sulo Riviera Hotel - Matalino Road, Diliman, Quezon City

Sir William's Hotel - 39 Timog Avenue, 1103 Quezon City

Lemon Tree Inn - 18 Scout Magbanua Street near corner of Quezon Avenue, Barangay Paligsahan,, 1103 Quezon City

Robbinsdale Residences - # 14 Araneta Ave. corner Palanza St., 1113 Quezon City

Mezza Residences Condote - Aurora Boulevard Corner Araneta Avenue, Guirayan Street, Barangay Dona Imelda, 1000 Quezon City

La Breza Hotel - Mother Ignacia St., 7876 Quezon City

Crowne Plaza Galleria Manila - Ortigas Avenue corner ADB Avenue, 1100 Quezon City

Eastwood Richmonde Hotel - 17 Orchard Road, Eastwood City, Bagumbayan, 1110 Quezon City

Stone House Bed and Breakfast Quezon City - 1315 E. Rodriguez Avenue, 1100 Quezon City

Fersal Hotel - Annapolis - 49 Annapolis Street, Cubao, 1100 Quezon City

The Oracle Hotel - 317 Katipunan Avenue, 1600 Quezon City
Getting around the city
Public transportation within the city, like in most of the urban areas in the Philippines, is facilitated mostly using inexpensive jeepneys and buses. Tricycles give access to more secluded areas, while taxi cabs are available to navigate any course.
This City has 3 Circumferential Roads. The following are:
C-3: Sgt. Emilio Rivera Avenue and Araneta Avenue

C-4: Epifanio de los Santos Avenue or EDSA

C-5: Mindanao Avenue, Tandang Sora Avenue, Congressional Avenue Extension, Katipunan Avenue and E. Rodriguez Avenue
Railway
Currently, two elevated light rail systems and one heavy rail system run through Quezon City: LRT 1 – at EDSA (C-4) connecting North Avenue and Baclaran (Manila) LRT 2 – at Aurora Boulevard (R-6) connecting Santolan (Pasig City) and C.M.Recto Avenue (Manila), and MRT 3 – at EDSA (C-4) from Taft Avenue (R-2 in Pasay City) to North Avenue.
An elevated rail transit system (MRT-4) that was supposed to follow the general alignment of Quezon and Commonwealth Avenues (R-7) was shelved. In its place, a 22 kilometer rail system will be built. The MRT-7 project will commence at North Avenue, connecting the MRT-3 at its northern terminus. It will then go through Commonwealth Avenue, then through Regalado, Quirino Highway, ending in San Jose del Monte, Bulacan. The system has a proposed spur line to connect itself to MRT-2 in Katipunan, passing through the University of the Philippines Diliman and Katipunan Avenue.
The following elevated railway stations in the city (Only 13 Stations):
MRT-3 (with 5 Stations):

North Avenue- (Connected to LRT-1 Yellow Line)

Quezon Avenue

Kamuning

Araneta Center-Cubao- (Connected to LRT-2 Purple Line)

Santolan

LRT-2 (with 5 Stations):

Gilmore

Betty Go-Belmonte

Araneta Center-Cubao- (Connected to MRT-3 Blue Line)

Anonas

Katipunan

LRT-1 (with 3 Stations)

Balintawak

Roosevelt

North Avenue- (Connected to MRT-3 Blue Line)
Rating:
0 people rated this.