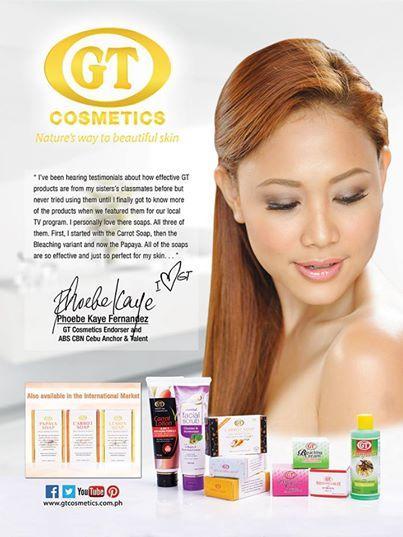 "GT Cosmetics products are beginning to have a global presence with our entry to the US and Canada. We plan to firm up our strategic position in the emerging markets of Asia," said GT Cosmetics CEO and founder Engr. Leonora B. Salvane.
GT Cosmetics will kick off its 20th year anniversary with today's launching of the GT Essential Facial Scrub, a multi-crystal exfoliating complex with collagen and witch hazel extract that cleanses and moisturizes the skin.
"We believe that Filipino entrepreneurs and manufacturers can be globally competitive. GT Cosmetics is preparing seriously for the Asean integration. Come 2015 we will be ready," she added.
From humble beginnings
GT Cosmetics has come a long way since its humble beginnings in 1994 when Engr. Salvane started producing beauty products with little more than P500 as capital.
Engr. Salvane began producing GT Cosmetics papaya then carrot soaps using her baking pans as moulds in her home kitchen with the help of only 4 workers. Production was then limited to only 50 soap bars per day with the engineer's children doing the packing.
Today GT Cosmetics has over 300 employees manufacturing 25,000 products daily in all lines from its main plant in Liloan, Cebu and another in Marilao, Bulacan.
"Our first customers were close friends who found our soaps effective. They recommended the soaps to friends and today 20 years later I am proud to say that GT has become a part of daily beauty routine for many Filipinos," said Engr. Salvane.
Starting with papaya and carrot soaps, GT Cosmetics later on developed other skin care products like moisturizing and bleaching creams, sunblock, clarifying toner, and recently the carrot lotion.
Giving back to the community
The GT Cosmetics anniversary commemoration will include a series of fun yet helpful activities aiming to give back to the community.
There will be a free soap-making training workshop in partnership with the Liloan Local Government Unit on June 16 for representatives from all 14 barangays of Liloan.
A Facial Care Day will be launched on June 22. This is a treat for moms that include free demos on the proper way to care for the face, free skin care product sampling, and picture taking with GT endorsers.
Finally, there will be a team building for GT Cosmetics employees on the morning of June 28.
A thanksgiving fellowship party for employees, family, suppliers, and friends will be held on the night of the same day. Awards will be given to the 20 longest-staying GT Cosmetics employees.
Rating:
0 people rated this.