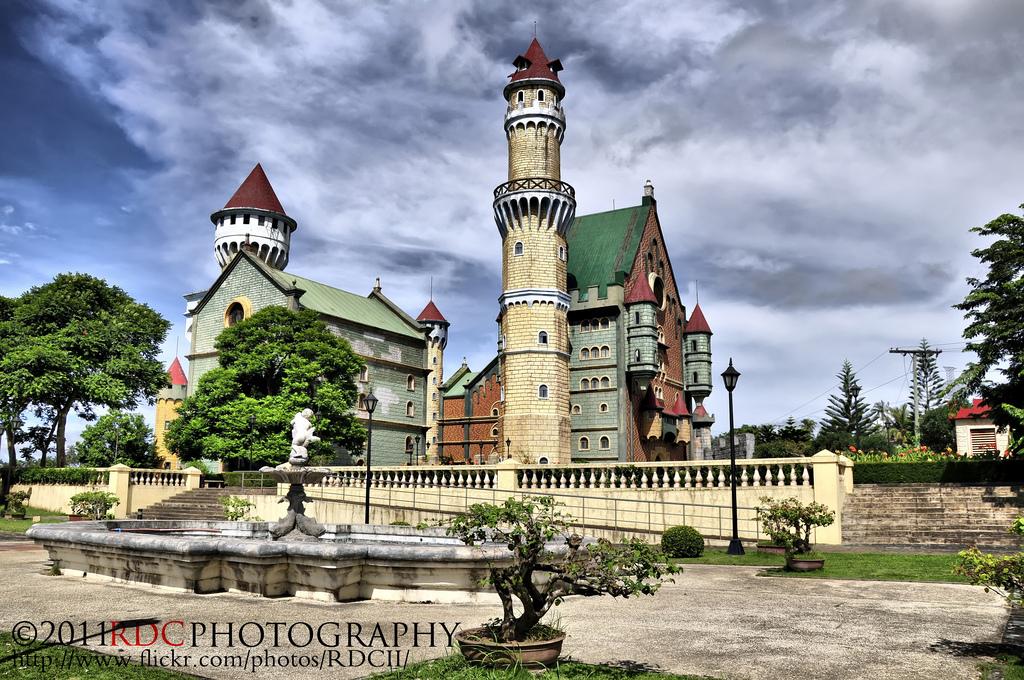 When one hears of Batangas, one word that comes to mind is "beaches." Batangas is known for its many wonderful and scenic beaches where people flock to for their vacations. But did you know that your visit to Batangas could be a magical one? If you visit Batangas, you shouldn't miss the well-known landmarks and attractions in the area, particularly the Fantasy World Castle. It is a theme park under construction located in Barangy Mayasang in Lemery, Batangas. This amazing and colorful structure can be easily seen along Diokno Highway going to Tagaytay.
At the time of its construction, it was meant to be a huge complex for a theme park with the castle as the centerpiece with rides and a series of condominiums. It was supposed to be an attraction similar in construction to a medieval European castle resembling those from fairy tales or ancient history. As it is very colorful and beautiful, visitors are surely fascinated not only by its physical appearance but also by its magical beauty that brings a sense of happiness. People who can see the castle for the first time wonder what is inside the castle. Fantasy World Castle was the location for several fantasy-based series and movies.

It is quite unfortunate that the construction of the theme park was never finished, but the condominiums inside were and have been inhabited. For a fee, non-residents can explore the area, which is definitely a worthwhile experience as it has a spectacular panoramic view of Batangas.
Visit and explore the fantasy world castle of Lemery and have a magical experience!
Where to Stay
The reputation of Batangas as a tourist destination has resulted in the sudden growth of one-stars, numerous bungalows over the water accessed by boardwalks, with wooden stairs leading down to the sea, and three-stars that are affordable by international standards.
Lima Park Hotel, Lima Technology Center, Malvar

Canyon Cove Resort, Far East Road, Piloto Wawa, Nasugbu

Lago De Oro Cable Ski Park and Resort, Bo. Balibago, Calatagan

Days Hotel Batangas (Days Hotel Batangas), Pastor Village, Pallocan West

Anilao Outrigger Resort, Solo, Anilao, Mabini

Chateau Royale, Km 72 Batulao, Nasugbu

Evercrest Golf Resort, Batulao, Nasugbu

Microtel Inn & Suites, First Philippine Industrial Park, Sto. Tomas

Matabungkay Beach Resort, Brgy. Matabungkay, Lian

Hotel Pontefino, Pastor Village, Gulod Labac

Cintai, Balete/Lipa City

Hotel La Corona, Lipa City

Mount Malarayat Hotel and Suites, Dagatan, Lipa City

The Coral Beach Club, Matabungkay, Lian

Club Punta Fuego - Nasugbu.

Taal Imperial Hotel and Resort - Brgy. Tulo, Diversion Road, Taal, Batangas, Batangas, Philippines

Canyon Woods Resort Club - Diokno Highway, Lauurel, Laurel, Batangas, Philippines

San Roque Paradise Hotel - (21.76 km from Batangas City Hall of Justice)

The Alpa Hotel and Restaurant - Brgy. Kumintang Ibaba, , Batangas, Batangas, Philippines
Getting there
Batangas City is 2 1/2 hours away from Manila when using the old inter-town route. Using the STAR Tollway route, one can reach Batangas City in just an hour and a half. Tanauan City is about one hour away, and between Tanauan City and Batangas City, one will find Lipa City. ALPS The Bus, Inc. is one of the many bus companies that travel the said route.
Travellers can take air-conditioned buses going to Batangas City. Those who want to go to Nasugbu, Calatagan and Lian towns (Matabungkay) can pass via the Tagaytay route.
Travellers going to Puerto Galera can take direct air con buses from Manila (Cubao) to Batangas pier. The best services are BLTB (every hour) and JAM transit (also every hour) from the Kamuin Cubao bus station. Sometimes, esepcially during peak hours, buses run every 30 minutes. The last stop is Batangas Pier (ask the conductor beforehand) from where one can take a ferry to Puerto Galera.
When driving one's own vehicle to Tanauan-Lipa-Batangas City, travelers will pass through the South Luzon Expressway, then the STAR Tollway and can just follow the directional signs along the highway.
Rating:
0 people rated this.