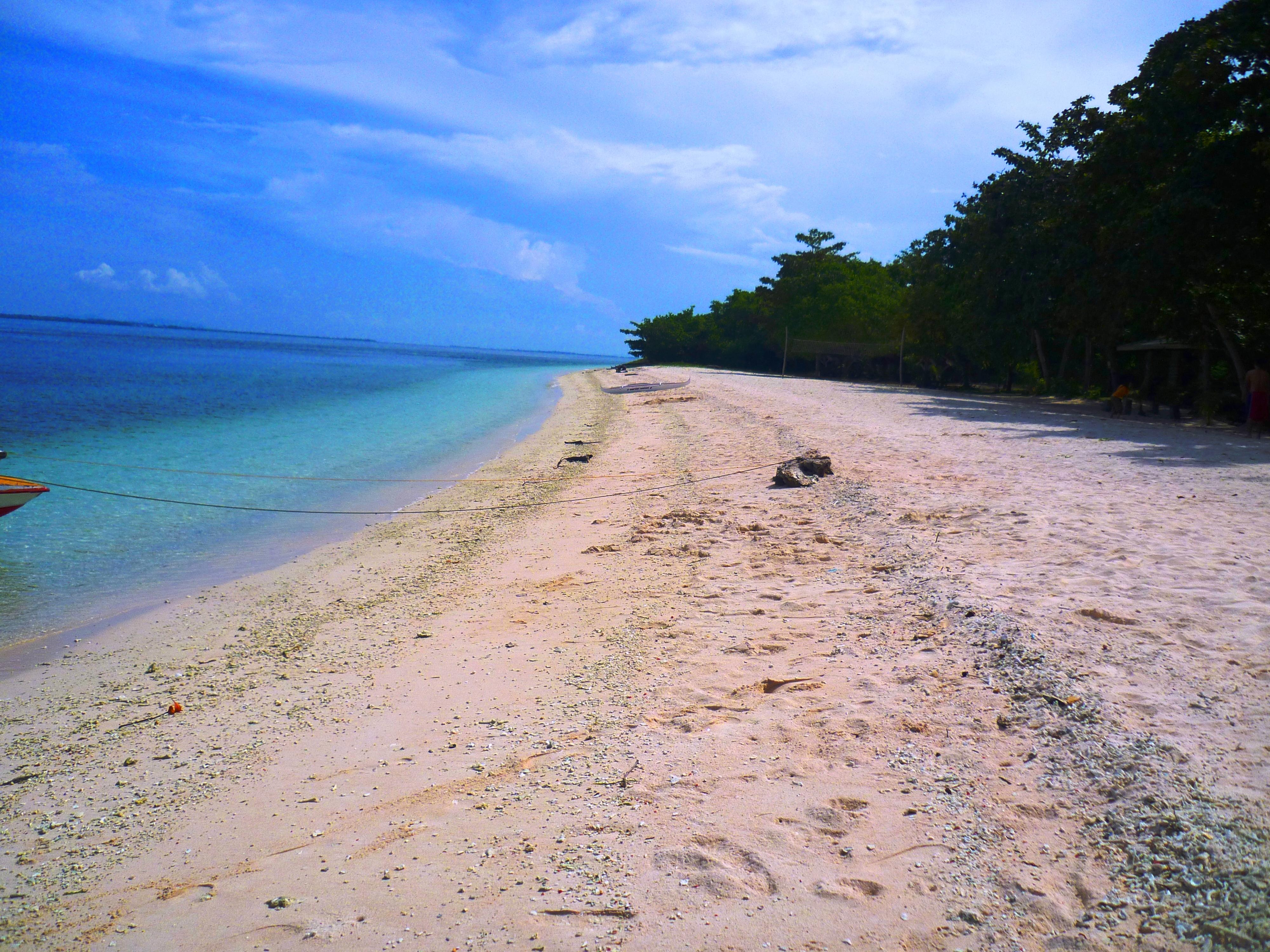 Great Santa Cruz Island is a small inhabited island in Zamboanga City in the southern region of the Philippines that is famous for its pink coralline sand.The island, located 4 km (2.49 mi) south of downtown at the Santa Cruz Bank in the Basilan Strait, boasts the only pink sand beach in the Philippines. The color of the sand comes from the pulverized red organ pipe coral from eons of surf erosion mixed with the white sand.
The island has lost is popularity since the 1970s and early 1980s when is was frequented by German and Italian tourists. The degradation in the peace and order situation in the area has swayed potential visitors dwindling its popularity. The growing articles by bloggers who come to the island has renewed interests to the island.
Conservation
The Great Santa Cruz Island together with Little Santa Cruz Island are protected areas in Region 9 of the Philippines. Jointly called the Great and Little Sta. Cruz Islands Protected Landscape & Seascape, it was declared as such on April 23, 2000 with the signing of Proclamation No. 271. The park has a total area of 1,877 hectares (4,640 acres).
Recent illegal coral reef mining has destroyed most of Great Santa Cruz Island's vast coral reef population leaving the former colorful corals into dead skeletal reefs.
The city government of Zamboanga is planning to improve the island for the preservation, protection, conservation and rehabilitation of the island's ecosystem. The plan also involves developing the island for ecotourism. The improvement would include rehabilitating the present structures on the island. New infrastructures that need to be constructed would be low in profile using materials indigenous to the area, in hope of lessening its impact to the environment. The development plan is expected to be completed in 3 to 5 years time.
Welcome to Great Santa Cruz Island!
Accommodations
Here is the list of accommodations located around the city of Zamboanga.
Lantaka Hotel By the Sea - Mayor Valderos St. , Zamboanga City

Garden Orchid Hotel - Gov. Camis Avenue , Zamboanga City

Grand Astoria Hotel - Mayor Jaldon St., Zamboanga City

Zamboanga Hermosa Hotel - Jaldon St., Zamboanga City

Woodland Resort & Restaurant - Zambowood, Zamboanga City

Vernell Farm & Mountain Park - Cacao, Zamboanga City

New Inland Resort & Restaurant - Boalan, Zamboanga City

Hotel Perlita - Mayor Jaldon Street, Zamboanga City

Hotel Preciosa - Mayor Jaldon Street, Zamboanga City

Azenith Royale Hotel - Gov. Camins Avenue, Zamboanga City

Blue Shark Pension House - Mayor Jaldon Street, Zamboanga City

GC Hotel - T. Claudio cor. Gov. Wood

Jardin de la Via - Fidela Bldg., Gov. Alvarez Ave., Zamboanga City

Hotel Salwa - Gov. Camins Avenue

Yang Hotel Tourist Inn - T. Claudio Street, Zamboanga City

Viva Pension House - Urdaneta Street, Zamboanga City

La Casa Maria Pension House - Sta. Maria, Zamboanga City

Platinum Tourist Inn - 4 Barcelona Street, Zamboanga City

MagV Royal Hotel - San Jose Road , Zamboanga City

Hotel Paradise Pension House - P. Reyes Street, Zamboanga City

David Inn Pension House - La Purisima Street, Zamboanga City
Accessibilty
By plane
There are daily flights to/from Manila by Philippine Airlines and Cebu Pacific, flights to/from Sandakan by Asian Spirit and South East Asian Airlines (SEAIR) Philippine Airlines, Air Philippines and Cebu Pacific have regular flights to Manila, Cebu, & Davao and vice versa.
By boat
Super Ferry boats are available 2 days a week for sailing from Cebu City, Davao, and Manila and vice versa. Ferries are also available to and from Sandakan.
The Port of Zamboanga is an international port of entry. It has a schedule passenger trip to Sandakan, Malaysia, a cruise ship destination and several shipping lines offer regular trips from and to Davao, Cotabato, Dipolog/Dapitan, General Santos, Pagadian, Jolo, Bongao, Isabela City, Cebu City, Dumaguete, Iloilo, Bacolod and Manila.
By road
If you are from Luzon and Visayas, the Nautical Highways (RoRo) can bring you here. Buses from major cities in Mindanao are also available.
Getting to the island
A trip to the island is booked through the Department of Tourism office located inside the Lantaka Hotel by the Sea on Valderrosa St. The motorized boat that takes passengers to the island departs from the small Sta. Cruz Island Ferry Port located by the hotel.
Rating:
1 people rated this.