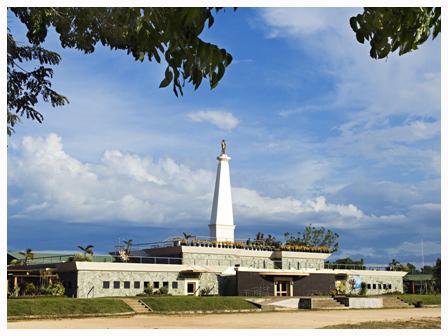 Overview
The Guimaras Provincial Monument and Museum was built in 2006 by then Governor Juan Carlos Rahman A. Nava, MD, now incumbent Congressman of the Lone District of Guimaras. The structure serves as a landmark for the people of the province as well as a museum for the memorabilia of the Pagtaltal sa Balaan Bukid, among others.
It is a one-story building with accessible rooftops on both sides of the rooms and another on top of the main hall. Atop the building is a monument: a sculpture of a man with fishing tool and a plow. This symbolizes the main livelihood of many Guimarasnons, farmers during the planting season and fishermen during the off-planting season. Inside is an exhibit area of 12x20 meters with multi-purpose rooms at the sides. The designer is Architect Hermecito Gotera.
Where to Stay
Shirven Hotel -

San Miguel, Jordan, Guimaras
Pine Haven Hotel -

Islander Village, San Miguel, Jordan, Guimaras
Small Wings Pension Inn -

San Miguel, Jordan, Guimaras
Miewa Pension House -

Mclain, Buenavista, Guimaras
OLP-Trappist Monastery Guest House -

San Miguel, Jordan, Guimaras
Guisi Heritage Cottage -

Dolores, Nueva Valencia, Guimaras
Where to Dine
NVDS Refreshment/ Tita Nels Refreshment -

Mclain, Buenavista, Guimaras
Gladys Refreshment (Carinderia & Videoke) -

Rizal, Jordan
Paul and Michelle Kitchenette -

Rizal, Jordan
Toms Place Bar and Refreshment -

Hoskyn, Jordan
Dans Batchoy -

Rizal & San Miguel, Jordan
Victors Restaurant 7 Fastfood Center -

San Miguel, Jordan
Sa Payaw Seafood Grill -

San Miguel, Jordan
How to Get There
Iloilo City is the gateway to Guimaras. Guimaras can be reached by air and boat from Manila and other origins, via Iloilo City and by pumpboat in Pulupandan, Negros Occidental. The island province is 20-30 minutes by motorboat or ferry boat from Parola, Ortiz, Muelle Loney or Lapuz Wharves in Iloilo City. Direct travel to Guimaras is possible by light planes, which can land at the Guimaras Feeder Airport.
Jeepney and tricycles are also available as a mode of transportation when touring the province from one town to another.
Check the Guimaras Official Website for more informations about the transportation schedules and locations.
Rating:
0 people rated this.