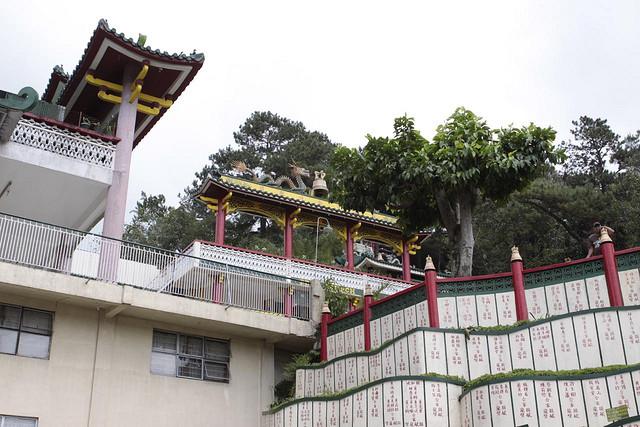 Chinese Temple in Baguio
Bell Church is a cluster of temples located on the border of Baguio City and Trinidad Valley. Its exotic oriental architecture, pagoda roof, ornate gateway, dragon ornaments, Buddha, and guarded windows gaze from atop a hill. The Bell Temple priest practices a mixture of Buddhism, Taoism, Confucianism, and Christianity. People may even try having their fortune told.
Bell Church is one of the must-visit attractions in Baguio. It is the perfect place for people who want tranquility as one can feel the serenity that the church has to offer. Visitors should not miss to visit the Taoist Temple when visiting Baguio. The area is surrounded with lush vegetation that is very relaxing along with the seemingly constant cool breeze.
Accomodations
Baguio has a fine selection of accommodations, mostly cozy pension houses and small hotels that reflect this Philippine province's delightful homey atmosphere.
AIM Conference Center Baguio, Igorot Lodge, Camp John Hay

Atenara House, 40 Navy Road

Azalea Residences, No. 7 Leonard Wood Loop, Barangay M. Roxas

Baguio Village Inn, 355 Magsaysay Rd.

Burnham Hotel Baguio, 20 Calderon St.

Chalet Tepeyac, 177 Leonard Wood Rd.

City Travel Hotel Baguio, 15 Kisad Rd (across Burnham Park)

El Cielito Inn Hotel, 50 North Drive

Ferionnil Pension House and Dormitory, 140 T. Alonzo St.

Hotel Elizabeth, #1 J. Felipe Street corner Gibraltar Street

Hotel Veniz, One Abanao St. (at the foot of Session Road, across Burnham Park)

Lyn's Baguio Transient Homes, 79B City Camp Alley (very near Burnham Park and town)

Microtel Inns and Suites Baguio, Upper Session Road

Ridgewood Residence, 17 Julian Felipe St, Barangay Lualhati (near The Mansion)

Paladin Hotel Baguio, 136 Abanao Extension, Corner Carino St.

Red Lion Pub/Inn, 92 Upper Gen. Luna Rd., Salud Mitra

Sevilla I. Gammad, 79-B City Camp Alley, Barangay City Camp
Getting there
Riding a bus is the most common and economical way to get to Baguio from Metro Manila. Several bus lines ply the Metro Manila to Baguio route with terminals scattered across the metro. It generally takes about 5-7 hours to get to Baguio by bus, an hour longer than it would by car due to stopovers along the way.
Victory Liner has hourly bus service to Baguio from its Monumento main terminal in Caloocan City, Cubao and Pasay terminals. Buses are generally modern and air-conditioned but seats are sized generally for Filipinos and tall people would need to take advantage of the various stopovers to stretch their legs.
Dagupan Bus, New York St., Cubao, Quezon City, also serves the Manila to Baguio route via its Cubao Terminal. Buses leave on an hourly basis.
Getting Around
By jeepney
Similar to Manila, jeepneys ply various routes within Baguio and its immediate surroundings.
By taxi
More convenient for tourists perhaps, taxis are also common but once you are in the outskirts they may be a bit hard to come by.
By car
Car rental in Baguio is a good option for short out-of-town trips and traveling around the city. There are several agencies offering car hire in Baguio and there are both self drive and with the driver options available. To rent a car in Baguio you should have an international driver's license. Baguio usually involves navigating a series of winding mountain roads.The traffic is on the right side of the road. As the Session Road and the public market have a very limited parking space, consider leaving your car outside the city center. Rates for car rental Baguio companies can go by the hour, the day or by the week.
Rating:
19 people rated this.