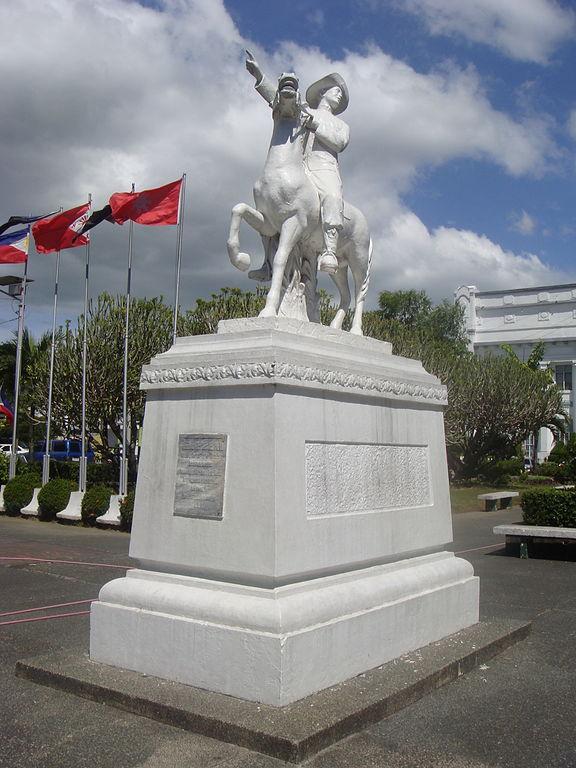 Gregorio del Pilar's tomb (Bulacan Provincial Capitol plaza and his equestrian statue)
The province of Ilocos Sur is a myriad of cultures and histories serving as a living museum of its spirited past. National shrines, historical landmarks, national and heritage museums, ancestral houses, and cobble-stoned streets – they were all witnesses of the province's rich and historic past.
Tirad Pass, declared a National Shrine, had been the last stand of the Filipino Revolutionary Forces under General Emilio Aguinaldo during the Philippine Revolution of 1896. The Battle of Tirad Pass was led by the youngest Filipino General Gregorio Del Pilar.
The Eventful Battle of Tirad Pass
This battle is referred to as the "Philippine Thermopylae". This historical battle is a Philippine-American war between sixty brave Filipino revolutionaries commanded by Brigadier General Gregorio Del Pilar and five hundred Americans of the 33rd Infantry Regiment under Major Peyton C. March. It happened on December 2, 1899 and led to the death of 52 out of 60 Filipinos, including General Del Pilar.
In honor of Del Pilar's heroism, the Philippine Military Academy was named Fort Del Pilar and a historical marker was placed at the site of the battle. It was declared as a National Shrine located in the Municipality of Gregorio Del Pilar.
What is the Battle of Thermopylae? It was a clash between an alliance of Greek city-states, led by King Leonidas of Sparta, and the Persian Empire of Xerxes I over the course of three days, during the second Persian invasion of Greece. It took place simultaneously with the naval battle at Artemisium, in August or September 480 BC, at the narrow coastal pass of Thermopylae.
A Trail to Tirad Pass
Tirad Pass is a testament to the heroism and bravery of General Del Pilar and is a reminder of the strong will and patriotism of Filipinos, which is why the site remains a popular tourist attraction.
A trek to the peak of the Tirad Pass will bring you back in time. A foot-long stone marks the exact burial spot of General Del Pilar. Lying across is a marker mounted by the Philippine Historical Commission in the 1930s. This has been recently developed as a two-layer shrine where the monument of Del Pilar on a horseback now stands.
Mount Tirad Pass is also a challenging hike for many mountaineers. The mountain is 4,000 feet above sea level that will give you a breathtaking view from the summit. One quite interesting thing about the site is a display of a multitude of quotes at almost every point of the trail that give inspiration to the hikers.
Travel to Tirad Pass!
From Manila, there are various bus terminals to choose from that goes to the Ilocos. There is one in Edsa-Pasay (Partas Bus Terminal) and in Cubao (Partas Bus Terminal & Florida Bus Terminal). I suggest you take the evening trip because it is a long 9-hour bus ride to Vigan.
Then from Vigan, I suggest you hire private transportation as the must-see places are in between towns. If not, there are tricyles, buses, and mini-buses that ply these towns which will bring you to the historic Tirad Pass.
Accommodations to Vigan:
There are many inns, pension houses and hotels located near the town center. My Vigan Home Hotel and Gordion Hotel are some of which will give you better accommodations during your days in Ilocos Sur.
My Vigan Home Hotel is located at 14 Plaridel corner Bonifacio Streets, Vigan (Ilocos Sur), Ilocos Region, Philippines 2700. Gordion Hotel is located at V. Delos Reyes corner Salcedo Sts., Vigan (Ilocos Sur), Ilocos Region, Philippines.
Rating:
0 people rated this.