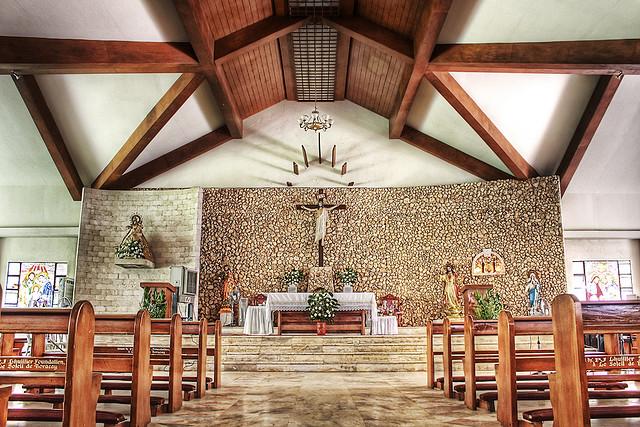 Balabag Chruch Interior

The Holy Rosary Parish Boracay, also known as Balabag church, is a Catholic church located in Brgy. Balabag, Boracay Island, Malay, Aklan. For faithful Catholics, this church is a must-visit place before or after going or leaving the famous white beaches of Boracay. It can be found along the main road near the beach. The church is one of the many attractions that Balabag can offer aside from the white beach resorts.
This place of worship holds services all days of the year although it does get very crowded with visitors during the Lenten season because it is a time where people usually have a vacation on the island. Visitors drop by the church to hear mass.

The church is very simple and functional in its design but still is quite charming. The church facade features a an image of Christ made in a colorful glass mosaic. The rock and coral wall with the crucifix are great touches accentuating the tropical ambience of the island.

Balabag Church is really an ideal place for anyone who wish wishes to commune and spend some time in peace and contemplation.
Some of the Accommodations in Boracay
Shangri-la's Boracay Resort & Spa - Barangay Yapak, Barangay Yapak, Boracay

Boracay Regency Beach Resort - Balabag, Boat Station 2, Boracay

Boracay Golden Phoenix Hotel - Boat Stn 3, Manoc Manoc, Boat Station 3, Boracay

Palm Breeze Villa - Sunrise Cove, Bolabog Beach, Bulabog Beach, Boracay

Sea Wind Resort - Roberto&Gloria Tirol Park, Balabag,, Boat Station 1, Boracay
Accessibility
Airports
Aklan is famous for Boracay, a resort island one kilometer north off the tip of Panay. It is known for its white sandy beaches and is considered as one of the most prominent destinations in the Philippines. Because of this, there is frequent air travel to the province's airports in Kalibo and Caticlan. The Kalibo International Airport is about ten minutes from the main plaza.
From Manila Airport, travel to Kalibo or Caticlan Airport will take more or less 45 minutes.
The following are the airports in Aklan:
Kalibo International Airport

Godofredo P. Ramos Airport (Caticlan-Boracay Airport)
Public transportation around the province and the city is by tricycle, taxi, multicab, and jeepney.
Rating:
10 people rated this.