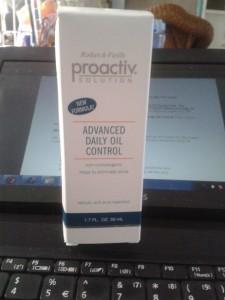 Nowadays, girls always having a hard time coping up with skin problems. Either they have oily skin, or sensitive skin, they want to have no blemishes and looks young.
Few years ago, I can't control on the breakout of acnes and at the same time, searching for an oily skin remedy. Some people asked me on how old am I, andI told them that I'm in my early 30s. They're stunned because I look young, as a 20 ish lady without pimples and skin problems. Just recently, I found out that Proactiv have their Advanced Daily Oil Control.
Proactiv Advance Daily Oil Control designed to absorb excess oil to help give a more mattified appearance while helping to assist the skin in the fight against acne. I tried this product for a week, I was astonished over the result! It moisturize my skin which make it smooth without having greasy feeling all the time.
What makes me use this product, because it controls the excess oil throughout the day to keep skin from shining and makeup from streaking, and also it balances the skin while keeping your skin hydrated and healthy looking.
You might wondering why on how to use Proactiv Advanced Daily Oil Control:
First, apply it daily or as needed onto clean skin.
Dample it using your fingertips to gently apply a thin layer to the entire face.
After applying, Proactiv Advance Daily Oil, dry it completely.
Use this product after Repairing Treatment.
Did you know that there's a promo from Proactiv which you can avail Proactiv 60-Day Limited Edition Pack. The complete set of Proactiv 60-day supply, with an upsized Refining Mask (from 1oz to 2.5oz) and Free Proactiv Advanced Daily Oil Control 50ml - all for the same price of Php 3,995 only.
Inside the said pack are:
Proactiv Renewing Cleanser 120ml
Proactiv Revitalizing Toner 120ml
Proactiv Repairing Treatment 60ml
Proactiv Refining Mask – upsized from 1oz to 2.5oz
Proactiv Advanced Daily Oil Control

The promo pack is available at all Watsons and SM Department Stores' Beauty Section nationwide. These special packs has specially marked with a red sticker on the upper rightmost corner of the box.
Promo period is from July 15 until December 31, 2014. Visit their kiosk in selected malls in Metro Manila.
Rating:
1 people rated this.