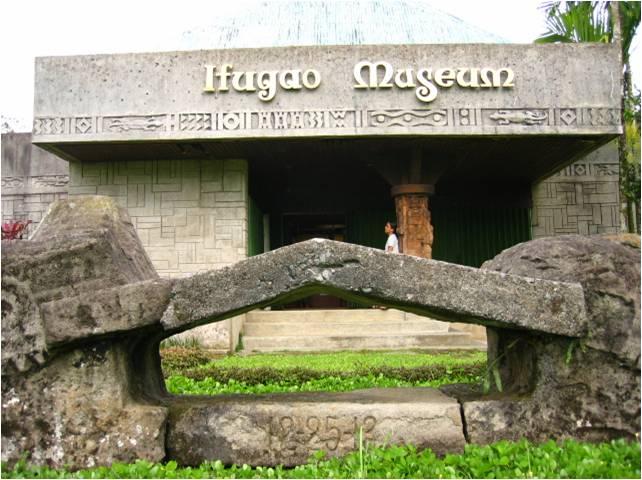 Description
This museum displays Ifugao artifacts and is under the supervision of the National Museum of the Philippines. It is 32 meters away facing the shrine and 300 meters away from the Municipal Hall.
Location
Ifugao Museum can be found in the town of Kiangan, Ifugao.
Accommodations
Banaue View Inn - Nueva Vizcaya-Ifugao-Mountain Province Road, Banaue

Spring Village Inn - Poblacion, Banaue

Uyami's Green View Lodge and Restaurant - Poblacion Village, Banaue, Ifugao

Hillside Inn and Restaurant - Batad, Banaue, Ifugao

People's Lodge - Poblacion, Banaue

Banaue Hotel & Youth Hostel - Ilogue, Banaue
Accessibility
Banaue is a town on the Cordillera mountain range in the north of the island of Luzon, in the Philippines. It is mainly visited for its stunning rice terraces, which are a UNESCO World Heritage site.
By bus
Getting to Banaue directly might take a lot of effort if you're not taking a direct route from Manila or if you don't have a tour agency to help you.
There are few possible ways to get to Banaue — Manila - Banaue (direct), Manila - Baguio - Banaue, Manila - Baguio - Bontoc - Banaue.
Ohayami Trans, Lacson Ave. cor. Fajardo St., Sampaloc, Manila (Just near University of Sto. Tomas or take the train from the Legarda Station then just take a trickshaw to the terminal. The travel time is about 9-10 hrs. Provides trips directly to Banaue. They have three daily trips - 9pm, 9:45pm and 10pm leaving their terminal.
Manila-Solano, Nueva Vizcaya-Banaue ifugao - buses heading to Tuguegarao (e.g. Baliwag transit, Victory,Florida transport inc., etc.) pass by the town of Solano. Several jeepneys ply the Solano-Banaue route or the Solano-Lagawe, Ifugao route. From Lagawe, one can then take another jeepney to Banaue.
Manila-Tarlac-Solano-Banaue - buses heading for Baguio pass by Tarlac. Vizcaya liner plies the Tarlac-Solano route at 5 am.
By car
The distance between the Balintawak Cloverleaf, in north Manila at the beginning of the North Luzon Expressway and the Welcome to Banaue sign, is about 332 km. The road is paved all the way to Banaue. Travel time can be as long as 9 hours due to the several blind curves through the mountains.
Best day to travel is on good Friday of Lenten season, Christmas day and new year's day. It will take about 7 hours only by car with a reliable driver.
Get around
Jeepneys (converted jeeps/bus) and tricycles (trikes) (little motorcycles with sidecars) are easily available around Banaue. Vans can be hired with driver/guide. Expect to hike some to great places to see that are not on the roads. There is a public jeepney plying the Banaue-to-saddle-point (start of trek to Batad village) route daily. See Get Out, below for more info.
Rating:
2 people rated this.