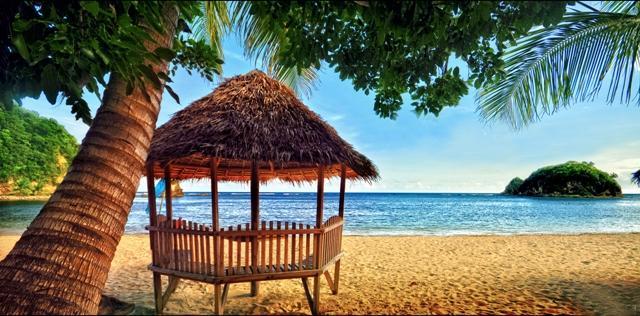 A prime destination for water sports, Igang Beach in Catanduanes has been flocked by entusiasts from all over the world who which to experience the beach's wild wind and waves.
Igang Beach is haven for surfboarding and windsurfing. The beach has a long stretch of white sand. There are caves nearby and the coral formations are ideal for spear fishing. In some parts of the beaches, swimming is safe and recommended.
Location
The beach is located in Igang in Virac in the province of Catanduanes.
How to get there
By Air
Zest Air and Cebu Pacific fly from Manila going to Virac, Catanduanes.
By Land and Water
Numerous bus lines operate air-conditioned coaches from Manila to Tabaco, Albay. From the seaport of Tabaco, hop on either at MV Calixta 2, 4 and 5 or MV Eugene Elson to reach the island of Catanduanes going to the seaport of San Andres or Virac.
Another way is to take RSL bus from Manila to Catanduanes that has terminals at Alabang near Metropolis or Ermita.
Going around the Island
Tricycle is the primary mode of transport within the capital town of Virac. PUJs and buses ply from Virac to the different municipalities daily on scheduled time. For the more daring and adventurous, the entire province could be reached by motorcycle.
Accommodations
• Catanduanes Midtown Inn - San Jose, Virac Catanduanes
• Marem Pension House - Sta. Cruz, Virac, Catanduanes
• Kemji Resort and Restaurant - San Isidro Village, Virac, Catanduanes
• Rakdell Inn - San Pedro, Virac, Catanduanes
• Rhaj Apartelle and Executive Inn - Rizal Avenue, Gogon, Virac, Catanduanes
Rating:
0 people rated this.