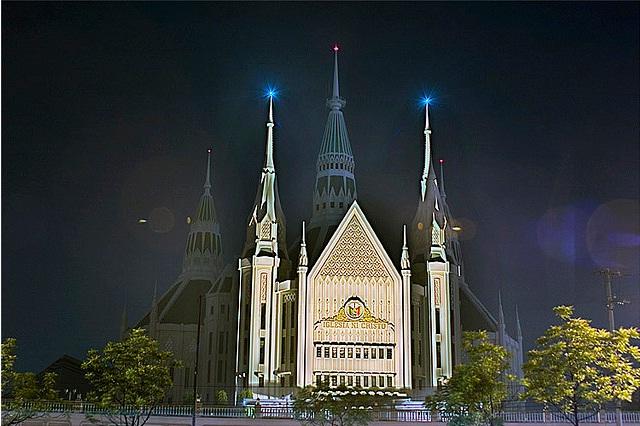 Iglesia Ni Cristo Central Temple at night
Iglesia ni Cristo, also known as INC, is the largest entirely indigenous Christian church in the Philippines, and the largest religious organization that originated from the Philippine Islands and the largest independent Christian Church in Asia. Due to a number of similarities, some Protestant writers describe the INC's doctrines as restorationist in outlook and theme. INC, however, does not formally consider itself to be part of the Restoration Movement.
Felix Y. Manalo officially registered the church with the Philippine Government on July 27, 1914 and because of this, most publications refer to him as the founder of the church. However, the official doctrines of the church profess that Jesus Christ is the founder of the INC and that Felix Manalo was the last messenger, sent by God to re-establish the Christian Church to its true, pristine form because the original church was apostatized. INC teaches that the apostate church is the Roman Catholic Church, and proclaims that Catholic beliefs shared by most Christians, such as the Trinity are proof of this apostasy. The church teaches that the Trinity and the divinity of Jesus and of the Holy Spirit are not biblical. As of 2010, the Executive Minister of Iglesia ni Cristo is Eduardo V. Manalo, the grandson of Felix Manalo.
Architecture
A majestic structure of impressive Gothic-Moorish architecture, the Iglesia ni Kristo rests on a compound along Don Mariano Avenue (Commonwealth). Within this compound occupy the church's Central Temple; a museum and a gallery where the Iglesias' beginnings, culture, rituals and practice are exhibited; the tabernacle; a theological school for future ministers; and the administration office of the congregation.
Where to stay
Here is the list of some of the accommodations that can be found around the city of Quezon. It offers good services and comfortable rooms for all visitors.
Imperial Palace Suites - Timog Avenue Corner Tomas Morato Avenue, 1103 Quezon City

Torre Venezia Hotel - 170 Timog Avenue cor Scout Santiago St.,, 1100 Quezon City

Dangay Suites - 99-A Dangay Street, 1105 Quezon City

Eurotel Araneta Center, Cubao - General Araneta Corner General Roxas Streets, 1109 Quezon City

The Sulo Riviera Hotel - Matalino Road, Diliman, Quezon City

Sir William's Hotel - 39 Timog Avenue, 1103 Quezon City

Lemon Tree Inn - 18 Scout Magbanua Street near corner of Quezon Avenue, Barangay Paligsahan,, 1103 Quezon City

Robbinsdale Residences - # 14 Araneta Ave. corner Palanza St., 1113 Quezon City

Mezza Residences Condote - Aurora Boulevard Corner Araneta Avenue, Guirayan Street, Barangay Dona Imelda, 1000 Quezon City

La Breza Hotel - Mother Ignacia St., 7876 Quezon City

Crowne Plaza Galleria Manila - Ortigas Avenue corner ADB Avenue, 1100 Quezon City

Eastwood Richmonde Hotel - 17 Orchard Road, Eastwood City, Bagumbayan, 1110 Quezon City

Stone House Bed and Breakfast Quezon City - 1315 E. Rodriguez Avenue, 1100 Quezon City

Fersal Hotel - Annapolis - 49 Annapolis Street, Cubao, 1100 Quezon City

The Oracle Hotel - 317 Katipunan Avenue, 1600 Quezon City
Getting around the city
Public transportation within the city, like in most of the urban areas in the Philippines, is facilitated mostly using inexpensive jeepneys and buses. Tricycles give access to more secluded areas, while taxi cabs are available to navigate any course.
This City has 3 Circumferential Roads. The following are:
C-3: Sgt. Emilio Rivera Avenue and Araneta Avenue

C-4: Epifanio de los Santos Avenue or EDSA

C-5: Mindanao Avenue, Tandang Sora Avenue, Congressional Avenue Extension, Katipunan Avenue and E. Rodriguez Avenue
Railway
Currently, two elevated light rail systems and one heavy rail system run through Quezon City: LRT 1 – at EDSA (C-4) connecting North Avenue and Baclaran (Manila) LRT 2 – at Aurora Boulevard (R-6) connecting Santolan (Pasig City) and C.M.Recto Avenue (Manila), and MRT 3 – at EDSA (C-4) from Taft Avenue (R-2 in Pasay City) to North Avenue.
An elevated rail transit system (MRT-4) that was supposed to follow the general alignment of Quezon and Commonwealth Avenues (R-7) was shelved. In its place, a 22 kilometer rail system will be built. The MRT-7 project will commence at North Avenue, connecting the MRT-3 at its northern terminus. It will then go through Commonwealth Avenue, then through Regalado, Quirino Highway, ending in San Jose del Monte, Bulacan. The system has a proposed spur line to connect itself to MRT-2 in Katipunan, passing through the University of the Philippines Diliman and Katipunan Avenue.
The following elevated railway stations in the city (Only 13 Stations):
MRT-3 (with 5 Stations):

North Avenue- (Connected to LRT-1 Yellow Line)

Quezon Avenue

Kamuning

Araneta Center-Cubao- (Connected to LRT-2 Purple Line)

Santolan

LRT-2 (with 5 Stations):

Gilmore

Betty Go-Belmonte

Araneta Center-Cubao- (Connected to MRT-3 Blue Line)

Anonas

Katipunan

LRT-1 (with 3 Stations)

Balintawak

Roosevelt

North Avenue- (Connected to MRT-3 Blue Line)
Rating:
2 people rated this.