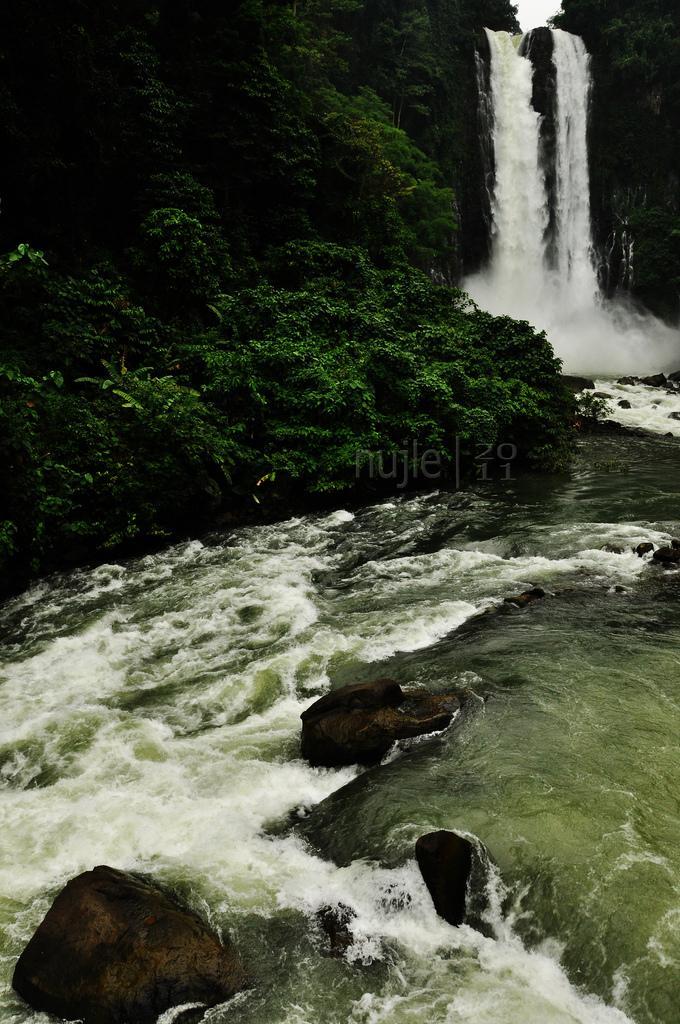 Situated against the backdrop of Mt. Agad-Agad, Iligan City is a paradise of must-see destinations. Aptly and deservedly called the "City of Majestic Waterfalls," Iligan is blessed with numerous stunning waterfalls which are visited by many local and foreign tourists alike. They are rewarded by the sight of natural wonders that continues to amaze and insipre everyone.
The province alone has over 20 waterfalls. Some of these waterfalls have been tapped into as sources of industrial power in the city, as well as bringing in revenues from tourism to the city.
Renowned as the landmark of Iligan City, Maria Cristina Falls is Iligan's greatest heritage, and as well as being known as the "Mother of Industry" and "Fountainhead of Progress." Surrounded by forests, the 320-feet-high spilling 130-cubic-meters-per-second waterfall is the main source of industrial power which provides electricity in the city. It is located along the borders of Barangay Maria Cristina, Dituculan and Buruan about 9.3 kilometers away from the city. The name "Maria Cristina" is derived from a legend that tells the death of two sisters named Maria and Cristina that took place at the falls.
Aside from Maria Cristina Falls, Lanao Del Norte takes pride in Tinago Falls. It is one of the famous attractions of the province where it can be reach through trekking down a 300-500-step staircase located in the upper part of Brgy. Buru-un. The long trek is rewarded with the soothing view of a 240-foot waterfall descending into a blue lagoon. Swimming is allowed but there are also man-made swimming pools. Behind the falling water is a cave where people can enter and hear the sound of falling water.
Second to the tallest waterfalls in the Philippines, Limunsudan Falls is an awe-inspiring two-tiered falls with a total height of 870 feet and is within the boundaries of Iligan, Bukidnon and Lanao Del Sur. It is 35 kilometers away from the city and it takes a trek of two days from Kalamalamahan, Barangay Rogongon, Iligan City before you reach the waterfalls.
One noteworthy waterfalls in Iligan is the Mimbalut Falls, which is about 18 feet high with a drop of approximately 90 ft. wide. It provides cool, refreshing water ideal for swimming.
Hindang Falls is a 40-foot, two-tiered waterfall with a 6-8 cave cluster, with narrow entrances and deep chambers. Located in the vicinity Barangay Hindang, the waterfalls has a fascinating lagoon which is ideal for swimming.
Located in Pagayawan,Bacolod,Lanao del Norte, 32 kilometers away from Tubod, Pagayawan Falls has a tributary falls cascading beautifully on a bed of volcanic rocks before it merges to the main fall estimated at 85 feet. It is an alternative source of power having a potential of 14 megawatts.
Trek the Highest Peak
The city has a lot to offer for adventurers who wish to experience a challenging trek. The 1600-foot-high Mount Agad-Agad is the highest peak in Iligan and is safe for mountain climbing, camping and trekking. It has a hanging bridge which connects the main road and the jump-off point to the foot of this mountain.
Festivals
The people of Lanao Del Norte have their unique way of celebrating, reflecting their rich and vibrant native culture.
Sagayan Festival features a war dance performed by warriors carrying elaborately decorated shields and weapons during the Araw ng Lanao del Norte Celebration. They are dressed in colorful clothing and perform a dance called "Kasiduratan" together with native instruments such as the kulintang and the agong provide the accompaniment.
The celebration includes a fluvial parade with a display of different sizes of alimango or crab. There are various activities such as native dance performances which show the local culture and tradition of the city.
The festival is a thanksgiving celebration of good harvest, particularly bananas. The term "sagingan" refers to a farm of bananas derived from the term "saging" which means banana.
Take a Trip to Lanao
The nearest airport to Iligan City is the Cagayan de Oro Airport. Flight time from Manila to Cagayan de Oro Airport is approximately one hour and 20 minutes.
From Cagayan de Oro Airport, get a taxi to Iligan, or get a taxi to drop you off at Bulua Bus Terminal and find buses going to Iligan. Travel time from Cagayan de Oro to Iligan is approximately an hour and a half.
Rating:
1 people rated this.