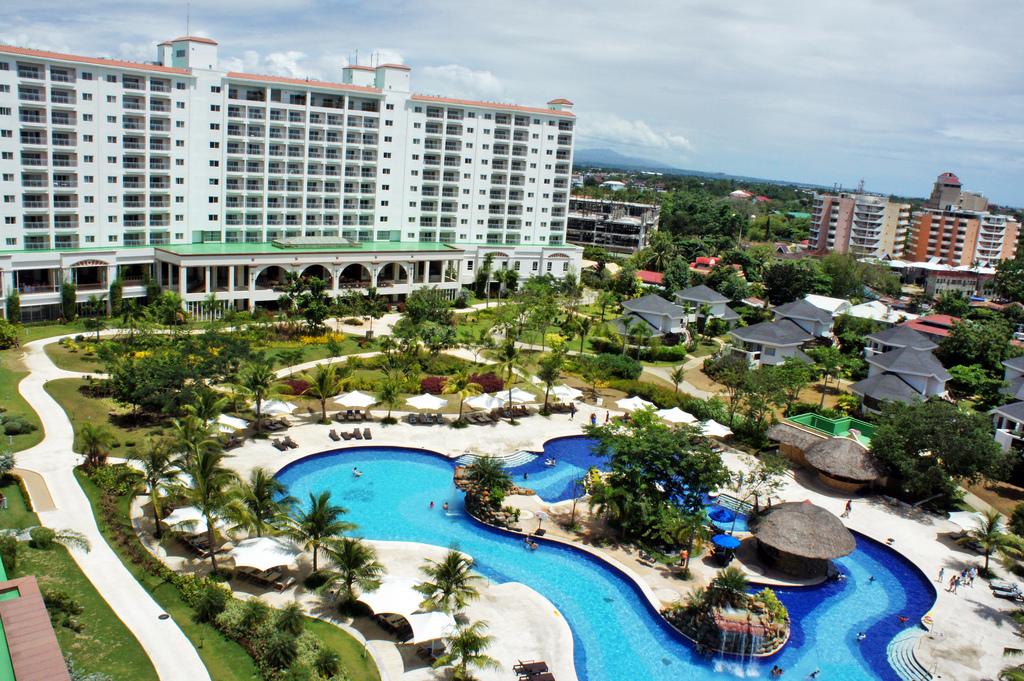 Cebu, as well as its nearby areas, is a prime tourist destination, drawing thousands of visitors every year thanks to its natural, cultural and historical attractions, but one modern attraction, Imperial Palace Waterpark Resort & Spa, promises to be an attraction that offers a luxurious setting while still maintaining a refreshing, natural ambience. The resort is situated in Maribago, Lapu-lapu City.
From their Website, the resort is owned and developed by the Philippines BXT Corporation, a PEZA registered Tourism Operator and Developer. Its management is under the hand of the Imperial Palace Hotel Group, an international hotel management group that includes three sumptuous hotel accommodations in different countries such as Seoul, South Korea, Fukuoka, Japan and Lapu-lapu City, Cebu, Philippines. In fact, the "Imperial Palace" in Seoul, South Korea was featured and rated in Time Magazine as the best hotel in Asia for having a high standard of management style and industry expertise.
Rooms and Suites
Guests will surely enjoy their stay at the elegant and fully-furnished rooms provided in the resort that serves 556 rooms, with 128 deluxe rooms, 380 suites, and 48 pool and jacuzzi villas.
The rooms have a very stylish design and made from the best materials. Every room has a relaxing, and refreshing ambience catered to suit the needs of guests.
The resort offers high-quality accommodations and services that give special treatment to every guest.
Meetings and Events
Imperial Palace Waterpark Resort & Spa is also an ideal place for business meetings, conventions, exhibitions and other special events, especially weddings, birthdays and other themed parties.
The resort provides an area about 109 to 840 sq. meters for meetings and function rooms, which is divided into four collapsible meeting rooms. Every room is furnished with LCD screens and high-speed internet connection.
They also have a grand ballroom that can accommodate about 600 persons.
The resort also accepts many options for any kind celebration as its outdoor venues allow.
Restaurants and Bars
The resort has many luxurious restaurants and bars where guests can enjoy different kinds of delicious food of different cuisines and a variety of drinks.
Waterpark and facilities
Enjoy dipping in the vast swimming pool with complete amenities designed by Dream Park International USA. The waterpark will surely loved by visitors. It provides borderless excitement, joy, and adventure to every guest. It is the ideal place for family and group outings.
Facilities
Waterpark

Island Pool

Kids Club

Gym

Cabana Lounge
Outdoor Activities
Don't miss the chance to experience the exciting adventures to be had in the resort. Guests can also try the outdoor activities provided by the resort.
Spa
Guest can also try the luxurious spa at the resort. It is perfect for body relaxation and rejuvenation.
Gallery

Location
Imperial Palace Waterpark Resort and Spa is located along M.L Quezon Highway in Brgy. Maribago, Lapu-Lapu City, Cebu, Philippines.
Getting There

By plane
Lapu-Lapu City is located in Mactan Island, Cebu, Philippines, so the fastest way to get to Lapu-Lapu City, Cebu, Philippines is by air. The Mactan-Cebu International Airport is located in Lapu-Lapu City. Various airlines from Manila have daily trips to Cebu.
By boat
As part of Cebu Province, going to Lapu-Lapu City is thru Cebu City's domestic port which is the biggest and busiest in the island. Then you can take taxi to Lapu-Lapu City or take the ferry boat from Pier 3 to Muelle Osmena.
Get around
The simplest way to get around is by hopping on a tricycle or multicab (small jeepney). Taxis are also available for a comfortable trip.
Rating:
10 people rated this.