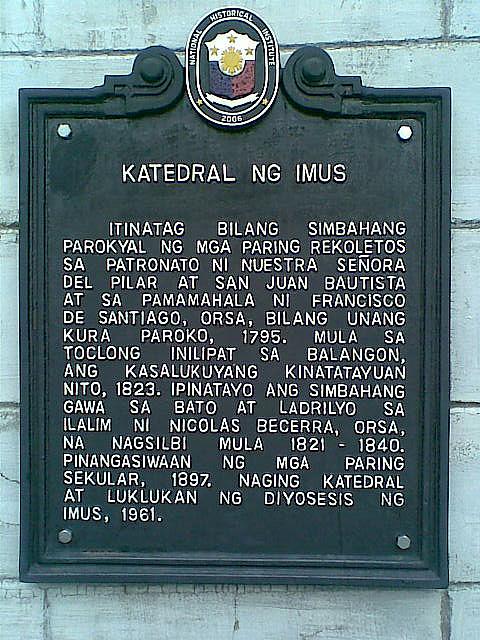 Imus Church Marker
The Imus historical Marker can be found at the town plaza in Imus, Cavite, which is a first class municipality and officially assigned as the capital of Cavite Province. The marker is placed near two historic buildings which are the Imus Catholic Church and the Municipal Hall. One can argue that the province is the birthplace of the nation and it was the site where the first successful revolution was made.
Imus is the place of two major katipunero battles during the Philippine Revolution against Spain. The Battle of Imus was fought on September 3, 1896 and the Battle of Alapan, on May 28, 1898. The day that the first Philippine flag was flown was also the day that both battles were celebrated yearly in the municipality. Imus is the Flag capital of the Philippines and the Christmas Capital of the Philippines.
Imus is the place of birth of:
Capt. Bernardino Paredes (1849), executed on September 21, 1897

Santiago Alvarez (July 25, 1872-October 30, 1930) - revolutionary general

Maj.-Gen. Pantaleon Garcia (July 26, 1856 to August 16, 1936) - commanding general of Central Luzon forces

Hilario Lara (January 15, 1894-December 18, 1987) - physician, academician and National Scientist, July 11, 1985

Gen. Simeon Satorre - killed in the Battle of Binakayan

Gen. Licerio Topacio (1839-1925) - fought in the Battles of Imus, Zapote and Binakayan

Gen. Flaviano Yengko (1873-1897) - youngest general of the revolution, killed in the Battle of Pasong Santol.
The Historical Marker represents the victory of the "katiponeros" who won in the Philippine revolution against Spain, and it also symbolize how the city Imus is very significant to the Philippine history.

Rating:
0 people rated this.