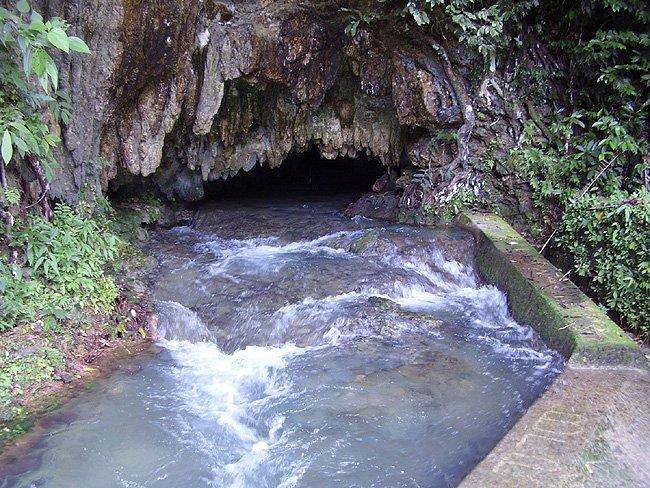 Inambacan Cave
Inambacan Cave is located about two kilometers from the town of Antequera, Bohol. One can get to the entrance of this cave over more accessible roads. Inside is flowing water which can often reach up to 1.2 meters and often only a mere 30 centimeters of air remain between the current and the ceiling. Inside the cave are some small stalactites and stalagmites.
The cave and spring lie in the seven-hectare government property in Brgy. Villa Aurora. Inambacan Cave and Spring is truly a "must see" in the town of Antequera. A few meters downhill from a dirt road is the entrance to Inambacan Cave. The cave entrance sits above the Inambacan Spring. A narrow cemented path that serves as the walls for the irrigation system lead to the small entrance of Inambacan Cave. The cave has an active underground river system. It is characterized by the presence of numerous beautiful limestone formations, stalactites, stalagmites and flowstones, indicating that the cave is unfrequented neither by locals nor tourists.
The main passage is a walking passage with ankle-deep water. Further on, the passage develops into a low ceiling and neck-deep water with only a few feet of clearance between the cave ceiling and the water level. This goes on for approximately a good 3 meters until the passage clears out once again to high ceiling and waist-deep running water. A little difficulty is encountered at the narrow constriction just after the entrance of the cave since a large volume of water is gushing out. The water level just before this section is deep. Care should be taken in negotiating this section. An inexperienced caver would require assistance in this particular section of the cave. Located a few meters away from the cave is Tubig Daku, a brook where the water that flows out of the cave goes. Tubig Daku flows downstream from Mag-aso Falls to Inambacan. It has a small falls with a drop of around three feet and approximately measures 10 meters in diameter and is a tributary of Abatan River. Picnic huts and rest/shower rooms have been installed a few meters from the spring. Presently, the local government is not charging any amount yet for its use.
Inambacan Spring

Where to Stay

Here is the list of accommodations around Tagbilaran City, Bohol.

Gie Gardens Hotel - 18 M.H. Del Pilar St., Cor. C.P.Garcia Ave, Tagbilaran City

Darunday Manor - 22 J. A. Clarin Street, Tagbilaran City

Metrocentre Hotel - C.P.G. Avenue, Tagbilaran City

Vest Pension House - Tamblot Extension, Cogon District, Tagbilaran City

The Meredian Hotel - 4-S Matig-a St., tagbilaran City

Hotel La Roca - Graham Avenue, Tagbilaran City

Matig-a Seaside Pensione Bohol - 26 V.P. Inting Street

Via Bohol Tourist Inn - Graham Ave., Tagbilaran City

Villa Alzhun Tourist Inn and Restaurant - 162 V.P Inting Street, Mansasa, Tagbilaran City

Vest Pension House - Tamblot Extension, Tagbilaran City

Taver's Pension House - Taver's building, Remolador St., Tagbilaran City

Sky High Lodge - CPG Ave., Tagbilaran City

Shores Apartelle - Mansasa District, Tagbilaran City

Wregent Plaza Hotel - CPG Ave., Tagbilaran City

Share House Bohol - Sacred Heart Village, Tagbilaran City

Esta Villa Residencia - Mansasa Seaside, Tagbilaran City

Soledad Suites - J. C. Borja Street cor. M. Parras Street, Tagbilaran City
How to get there

By Air
The main entry point to Bohol is Tagbilaran City (Tagbilaran City Airport) which is only a one hour-and-15-minute flight from Manila and 20 minutes from Cebu.
By Sea
The most convenient way to get to Bohol from the neighboring islands is by fast ferry. Fast ferries offer a high-speed passenger service. These have a cruising speed of about 50 kilometers per hour.
Getting Around in Bohol
Once you arrive on Bohol, there are various ways to get around the island. You can find plenty of tricycles and some taxi waiting to bring you to most locations within Tagbilaran and neighboring towns. If you need to go to one of the other towns on the island, you have a choice of jeepneys, buses, V-hires, or even habal-habal.
Rating:
9 people rated this.