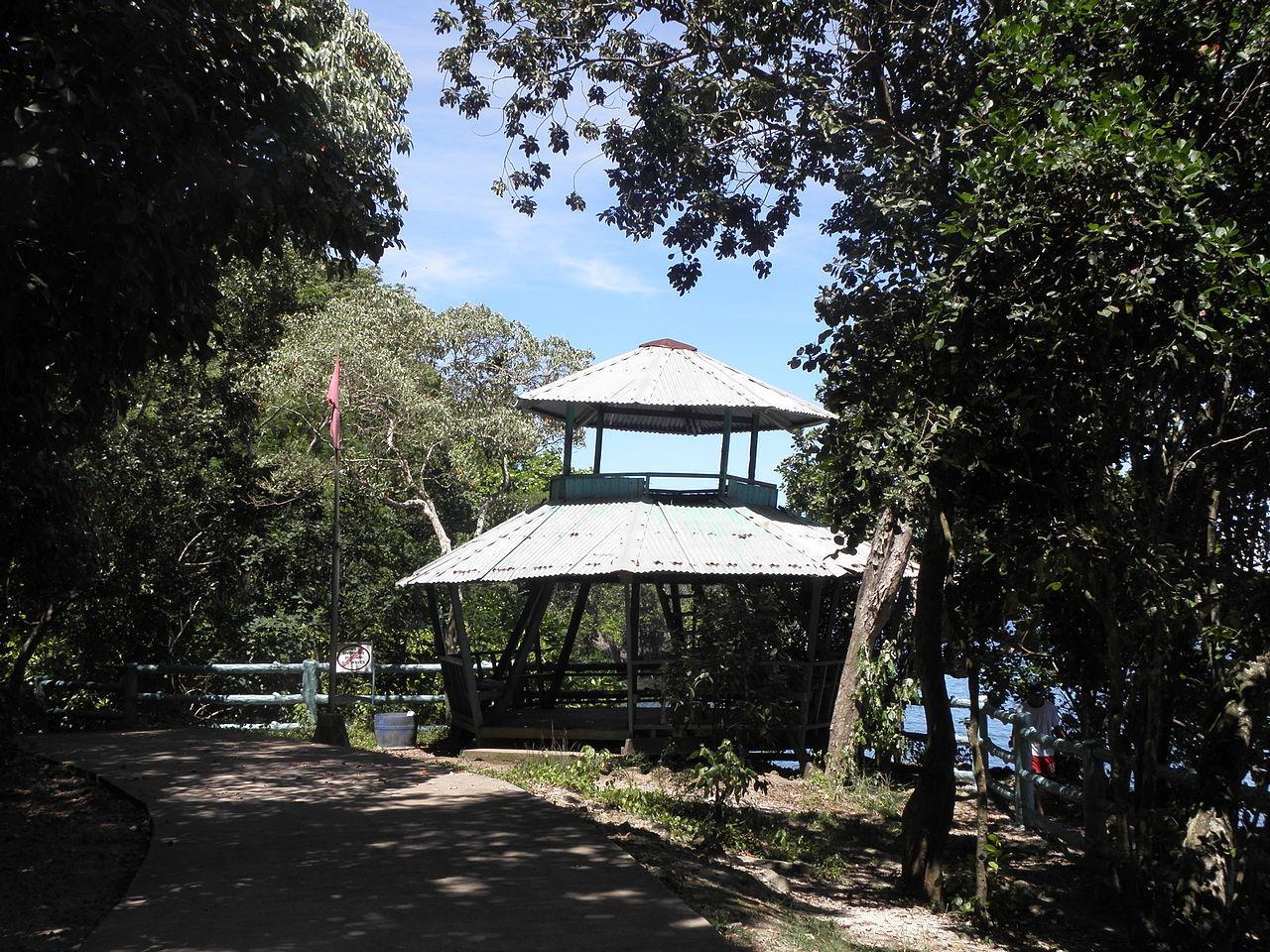 Initao National Park is situated in the municipality of Initao, Misamis Oriental. It covers 57 hectares of forest with diverse flora and fauna. This park is very unique because the National Highway (Cagayan de Oro to Illigan) snakes along the heart of the forest, making it a favorite stopovers for weary and tired drivers, commuters, and travelers. It is situated in an uplifted multi-level marine terrace characterized by karstic topography of irregular limestone regions with sinks and caverns.
The forest has various big tree species with the height of 60 feet and above with width diameter ranging around 20-120 centimeters. The dominant tree species found in the forest are the tindalo, molave, margapali, bogo, bitaog, himbabao (its flowers are edible), and narra (the Philippine national tree). Also, you shouldn't miss one of the most famous attractions inside – the talisay gubat, a tree that has been there for over a hundred years, hence the name "centennial tree". Although these trees can be used to make different furniture, logging is prohibited in this area. You can also spot different medicinal trees and plants, especially if you have a trained eye. The forest is also home to various kinds of bushes, shrubs, vines and grasses.
Different species of birds can also be seen here, like native pigeons, doves, serpent eagles, and megapodes. The presence of numerous avian species makes this place ideal for bird watching. You can also try spelunking in the various caves that can be found in the place. Just remember that you need to get an experienced tour guide to accompany you and make your exploration safe and enjoyable. The split-nose bats nesting in one of the caves are a must-see. You can also go fishing but you need to bring your own hooks and baits.
There's a little path from the road that will lead you to the seaside where you can do some exciting activities like swimming, snorkeling, and scuba diving. The sea has different species of corals and wide variety of fish that dominate the underwater scene. Also, one side of the park has a high steep rock used for cliff diving. It is a very dangerous, challenging, and adrenaline-pumping kind of activity, so you should only try it if you are an expert in swimming and diving.
The National Park is open for everyone. There are some cottages, picnic tables, and gazebos dotted around the place where you can relax and bond with your fellows. You can also set up an overnight camp in the area but you have to ask permission from the authorities. You also have to maintain the cleanliness of the place.
Initao National Park is a good place for families, friends, and lovers. It has a relaxing, peaceful, and romantic ambiance hanging in the air. Like a warm canopy, the forest will embrace you and take away your distress. It is the perfect getaway. For the first time, getting lost in this place might just be a good thing!
How to get there
Initao can be reached in an hour by plane from Manila to Cagayan de Oro. Then a 45-minute bus ride. One can go around the town by riding a "sikad-sikad" or motorboat, "jeepneys" or motorcycles.
Rating:
0 people rated this.