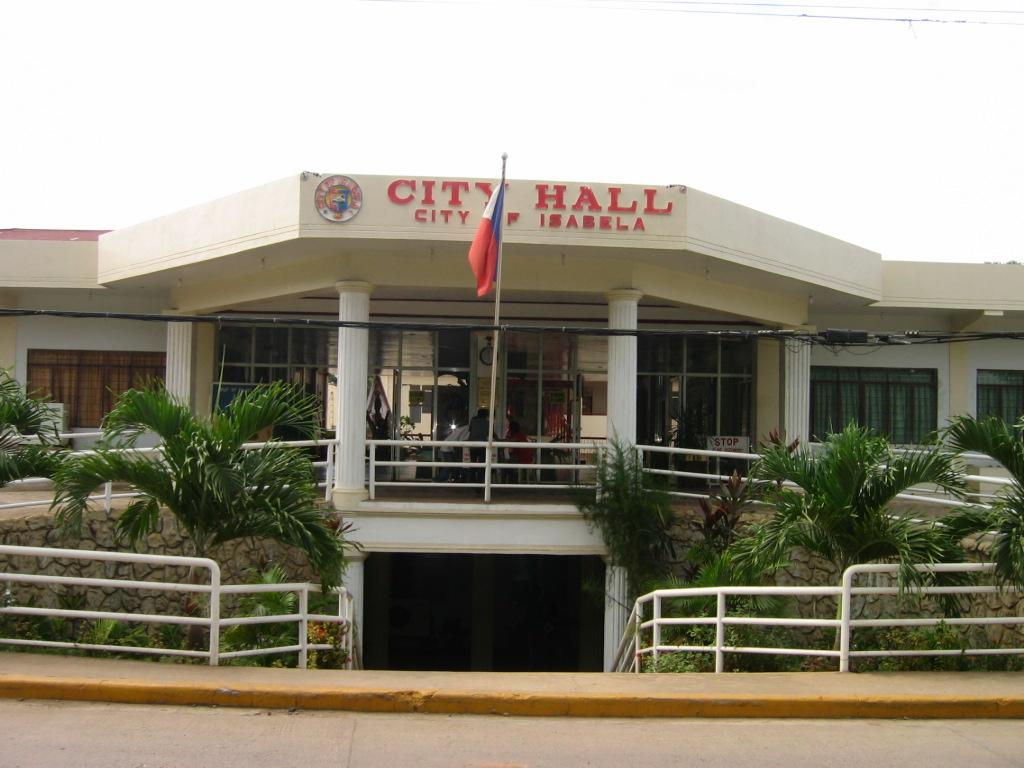 Isabela City Hall Complex
Overview

Isabela City is a 4th class city and the capital of the province of Basilan. The city is located on the northern shore of Basilan. Across the Basilan Strait to the north is Zamboanga City.
While administratively, the island province of Basilan is part of the Autonomous Region in Muslim Mindanao (ARMM), Isabela City itself is in not part of this region and is placed under the Zamboanga Peninsula region.
Institutionally, the military has played a major part in Isabela City's and Basilan's volatile history, due to the ongoing conflicts borne out of the Moro Secessionist wars of the 1970s, and more recently, by Al Qaeda-backed Islamic fundamentalist groups fomenting a running gun-battle with the Philippines' armed forces for more than a decade.
Also exerting great influence in everyday life is the Roman Catholic Church and the Islamic Mufti and Imams, religious scholars and leaders who exercise a moral ascendancy over their respective groups.
Trading and commerce is still predominantly East Asian (Hokkien Chinese), aided more so by a recent influx of immigrants from Taiwan and by Koreans as well.
Tourist Attractions
Annual Cocowayan Festival - Anniversary of the Cityhood of Isabela, April 25

Fiesta Santa Isabel - Annual Feast of St. Elizabeth of Portugal, July 8

Cathedral of Santa Isabel de Portugal - the seat of the Diocese of Basilan and Prelature of Isabela, built in 1960s mod-art style with a distinctively Classical Roman mosaic for an altar wall.
Provincial Capitol - constructed along elegant middle-eastern architectural lines reflecting the majority Muslim population (70%) of the Island Province
Kaumpurnah Mosque - historic seat of Islamic faith and teaching in Basilan, can be seen as you enter the Isabela Channel
Alano White Beach Resort - located on the northern part of scenic Malamawi Island, features white sand beaches, day cottages and basic amenities for a day of fun with family and friends
Barandino Farm - located on the eastern part of city, it is 12 kilometers from the main city and has hectares coconut and fruit trees
Sumagdang Beach Resort - a publicly owned beach resort for affordable weekend getaways for the family
ISAWAD Resort - a refreshing inland pool and water park located in Cabunbata Barangay

Cabunbata Falls - a natural watering hole for the environmentally conscious and the eco-friendly traveler

Yakan Crafts - showcasing authentic Yakan cloth designs and souvenir products, located at J.S.Alano (Zenith) Bldg.
The Farmland Resort - a cool family retreat located at the nearby hills of Lanote Barangay
Where to stay
QUEREXETA FORMATION CENTER -

C. P. Garcia St., Isabela City
CHANNEL VIEW HOSTEL / ACHIONG TAN APARTEL -

Sunrise Barangay, Isabela City
ROYAL ISSRA -

Pension Haus Tugung St., Isabela City
CASA ROSARIO (Pension Haus) -

Valderosa St., Port Area, Isabela City
ANSON'S HOTEL -

Sumagdang, Isabela City
CITY LODGE -

Tugung St., Isabela City
BASILAN HOSTEL (Overlooking Basilan Channel) -

Peo Drive, Eastside, Isabela City
Where to eat
JOLLIBEE BASILAN - Valderosa St. Isabela City

TRISHAS - Valderosa St. Isabela City

ETHEL'S BURGER HAUS - Valderosa St. Isabela City

HALAL FASTFOOD - Alano St. Isabela City

M M FOOD CHOICE - Rizal Avenue Isabela City

CARENDERIA & REFRESHMENT - PUBLIC MARKET (Marketsite, Isabela City)

RAVECHE'S CATERING - Eastside Isabela City

LOLO JOSE RESTAURANT - Sunrise Isabela City

BUGO-BUGO EATERY - Rizal Avenue Isabela City

KAMBINGAN SA BASILAN - Rizal Avenue Isabela City

9D- Darusalam Coffee Shop - Manager- Balahim A. Said
How to get there
Zamboanga City is the main gateway to Basilan Island which lies 17 nautical miles (narrowest point of the Basilan Strait) due north. If you're from Manila or Cebu, take a flight to Zamboanga City then take a jeepney bound for Canelar and walk towards the port.
From there, a boat ride of 1 hour and 45 mins (for conventional passenger ferries), or 1 hour (for a fast craft), will take you to Isabela and Lamitan. There are fare discounts for student and senior citizen.
Isabela-Zamboanga-Isabela Route (1 hr, 30 mins)

Lamitan-Zamboanga-Lamitan Route (1 hr, 30 mins)

Maluso-Jolo-Maluso Route (6 hours)
Rating:
1 people rated this.