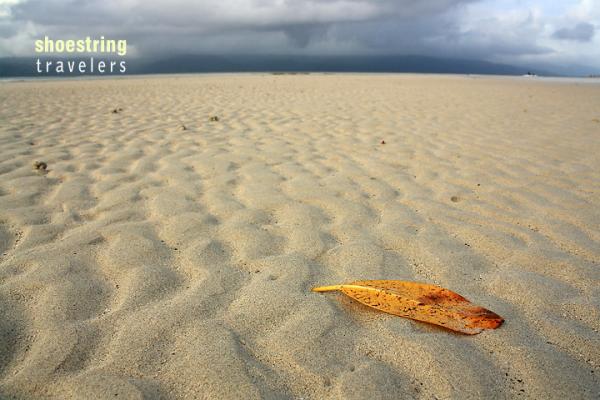 You may also check these sites:
https://www.shoestringtravelers.com/?q=node/68

Looking across from our docked ferry boat into the blue waters of Lamon Bay we were getting a bit anxious. Dark rain clouds over the horizon and the constant trickle of rain against the boat's protective canvas sheet seemed like an ominous sign for a 3-day vacation turned into a minor disaster. But it was too late to turn back now. Within minutes it seemed that our worse fears were about to be realized when the boat we were riding was soon bucking against the waves. And then, just as we were nearing our island destination the skies gradually began to clear, revealing hues of blue sky amidst mushrooms of white cumulus clouds. Cagbalete Island finally!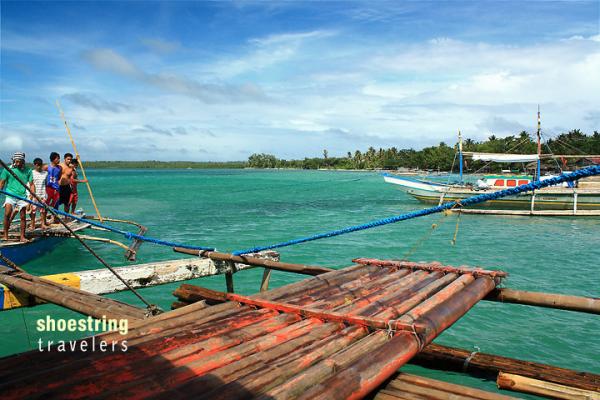 Our ferry arriving at the port of Cagbalete Island.
Our dark forebodings of a 3-day, 2-night vacation gone bad vanished the minute we walked away from our docked ferry (actually a huge outrigger boat) that made the trip from the coastal town of Mauban. We had been planning to visit Cagbalete Island as far back as 2 years from the time we actually made this trip after seeing it get featured in various travel blogs. Cagbalete is part of the municipality of Mauban in Quezon Province with Lamon Bay separating it from the mainland.
The Eastern Side of Cagbalete
At Mauban we got in touch with Department of Tourism people who referred us to Rose, one of their volunteers in Cagbalete who met us as we disembarked at Cagbalete's port. Rose had her mom prepare a nice but inexpensive lunch for us before accompanying us to our resort: Villa Cleofas located on the opposite or eastern side of the island. To reach Villa Cleofas we embarked on a 30-minute trek out of Sabang (Cagbalete's port) through a foot path that was submerged ankle-deep in some places due to the recent rains. We were carrying quite a bit of foodstuff and other supplies so Rose arranged for a guy to carry our things for a fee.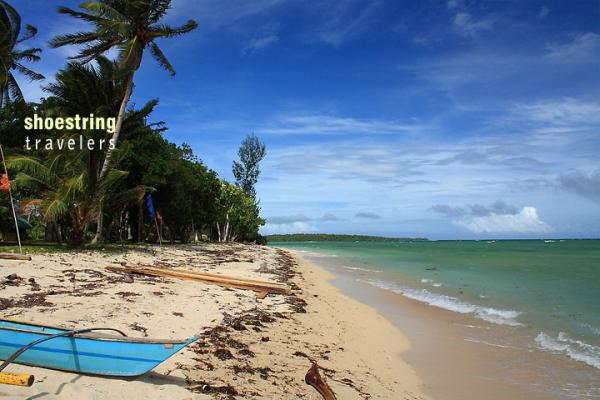 The beachfront at Villa Cleofas: debris from the sea was plentiful at this time of the year due to the amihan or northeast monsoon.
We were the only guests at Villa Cleofas which was hardly surprising since this was an off-peak season for tourists. We also noticed plenty of sea debris deposited into what otherwise would have been a scenic stretch of beach immediately in front of the resort. The caretakers told us that it was futile to clean the beach with the amount of debris coming in unlike during summer when they are able to keep this stretch immaculately clean.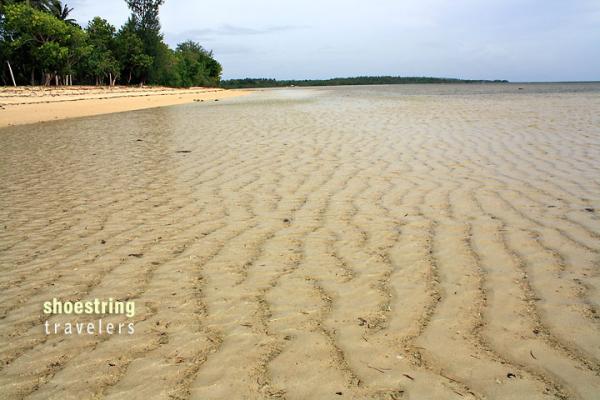 Not what we had expected: we only got to see a small part of Cagbalete's fabled
sand ripples since the waters didn't completely recede.
Our main reason for coming to Cagbalete was to view its low tide phenomenon when the sea moves back up to a kilometer from shore exposing a vast seabed of sand with its remarkable ripples. Unfortunately we came in at probably the worst time. The resort caretakers told us that the sand doesn't get fully exposed until full moon when the low tide is at its maximum – and it won't happen until the week after our stay. It was somewhat disappointing but we made the most of our stay by touring the long stretch of beach on the eastern side. This is where the resorts are located. We walked as far as the mouth of a creek with a mangrove swamp – the area right around MVT Santo Nino, a resort north of Villa Cleofas. We soon forgot our disappointment as we enjoyed the fact that we practically had all of the eastern side of Cagbalete to ourselves for the next two days and nights.
Nothing like fresh catch – the nice thing about vacationing within the vicinity of a fishing village.
Strolling along a deserted beach and relaxing under a hammock underneath towering palm trees, we were soon lost in time and space. Cagbalete is home to several species of birds and even just in our resort we would see dozens of sand pipers, a few bright blue-colored kingfishers and the occasional migratory egret. For lunch and dinner we cooked food that we brought with us at Villa Cleofas' kitchen which was well-equipped to handle our needs. We also grilled freshly caught fish that Rose brought in from the pier. There isn't much to do at night except sing your heart out at Villa Cleofas' videoke (which we could do with abandon since we were the only guests). But we were really looking forward to a rest on this trip and we ended up sleeping long hours as a result.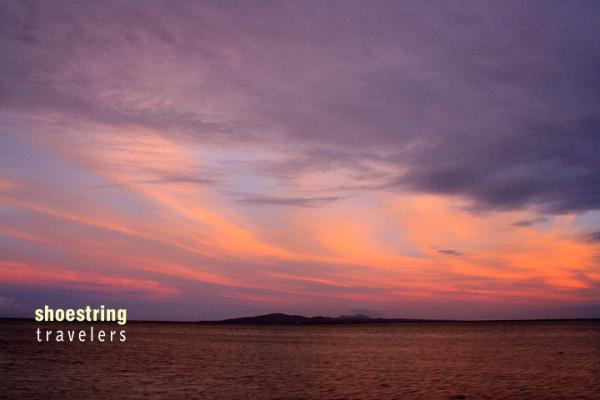 Sunset scene at Villa Cleofas; the land mass in the lower background is Alabat Island.
Sunsets are best viewed on the western side of the island, at Cagbalete's pier facing Mauban. Leo was still able to get some good shots of the sunset despite forgetting his tripod on this trip. Conversely, the eastern coast of Cagbalete is perfect for sunrise viewing. It was cloudy on Day 2 during our stay and clouds usually make for spectacular sunsets or sunrises.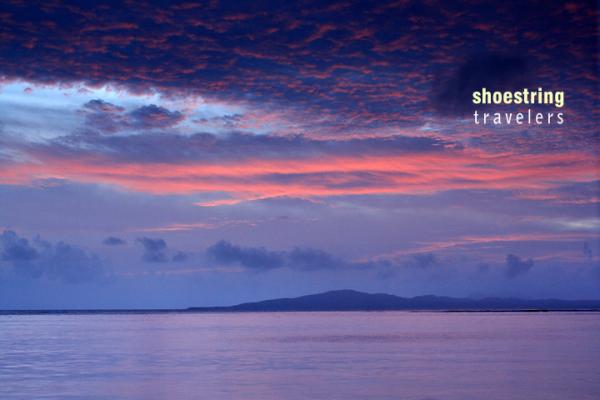 Sunrise at Cagbalete made more spectacular by the clouds.
The Western Side of Cagbalete
Rose told us that there is another scenic spot – a sandbar on the northwestern side of Cagbalete that was only becoming more popular recently. We later confirmed its name: Yang-In Sandbar. Rose arranged a boat to take us there and back to Sabang port. According to Rose this was even more beautiful than the sand ripples on the eastern side of the island with the exposed sandbar stretching out 3 kilometers from shore at the height of low tide.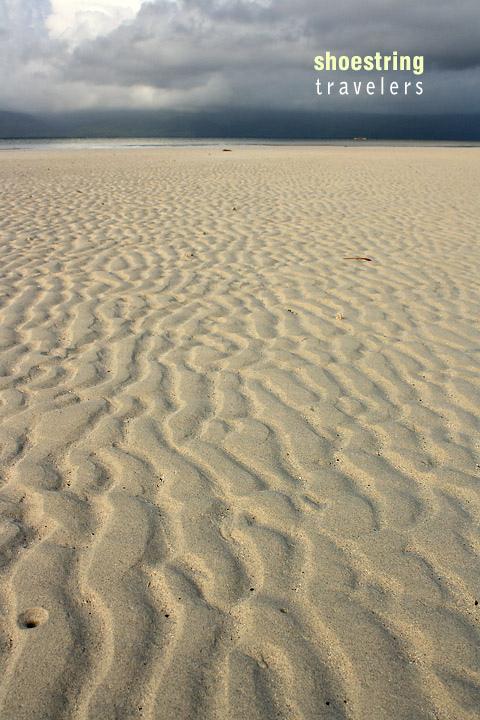 Yang-In sandbar at Cagbalete's northwestern side.
A check with Google Earth later showed that there indeed was a huge stretch of shallow beach projecting from Cagbalete's northwestern side where Yang-In is supposed to be located – so the 3 kilometers Rose mentioned isn't probably an exaggeration. Since it was yet to be full moon we didn't see the phenomenon Rose was talking about but there was still a good deal of dry beach sand exposed – and with plenty of ripples showing. It was a good compensation after all for missing the sand ripples on the eastern side of the island.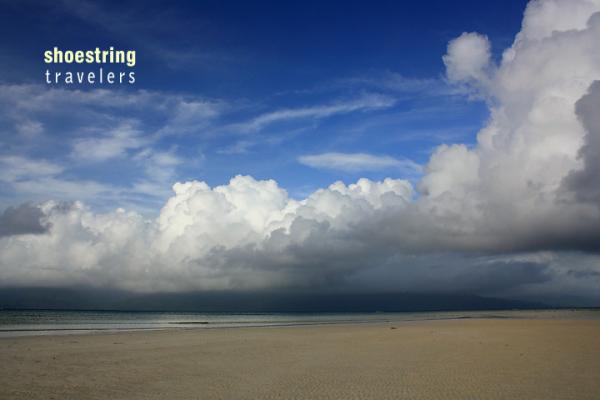 Clouds looming over Yang-In sandbar.
Part of Yang-In sandbar joins the mouth of a creek that empties into the sea. There is a significant outgrowth of mangrove trees in the area which our boatman said was home to several crabs, fishes and prawns. We didn't have time to explore the mangroves since we had to get back to Sabang for early lunch prior to catching our 1PM ride back to Mauban. But it did seem that there was plenty of marine life in these parts as evidenced by several birds in the vicinity including solitary egrets looking for their aquatic meal.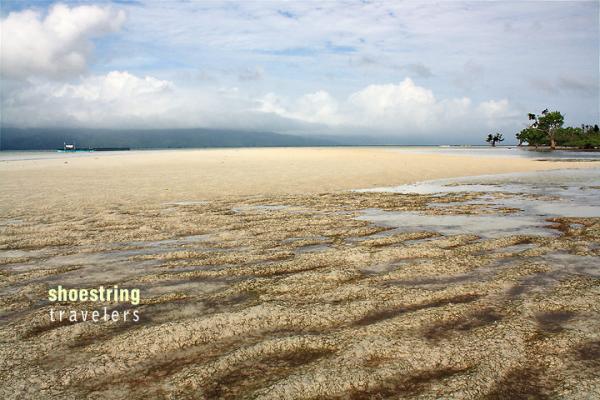 Yang-In sandbar connects to the mouth of a creek and a mangrove swamp teeming with fish, crabs and shrimps.
We arranged with our boat to take us to Sabang with our packed things so we could have an early lunch and rest before our 1PM ride back to Mauban. Rose again had her mom prepare lunch while we sat down at our dining area: a hut beside the beach at Sabang. Rose told us this was the very hut used by actors and film crew that shot a telenovela series a few months back and that actress Janice Jurado would sleep at the very place we were having lunch. We were soon doing likewise after filling ourselves up with fresh seafood, our leftover corned beef and some really nice veges that Rose's mom cooked (Nina also had a massage from Rose who happened to be a masseuse). We were able to sneak in an hour or so of restful sleep before embarking on our ferry for the trip back to Mauban.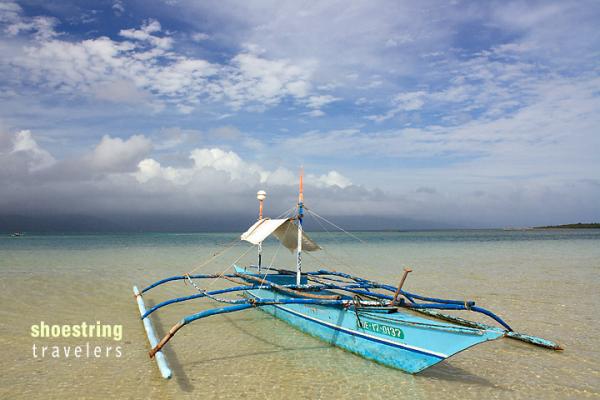 Our sea cab parked at Sabang or the port of Cagbalete. Even here there are some pretty decent beaches that can hold a resort.
Getting There and Other Tips
Cagbalete is part of Mauban Quezon so the first step to get to this island is to go to Mauban. If you're commuting from Metro Manila you can take any of the bus lines going to Lucena (JAC Liner is one of the better ones). The trip will take around 3-4 hours if done early in the morning. Most of these buses will drop you off at the Lucena Grand Terminal where you can then board a non-aircon bus bound for Mauban. You can also take aircon buses bound for Mauban at SM City Lucena. The latter can take you to Mauban in roughly an hour compared to 1,5 hours for the non-aircon buses.
If you're traveling on a private vehicle there are 3 ways to get to Mauban from the metropolis:
1. Take the South Luzon Expressway (SLEX) and exit at Sto. Tomas heading towards San Pablo. From San Pablo head up towards Tiaong (take the diversion road to avoid passing though town), then Candelaria and on to Sariaya. From Sariaya take the road to Tayabas (to avoid having to pass through Lucena) and on to Mauban. This would seem to be the shortest route and would take anywhere from 3 to 4.5 hours depending on the traffic. We used this route and didn't encounter a lot of traffic since we left early in the morning.
2. Take SLEX and exit at Calamba, Laguna. This route will take you through Los Baños, Sta. Cruz, Pagsanjan, Cavinti, Lusiana, Lucban and Tayabas before getting to Mauban. (Avoid the Sampaloc-Mauban Road as this is a stretch of rough road for almost a kilometer.) Longer than the first route, this one at least avoids traffic on the national highway.
3. If you're coming from the northern or eastern part of Metro Manila an alternative would be to go through Antipolo then to the towns of Teresa, Morong, Santa Maria, Famy, Siniloan, Paete, Lumban, Pagsanjan, Cavinti, Lusiana, Lucban, then to Tayabas before finally getting to Mauban. This can take 4-5 hours average.
At Mauban head for the port or pantalan near the public market and look for the tourist information and ticket booth. A 2-way ride to Cagbalete and back costs P180 for tourists but we later learned that locals only pay a total of P80 for the same 2-way trip. We've read somewhere that there is a P100 "environmental" fee for visitors included in the fare somehow. As of this writing boats leave Mauban for Cagbelete at 10:30 AM and at 1PM. We learned that there are supposed to be 2 boats per trip but for our trip the other boat was chartered leaving the 10:30 passengers to cram at the only boat available to the public. These ferry boats will not leave without an approval from the Coast Guard especially during stormy weather.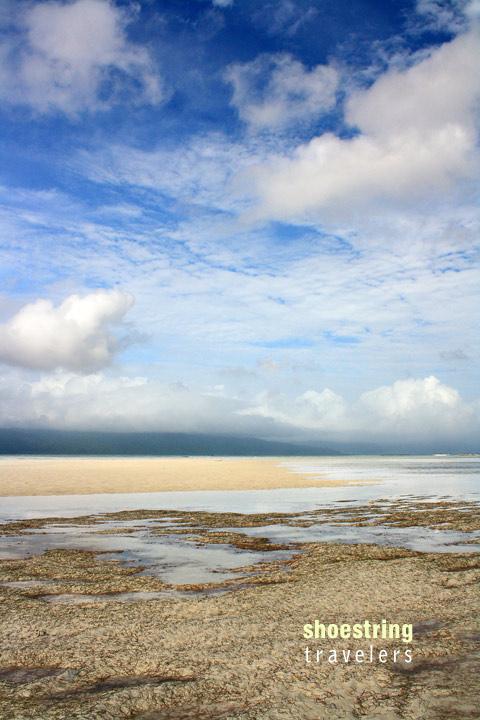 There were 3 resorts in Cagbalete at the time of our visit: Villa Cleofas (where we stayed), Pansacola Resort and MVT Sto. Nino. All of these resorts are located on the eastern side of the island. There was a new resort being built beside Pansacola at that time and which is now in operation – Dona Choleng Camping Resort, a sister resort of Villa Cleofas. There are also home stays in town or right by the port in Cagbalete's western coast that are generally lower-priced compared to the eastern resorts. (Rose's family also has a homestay.) Villa Cleofas and the other eastern coast resorts may be reached by a trek that cuts across the island from the port. People will ask to guide you although you don't really need one once you have located this path – just keep following it until you hit the beach and/or your choice of resort on the other side. If bringing stuff other than the backpack or bag you are carrying, you can hire one of the locals to carry it for you. Some resorts will offer a small boat to take you from Sabang to the resorts on the opposite side of Cagbalete for a fee.
If you're traveling on a shoestring like us it's best to bring your own food and to cook it at the resort (but check first if they have the facilities for this) or to bring precooked food that won't spoil. Some of the resorts will offer food but at expensive rates. Another good option is to try the homestays at Sabang where you can get meals for much less. We got to eat twice at Rose's place in Sabang where we got really good home-cooked meals.
Rose was a very amiable and helpful host the whole time we were there. You may contact her at her cel phone no: 0910-4518108

Rating:
0 people rated this.