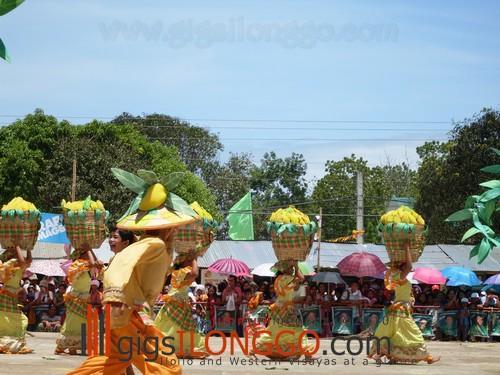 Manggahan sa Guimaras is the identity festival of Guimaras Province. It is a week-long celebration of the mango harvesting season every April 16-20. This is made to showcase their cultural and historical heritage, livelihood, myths and legendary stories. It also spreads and promotes the locals' products, cuisines, services and milestones. It is the people's way to show the world that there is more to Guimaras than its sweet, fibrous, and pest-free mangoes.
The festival features activities like street dancing, trade/fair exhibits, food festivals, a technology fair, painting and drawing contests, a marathon, nightly shows and entertainment, the Search for Mutya ng Guimaras, and Sinadya (merrymaking).
There are lots of groups participating in the street dancing or the tribes' competition. Performers wear colorful and attractive costumes made of indigenous materials. Each group has a different costume theme. The dancers also have stage backdrops that are creatively done and drawn by hand, like trees and leaves, sea, farm, mountains with clouds, and bahay kubo or nipa hut. A variety of native products of the province are also used as props, like different shapes and kinds of baskets, leaves, banig (handmade mat made of dried leaves that are woven into different designs), handmade bags, and of course, mangoes as their no. 1 product. The performers show their amazing and synchronized dance steps and styles with smiles on their faces.
During the Mutya sa Guimaras Search, you will witness the exotic Guimaras Beauty, a showcase not only of beauty, but also of intelligence, talent, and deep-rooted love for culture.
The trade/fair exhibit displays lots of mangoes and other Guimaras products. You can buy mangoes in a very cheap price. You can also buy mango delicacies like jams, mango barquillos, dried mangoes, and mango shake. The exhibit brings out the creativity of Guimarasnons through handmade products, accessories, and house decors.
The festival has also a five-day mango-eat-all-you-can or the mango Mania. It has an entrance fee of 50 pesos but you can all eat the mangoes there until you are totally full. Anyone can enjoy and savor the sweetness of Guimaras mangoes.
This festival expresses the Guimarasnons' colorful way of life. Beautiful street decorations, lovely costumes, and a lot of mangoes – yellow or green, big or small, sweet or sour – are all here to make your day.

How to get there
There is no direct flight to Guimaras from Manila; it can be reach via Ilo-ilo city. The city can be reach via Philippine Airlines, Cebu Pacific, and Air Philippines from Manila. From Ilo-ilo city, you need to ride a taxi going to Ortiz Wharf. From there, a 15-minute pump boat ride going to Guimaras.
Rating:
0 people rated this.