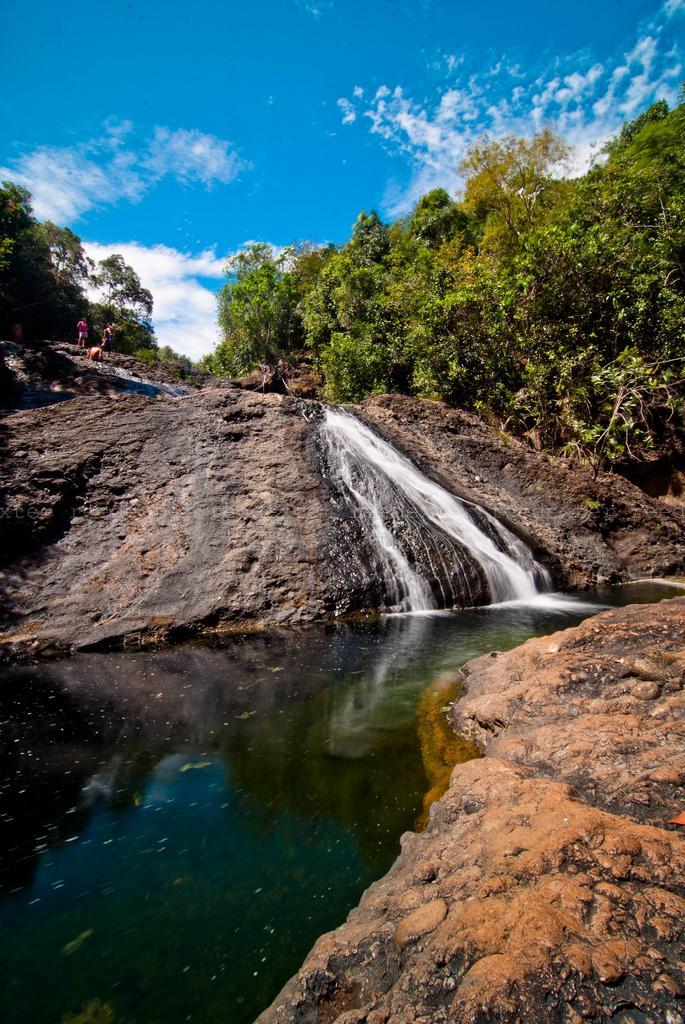 Jawili Falls, known for its Seven Basins, is a tourist destination found at Barangay Jawili, Tangalan, Aklan. It has a mesmerizing composition of crystal clear pools and waterfalls. The cleanliness of this place is maintained by the people of Jawili. It is a perfect getaway that is near to Boracay, the most in demand tourist spot in the Philippines. It is an hour road trip from Caticlan, Boracay. Simply ride a pump boat and ride a van or jeepney going to Tangalan.
Jawili Falls is a series of seven cataracts surrounded by dense greenery. It is now gaining popularity in the tourism industry. It has an entrance fee of P10.00 and if you want to swim, you will add P5.00.
Indigenous plants and limestone rocks can be found all over the place. It is a great and perfect spot for people who want peace and relaxation. You will experience to swim in a unique style of natural pool and breathe the fresh air blowing gently around you. You will feel the temperate coldness of the water that will eliminate the physical and mental toxins from your body that you get from stress. You can have picnics at the cottages by the falls; this, plus the calm atmosphere, is great for your family and friends to enjoy. The place also has available rooms which you can rent rent if you would like to stay overnight.
Swimming here and basking under the canopy of trees are like a therapeutic massage for your weary muscles. Just looking at the cascading water is already a hypnotic relaxation for your mind. There are also deep areas where you can dive and dip. Standing in the midst of the waterfalls, you will be amazed with the beauty of this place. It is a realism of Mother Nature's work of art.
You will surely fall in love with nature all over again. It is the perfect escape from the hustle and bustle of the busy city life. The whole world may change and develop into a more urbanized place of living but there are places on earth that will stay pristine, bare, and untouched. So, don't miss the chance to go to Jawili Falls. It's sun-kissed waters are waiting for your arrival!
How to get there
By Air
There are two airports in Aklan, the Godofredo P. Ramos Airport in Caticlan, Malay, Aklan and the Kalibo International Airport in Andagao, Kalibo, Aklan. Kalibo is 45 minutes from Manila you can book flights to Kalibo International Airport with airline companies like Cebu Pacific, Mandarin Airlines, Philippine Airlines and Zest Air that cost around 1500php – 2500. From there, you can ride a jeepney or bus going to Tangalan with approximately 30 kilometers far. If you will go there by the airport in Caticlan, you can book flights in Airlines Company, such as Air Philippines-Pal Express, Philippine Airlines, SEA Air, and Zest Air that rates approximately 2,500 – 3,000. From Caticlan, you can also ride a jeep or van that pass through the towns of Nabas and Ibajay going to Tangalan.
By Sea
From Manila, the trip to Aklan can last up to 12 hours and Aklan has 3 ports, the jetty in Caticlan, the port of Dumaguit and the port of New Washington. When you arrive in the port of Dumaguit, you can take a jeepney going to Kalibo.
Rating:
9 people rated this.