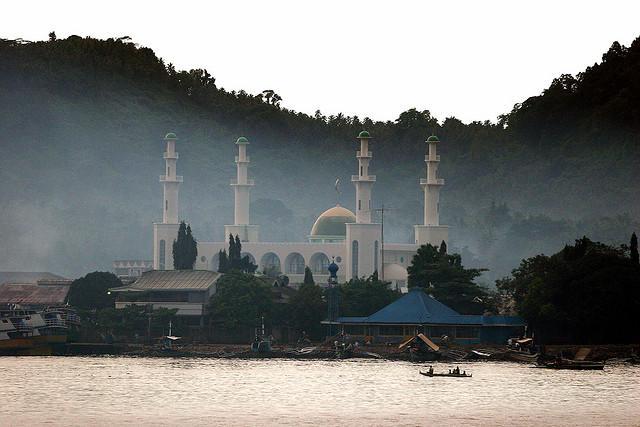 Jolo Island is the largest island in the Sulu archipelago, Southwest Philippines. Possessing magnificent white sand beaches, it may soon become an island resort similar to Boracay in central Philippines or even to Phuket in Thailand as part of a new tourism plan that will lure Filipino and foreign visitors.
Aside from white sand beaches, Jolo Island is also rich in natural resources and underwater ecosystem. It is famous for its deep sea crabs called "curacha" and exotic fruits, such as durian and mangosteen berries. It has a huge production of high grade abaca ropes or "arabica", robusta coffee beans, copra, and carageenan.
The main town of the island is Jolo lies northwest of the island. Jolo is a picture of relics of Sulu's violent past. The four entrance gates of the town was used as watchtowers during Spanish times. Yet despite its bad history, shedding its skin from bad past, the island has a new face to bring back its glory as one of the most stunning island in Southern Philippines. Today, it is the center of most hotels, restaurants, and shopping options in the place.
Apart from its rich cultural heritage, exotic fruits, and fresh sea foods, the island boasts of its dive sites, pristine beaches, and forest resorts. The richness of Sulu archipelago is also a haven for a large production of pearls. There are various types of mother of pearl bearing oysters only found in Sulu waters.
Jolo Island is a mixture of Muslims and Christians. You will notice many colorful mosques in the town. Tausug or the local people are very friendly and hospitable to visitors.
The city government of Sulu is exerting the best efforts to develop the island into one of the most beautiful places in the Philippines. The officials are holding a lot of programs to promote not only tourism but also trade and investment. They are aiming that the island become a center of marine trade in the southern Philippines.
Rating:
7 people rated this.