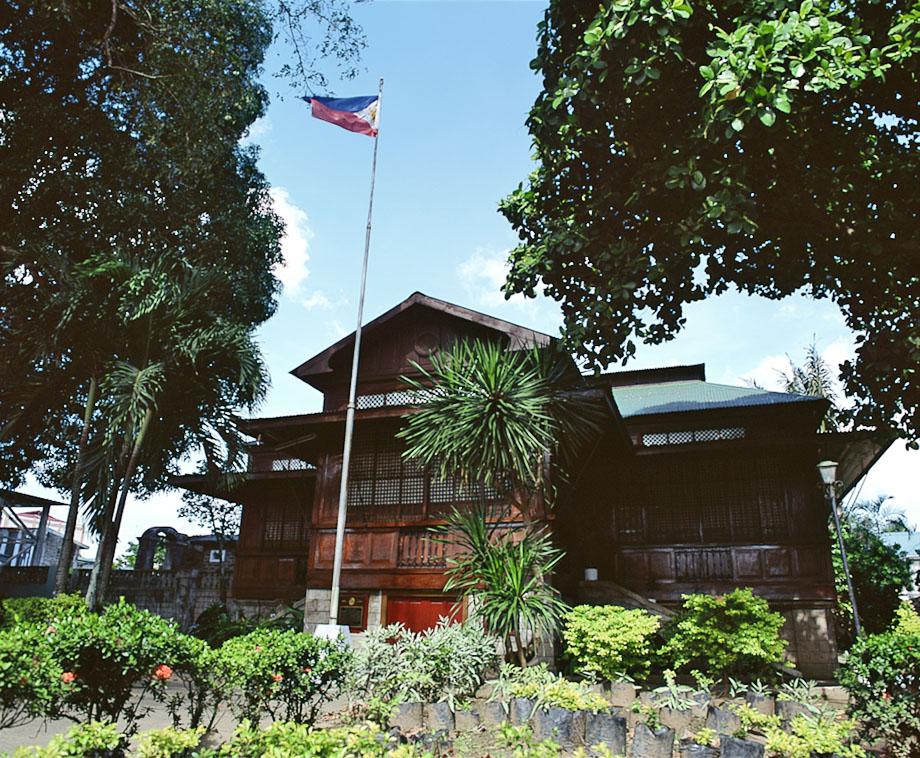 Overview
The Jose P. Laurel Memorial Library is situated on A. Mabini Avenue in Tanuan City, Batangas. The house used to be the personal property of the late President Jose P. Laurel, but is now owned and maintained by the Philippine Government.
President Jose P. Laurel's personal belongings and effects are housed here. The collection was donated by the Laurel Family to the Philippine Government, and the place has been designated as a historical site and a public library.
The library is open for everyone who wants to visit. It is open daily from 8:00 a.m. to 5:00 p.m.

About Jose P. Laurel
Jose P. Laurel (March 9, 1891 - November 6, 1959) is the third president of the Republic of the Philippines. An Associate Justice of the Supreme Court before becoming president, he was also an educator who founded the Lyceum of the Philippines.
His father, Sotero Laurel, Sr., was the Secretary of the Interior in Emilio Aguinaldo's cabinet and a signatory to the Malolos Constitution. He was taken prisoner during the Filipino-American War and died in captivity in 1902 when Laurel was only 11 years old.
This led the young Laurel to work as an altar boy and chorister, later taking on a job as a part-time laborer at the Bureau of Forestry when he turned 18, for the money he needed to continue his studies. He then became a clerk for the Code Committee, where he met Thomas Atkins Street, a future member of the Philippine Supreme Court who served as his mentor. After graduating from Manila High School (now Araullo High School) in 1911, he eloped with Paciencia Hidalgo and enrolled at the University of the Philippines College of Law, where he later earned his doctorate in Philosophy. He ranked second in a class of 60 students and also came out second in the 1915 Bar Examinations.
Laurel later obtained a Licenciado en Jurisprudencia degree from the Escuela de Derecho in Manila while serving as Chief of the Executive Bureau's Administration Division. He was later sent to Yale University as a government pensionado in 1919, earning a degree in civil law a year later.
He also took special courses in international law at Oxford University in England and University of Paris in France, before returning to the Philippines in 1921.
Retirement and Death
After retiring from politics, Laurel focused on managing the Lyceum of the Philippines, which he founded on 7 July 1952. During that time, he also served as the president of the Philippine Banking Corporation.
He died on 6 November 1959 of a massive heart attack and stroke.
Accommodations
Location : Malvar, Tanauan, Batangas, Philippines
Hacienda Darasa Garden Resort Hotel
Location : 791 President Laurel Highway, Darasa, Tanauan City, Tanauan, Batangas, Philippines
Location : 119 Barangay Tipakan, Lipa City, Batangas, Philippines
Location : Kilometer 84 President J.P. Laurel Hi-way, Pilahan, Lipa City, Batangas, Philippines
Cintai - Coritos Garden Hotel
Location : Balete Road, Lipa, Batangas, Batangas, Philippines
How to get there
Location : A. Mabini Ave., Tanauan City, Batangas
From Manila ride on a bus going to Batangas, particularly to the city of Tanuan. You can reach the library by going to the town proper. When you reach the town, turn to A. Mabini Road. The library is around 100 meters from the national road. Jeepneys and tricycles are available in the area. Travel time will take 15 to 20 minutes of driving from the town proper.
Rating:
0 people rated this.