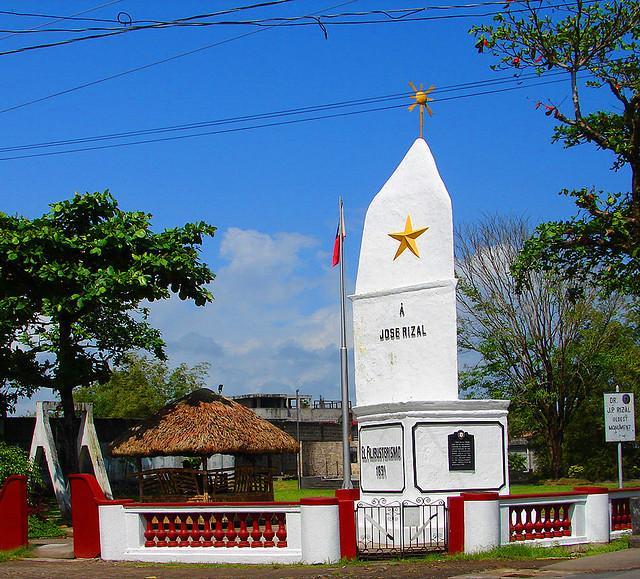 Jose Rizal's First Monument
On October 31, 1898, the first monument of Dr. Jose Rizal was erected in the town of Daet in Camarines Norte. The people of Daet built the "Bantayog" to honor the brave hero. This monument design with one sun on the top, three stars under it and at the bottom are the names of his novels, El Filibusterismo and Noli Me Tangere.
The Jose Rizal's monument in Camarines Norte is has been continually attracting visitors from all throughout the region and beyond. Visitors are given a tour and are fascinated at the various pictures, memorabilia, and written information about Rizal and the monumant itself. The people of Daet have remained steadfast in preserving the legacy of the Philippines' great hero. The people remain loyal and give tribute to the site by maintaining the upkeep and order of the stone monument they erected.
The first president of the Philippines, General Emilio Aguinaldo, was the one who encouraged the people of Camarines to establish the monument of Jose Rizal and declared December 30 as Rizal Day.
Jose Rizal's other Monuments can be found in:
Spain (Madrid), China, Germany, Singapore, Laguna (Calamba), Venezuela, Zamboanga, General Santos, Tacloban City, Dumaguete City, Negros Oriental, La Union (San Fernando City), Laguna (Majayjay), Cebu (Majayjay), Iloilo City, Aklan (Kalibo), Rizal (Taytay), Albay (Tabaco City), Albay (Daraga), Albay (Ligao City), Albay (Oas), Albay (Camalig), Albay (Guinobatan), Vigan (Salcedo), Pampanga (Guagua), Bataan and Intramuros.

The Monument at Luneta Park
Perhaps Rizal's most famous monument is the one located in the park that bears the hero's name, also known as Luneta, in the city of Manila. Erected in 1913, the bronze-and-granite monument is arguably the most famous sculptural landmarks in the country. The monument is not merely the statue of the national hero, as it also contains his remains, important papers and personal effects.
The mausoleum consists of a standing bronze sculpture of the martyr, with an obelisk as his backdrop, set on a pedestal upon which his remains are interred. A plaque on the pedestal front reads: "To the memory of José Rizal, patriot and martyr, executed at Bagumbayan Field December 30th, 1896, this monument is dedicated by the people of the Philippine Islands".
The perimeter of the monument is in a continuous ritual guarding by the soldiers known as the Kabalyeros de Rizal (Knights of Rizal). About a 100 m (330 ft) west of the monument is the exact location where Rizal was executedrepresented by life-size dioramas of his final moments.

Rating:
0 people rated this.