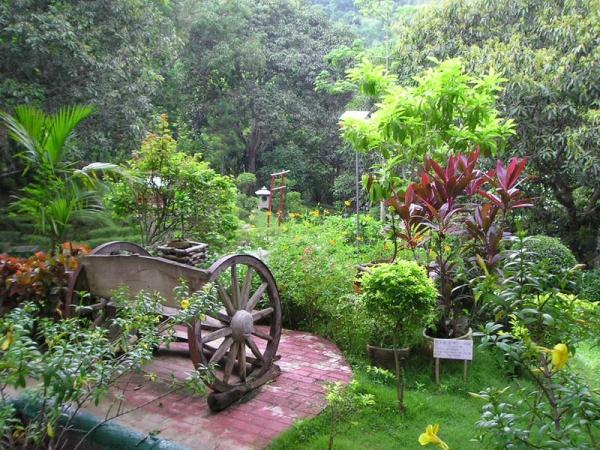 Do you want an escape from the noise and pollution of the city, or a place where you can take a breather from the pressures of everyday life? Head up to the one of the proudest attractions of La Union where one can have a unique commune with nature – the La Union Botanical and Zoological Garden.
The La Union Botanical and Zoological Garden is a display of different themed gardens with their scientific names and is a sanctuary for a variety of wild animals situated on a hilly twenty-hectare land in Barangay Cadaclan, San Fernando.
The famous garden showcases the following:
Shade Garden

Sunken Garden

Evergreen Garden

Arid Paradise

Fragrance Garden

Fernery

Palmery
The Botanical and Zoological Garden is a natural garden with a serene Japanese setting, an herbal wheel garden, an arid paradise and more theme gardens – a romantic hideaway or a classical landscape. Find out their way of conserving plants and biodiversity in the midst of La Union's rolling hills.
La Union Botanical Garden is home to a collection of beautiful plants from the tropical Regions of the world. Many are indigenous to the Philippines. Visitors are requested not to pick any part of the plants or remove any plant material from the garden. Commercial photography is allowed through prior arrangement.
How to get to La Union
From Manila, there are various bus lines that offer trips to La Union. Air-conditioned bus firms (Dominion Bus Lines, Philippine Rabbit, Partas, Fariñas, Maria de Leon, and Viron) depart from terminals in Manila bound for Ilocos. The destination can either be La Union, Narvacan, Vigan, Laoag, or Abra.
San Fernando City, La Union's capital, lies 273 km from Manila. Travel time is about 5 hours by land and 30 minutes by air. Also, it is about an hour's drive from Baguio City. Barangay Cadaclan is eight kilometers east form the city proper.

Getting around La Union You can take jeepneys and mini-buses with fixed routes at a minimal fare. Tricycles (motorcycles with sidecars) are commonly used to access must-see places in between towns. Rented transportation that plies this town is also available which will bring you to the city proper.
Rating:
0 people rated this.