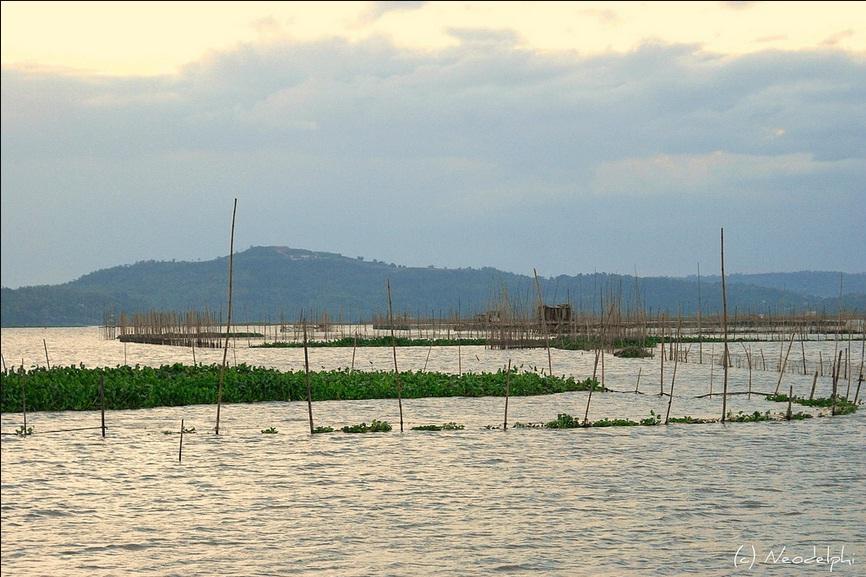 Overview
Laguna de Bay is the largest lake in the Philippines and the third largest freshwater lake in Southeast Asia (in terms of surface area) after Tonle Sap in Cambodia and Lake Toba in Sumatra, Indonesia. It is on the island of Luzon, between the provinces of Laguna to the south and Rizal to the north. Metro Manila lies on its western shore. Its surface area is about 911 square kilometers (352 sq mi) with an average depth of about 2.8 meters (9 ft 2 in) and elevation of about 1 metre (3 ft 3 in) above sea level. The lake is shaped like a stylized W, with two peninsulas jutting out from the northern shore.
Laguna Lake is a multi-purpose body of water. Primarily, major use of this lake is for fisheries and aquaculture. Fishing is the major source of livelihood of the residents along the lake, particularly at the lakeshore towns and barangays. Laguna de Bay is a home to a variety of organisms that comprise its biodiversity pool like fishes, planktons, and macrophytes; it is a habitat for different species of birds as well. It serves as a transport route within and around the region of the lake. It acts as a flood reservoir against flooding of different areas including Metro Manila. Other functions of the lake are water irrigation, industrial cooling, recreation, and power generation.
Presently, the lake is now a source of potable water for Manila residents, through Maynilad and MWCI water providers. This is now a major resource that will supply the domestic water supply requirement of the nearby towns along the lake.
Uses of the Lake
The lake's most dominant use is on fisheries. It is estimated that the lake yielded 37,000 to 47,000 MT (metric tons) of fish in 1997 to 2000 - both from the fishpen and open fisheries.
LLDA (Laguna Lake Development Authority) set navigational routes for lake travelers and users to avoid conflicts with fish cultivators, fishpen owners, and free-range fishermen.
The lake also serves as a reservoir for floodwater to save Metro Manila from flooding.
Laguna de Bay is also used for power generation; three power plants are located in the region.
Laguna de Bay provides sufficient water for farmlands of the lake region. Studies are being done to further improve the use of lake water for agriculture.
The lake is being used as a source of industrial cooling water. Major users include the National Power Corporation for the Kalayaan Hydropower Plant and the Philippine Petroleum Corporation Refinery in Pililla, Rizal.
The lake serves as a huge waste sink for solid and liquid waste coming from households, cropland areas, industries, livestock and poultry production as well as fishery activities.
The lake is now a major resource that supplies the domestic water supply requirement of the nearby towns along the lake.
Laguna de Bay : Recreational Attraction
Laguna de Bay is also known for recreational activities. Although classified only for non-contact recreation such as fishing, boating and sailing, the lake is also used for swimming in some communities. Lakeshore resorts near Mt. Makiling extract hot spring waters for health spa and beauty treatment. LLDA has also ventured on eco-tourism projects through the LISCOP Component 1 Project with 6 eco-enhancement projects in Rizal and Laguna Provinces namely:
Daranak Falls Eco-Tourism Project

Panguil Eco-Park (Ambon-ambon Falls)

Pakil Eco-Tourism

Majayjay Eco-Tourism Project (Taytay Falls)

Cavinti Eco-Tourism Project (Magdapio Falls)

Siniloan Eco-Tourism Project (Buruwisan Falls)
Rating:
0 people rated this.