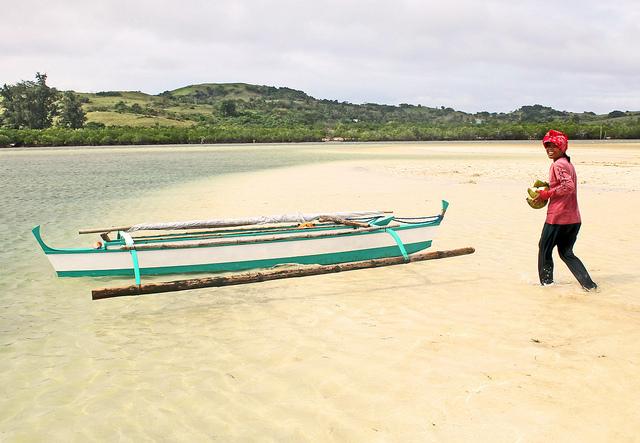 Camarines Sur has been blessed with many beautiful islands that appeal to the adventurer's spirit, one of which, Lahuy Island, offers a paradise of long, white beaches and lush greenery surrounded by the endless azure sea.

Lahuy Island is a 10-kilometer long island about 3 kilometers at its widest point. The island has long stretches of exquisitely white fine sand. Barangay Gota has been known as a gold-mining community even before the war. At present, only small-scale operation is in existence. At Sitio Nipa, a spring 300 meters from the shore provides a fresh water source not available elsewhere. A 40-hectare mangrove swamp near Barangay Oring offers a habitat for a marine wildlife.
Location
The Island is located in the town of Caramoan in the province of Camarines Sur in the Bicol Region.
How to get there
By Air
The province of Camarines Sur can be reached by plane within 45 minutes. Flights are serviced by the Air Philippines (Pal Express), Zest Air and Cebu Pacific from Manila to Naga City Airport (the capital of the province). Riding a plane is the quickest way to go to the province.
By Land
Aircon and non-aircon buses like PhilTranco, Isarog Bus Co. and Peñafrancia Bus Lines ply daily routes through Quirino Highway from Manila to Naga.
From Naga, you can ride a jeepney going to Caramoan and will take about 5 hours of travel.
Going around the province
Buses, vans and jeepneys travel outside the city of Naga going to the many towns of Camarines Sur.
Jeepneys, tricycles and trisikad (manpowered tricycles) are the main transportation in some areas.
Where to stay
Some Hotels in the town of Caramoan
• CMC Villa Caramoan - Caputatan, Caramoan - Camarines Sur, Bicol
• Tugawe Cove Resort - Brgy. Colongcogon, Caramoan - Camarines Sur, Bicol
• RiverView Vacation Inn - No. 6 Fernandez Street Brgy. Ili, Caramoan - Camarines Sur, Bicol
• Rex Tourist Inn - Tawog, Caramoan - Camarines Sur, Bicol
Rating:
0 people rated this.