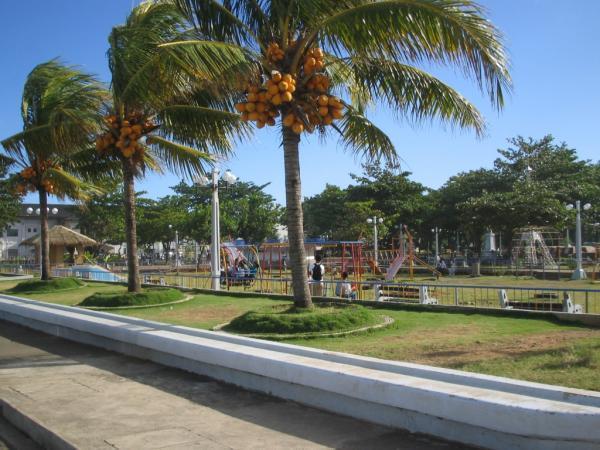 Unbeknownst to many Filipinos, the rustic town of Oroquieta in Misamis Occidental surprise even the most experienced travellers. Scattered throughout the province are different historical, cultural, and man-made attractions exemplifying the many varied blessings of nature.
Historical
Provincial Capitol Building - The Misamis Occidental Provincial Capitol building was built in 1935. It was adjudged as one of the most beautiful capitol buildings in the Philippines in 1973.
City Kiosk - Often referred to by the locals as the "kiosko", it was built in 1912 as a municipal bandstand. At present, the Kiosko is the meeting place of various NGOs in the city especially Greek Fraternities and Sororities like the Alpha Kappa Rho every Wednesday, Beta Sigma Phi every Friday, and Alpha Tau Omega every Monday. It serves also as an emergency operation center during City Fiesta Celebration.
Oroquieta City Public Plaza - A unique park by the sea, its beautiful landscape is ideal for early morning jogs and afternoon strolls. Known to be one of the best plazas in Northern Mindanao, it provides a beautiful view of the Iligan Bay seascape.
Cultural
Oroquieta City Museum – Located at the 3rd Floor City Hall Annex Building Independence Street, yhe city museum showcases a collection of various antique pieces loaned or donated by some pioneering families of Oroquieta. The museum's priceless collections offer a glimpse of the "Oroquietanian Heritage."
Natural/Man Made
Layawan River - A consistent awardee of the Gawad Pangulo sa Kapaligiran as the Cleanest Inland Body of Water in the Philippines. Layawan River's pristine water flows directly from the bosom of Mt. Malindang and is ideal for fishing, swimming, and other water sports such as water tubing.
Libadatama Dam - Barangay Dolipos Bajo. Located a few kilometers from the city proper. What was originally constructed for irrigation purposes, the dam area soon became a favorite picnic destination. Experiencing the strong rushing current of the water is quite a thrill in itself. The clear and cool water of the Layawan River provides a soothing relief from the summer heat.
Ciriaco H. Pastrano Hanging Foot Bridge - Poblacion II/Barangay Taboc Norte. Crossing this hanging footbridge provides a scenic view of the Layawan River below.
Peace Resort - Poblacion I. This seaside resort provides a refreshing haven for picnic lovers as they enjoy swimming in the cool waters of Iligan Bay.
Sebucal Hot Spring - Barangay Sibucal. It's steaming water springs out from the heart of Mount Malindang. It is one of the favorite destinations for mountaineers.
Marine Sanctuary - Barangay Mobod. A facility maintained for the protection and preservation of our rich marine resources. It is also a great site for diving.
Mt. Malindang Natural Park lies within the Malindang mountain range in Mindanao, straddling the provinces of Misamis Occidental, Zamboanga del Norte and Zamboanga del Sur.
How to Get There
To reach Misamis Occidental, there is a daily flight from Manila to Dipolog City and back. Oroquieta, the capital city is only one hour and a half drive from Dipolog.
Rating:
0 people rated this.