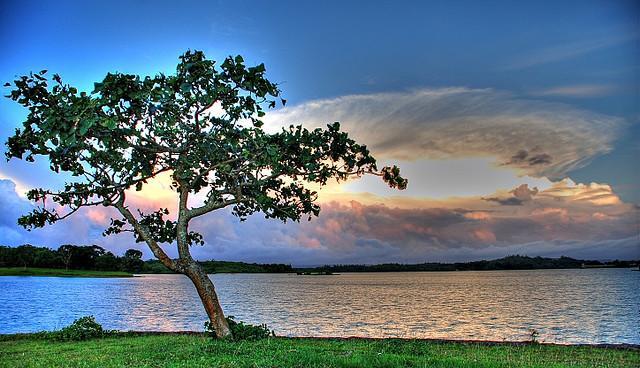 The Caliraya Lake is situated in three towns in Laguna – Lumban, Cavinti, and Kalayaan. It is 11 kilometers away from Santa Cruz, the provincial capital of Laguna. The distance of Caliraya Lake from Manila is 110 kilometers with two to three hours of travel time.
Lake Caliraya is an artificial or man-made lake created by a group led by US Army Engineer General Hugh J. Casey by flooding the Cavinti Valley of Sierra Madre to generate hydroelectric power for Manila. They first seeded largemouth bass in the lake, and now the lake is the "Bass Fishing Capital of the Philippines". Largemouth bass is a species of black bass in the sunfish family native to North America. It is an olive green fish, marked by a series of dark, sometimes black lines, and the upper jaw extends beyond the rear margin of the orbit.
Now, Lake Caliraya is a recreation area with a couple of private vacation homes. It is also one of the most popular resorts that are near Metro Manila. Several world class resorts, golf courses and country clubs around the lake have been major real estate developments since 1985.
Calariya experiences a year-round cool climate because of the merging of its deep water lake and the mountain breeze of Sierra Madre. The lake's surroundings have the abundance of pine trees and tropical plants. Although it is not made for swimming – because the bottom of the lake is very soft and can suck you down – it is still a superior place for different water activities. You can do things like largemouth bass fishing, windsurfing, jet skiing, water skiing, boating, golf, camping, and other outdoor sports and activities.
Things to do in Caliraya Lake
Water Sports
Some people bring their own speedboats and jet skis. Some are with their canoes and kayaks. But there are some resorts where you can rent jet skis and other equipments that you like. Windsurfing is a very ideal sports in this place because there's always a mountain breeze blowing from Sierra Madre.
Boat Riding
If you don't want a lot of competition and just like to laze around, boat riding is a good choice of activity in Lake Caliraya. For you not to get exposed to the strong heat of the sun, you must ride the boat during the early morning or late afternoon. Don't forget to bring waterproof camera to capture a lot of beautiful sceneries in the lake.
Fishing
There are plenty of largemouth bass fish in the lake so you can fish all you want. You can cook the fish the way you want it and taste its juicy freshness.
Other Activities
This is an ideal place for vacationists, nature lovers and people who want to escape from the busy streets and polluted air of Metro Manila. It is good for relaxing, sightseeing, picnicking and wall climbing. They have beautiful campsites and tents for you to stay. They also have swimming pools, basketball and volleyball courts.

Lake Caliraya, although man-made, has its natural beauty that rivals some other wonders of nature. It already fits the landscape of Laguna, and you can no longer imagine that there was a time when it didn't exist. Although an onslaught of tourists has been flocking the area, it still maintains its charm, which is why it is a great escape from the busy city life.
How to get there

From Cubao Bus terminal to Lake Caliraya, first you need to take a bus going to Pagsawitan, about two to 2-3 hours ride. Then, at Pagsawitan terminal, ride a tricycle or jeepney travelling to Lumot terminal. From there, you need to ride a jeepney going to Lewin and take a ride to a boat that bring you to one of the resort of Lake Caliraya.
From Manila bus station, ride a bus going to Sta. Cruz (Capital of Laguna) to Pagsawitan, Pansanjan Terminal. From there, you can take a jeepney or tricycle that will bring you to Sta. Cruz terminal. That jeepney will pass through Pagsanjan, Lumban and Mountain road going to Caliraya where you find different resorts in Lake Caliraya.
Rating:
0 people rated this.