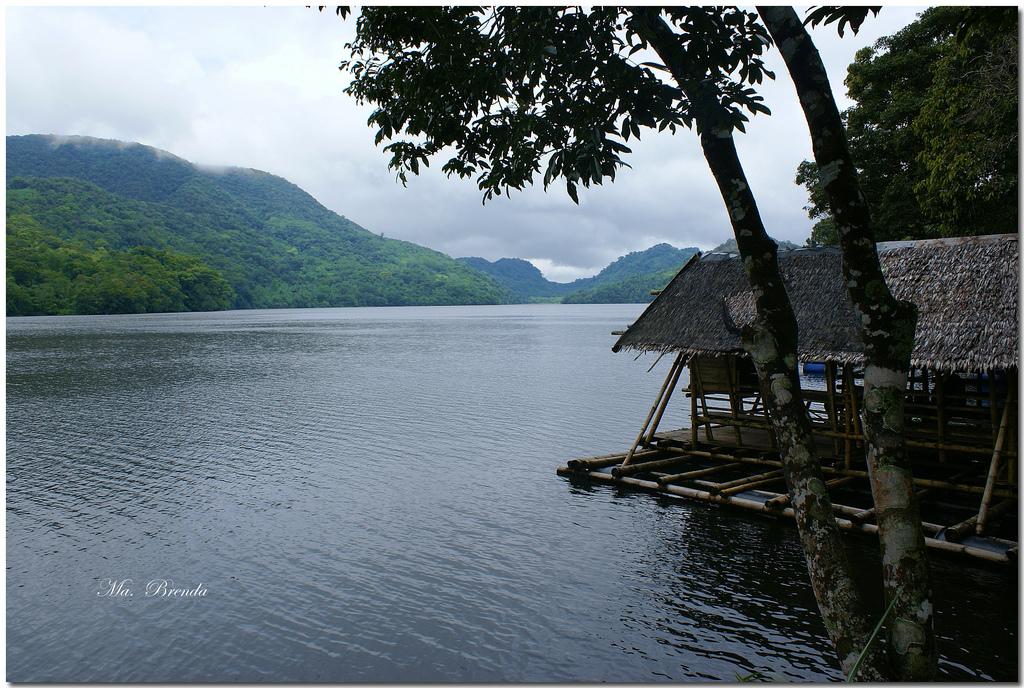 Lake Danao is a guitar-shaped lake on the island of Leyte. There are floating cottages for rent and boats available for hire.
The lake covers an area of 148 hectares (370 acres). It is situated in the 2,193 hectares (5,420 acres) Lake Danao National Park, which also includes the Amandiwin mountain range. The lake is 18 kilometers (11 mi) northeast of Ormoc City, half an hour drive along the San Pablo-Tongonan and Milagro-Lake Danao roads.
It was originally named "Lake Imelda" and was declared a natural park on June 2, 1972 by virtue of a presidential memorandum issued by then President Ferdinand Marcos. Later it was renamed and declared as Lake Danao Natural Park on February 3, 1998 through Proclamation No. 1155 and is now protected by Republic Act No. 7586 otherwise known as the National Integrated Protected Area System (NIPAS) Act of 1992. The lake supplies potable water to at least seven towns in Eastern Leyte including Tacloban City as well as the source of irrigation for ricelands in some municipalities like Dagami, Burauen, Pastrana, and Tabon-tabon.
At 650 meters (2,130 ft) above sea level, Lake Danao lies at an altitude similar to Tagaytay, making the area cooler than the average Philippine temperature.
Origin
The lake is volcanic in origin and is probably a graben or depression produced by the Philippine fault (or Leyte Central Fault), an active fault traversing the lake area in a N-S direction. Rock formations of the surrounding mountains include andesitic volcanic rocks of Quaternary origin in the western side, andesitic and dacitic volcanics of Miocene origin in the southeastern portion, and intermediate volcanic sediments of Quaternary origin in the northeastern side of the lake. There are wetlands found near the lake. The present lake could be the deepest portion of a much larger lake in the past. It was probably much larger in the geologic past and could have included the large wetlands and marshes. Sedimentation has probably transformed this portion of the lake into what it is today.
Accommodations
Ormoc Villa Hotel -

Ormoc, Leyte, Philippines
Don Felipe Hotel -

Ormoc, Leyte, Philippines
Leyte Park Hotel Resort -

Tacloban, Leyte, Philippines
Tacloban Plaza Hotel -

Tacloban, Leyte, Philippines
Leyte Park Hotel Resort -

Tacloban, Leyte, Philippines
Palermo Hotel -

Baybay, Leyte, Philippines
How to get there
By land
Tourists can reach Leyte Province via by air travel via Tacloban City, the capital city of Leyte. Local airlines from Manila have daily trips to Tacloban City. From there, buses and vans are available as a mode of transportation touring the province.
By sea
Tourists can also reach Leyte by riding a ferry boat from Cebu going to Ormoc City. From there, air-conditioned vans have trips touring touring the province.
Rating:
0 people rated this.