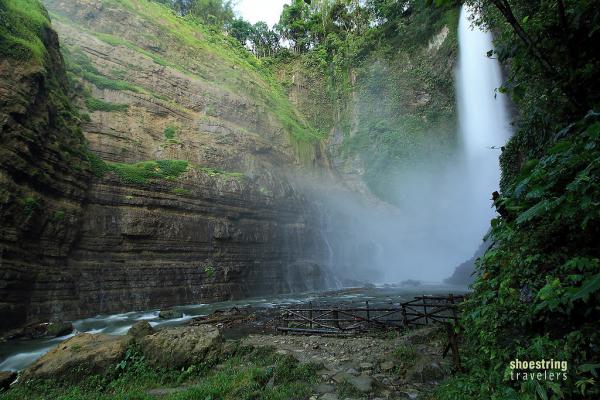 You may also check these sites:
https://shoestringdiary.wordpress.com/2014/12/27/chasing-waterfalls-at-lake-sebu/
https://shoestringtravelers.com/?q=node/103


We've seen photos of this waterfall countless times before but when we finally saw it in real life it was far more majestic. The towering falls was like a scenic magnet, beckoning and pulling you to get ever closer with each step you take. And as you get closer you begin to feel the cold spray of its pounding waters in the gentle breeze. This is Hikong Bente, a T'boli phrase translated "immeasurable." They couldn't have picked a more suitable epithet.
The Seven Falls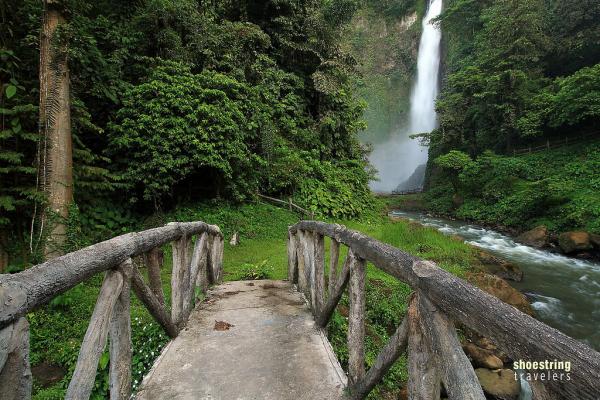 Arched bridge over a stream leading to the base of Hikong Bente or Falls #2.

Lake Sebu probably has the one of the densest concentration of waterfalls in the country. In Barangay Seloton alone – already home to scenic Lake Seloton (the "Sunrise Lake") – are seven of them. The Seven Falls are not small cascades but rather sizable waterfalls ranging in height from 35 to 70 feet. These falls are formed by a rushing stream originating from Lake Seloton and cascading down a series of sudden drop-offs resulting in some pretty spectacular cataracts.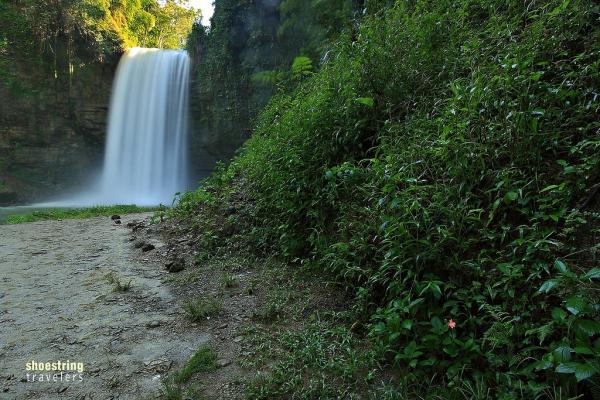 Hikong Alu and its marred approach path.

The first waterfalls – or Falls 1 for easy reference – is named Hikong Alu in the T'boli dialect. Although the shortest of the seven at 35 feet tall, it is the widest. It is also the most accessible, visible within a few steps from the entrance gate to the Seven Falls. There are customary souvenir shops at this entrance while further down the path to the falls is a bridge across the stream where you can have your picture taken while wearing T'boli traditional outfits for P50. Unfortunately there was a small landslide that marred the path to the falls before the time of our visit – probably caused by some ill-advised cutting of the slope during a landscaping attempt. It wiped out some beautiful flowering plants that we've seen being used by photographers as foreground elements to pictures of Hikong Alu.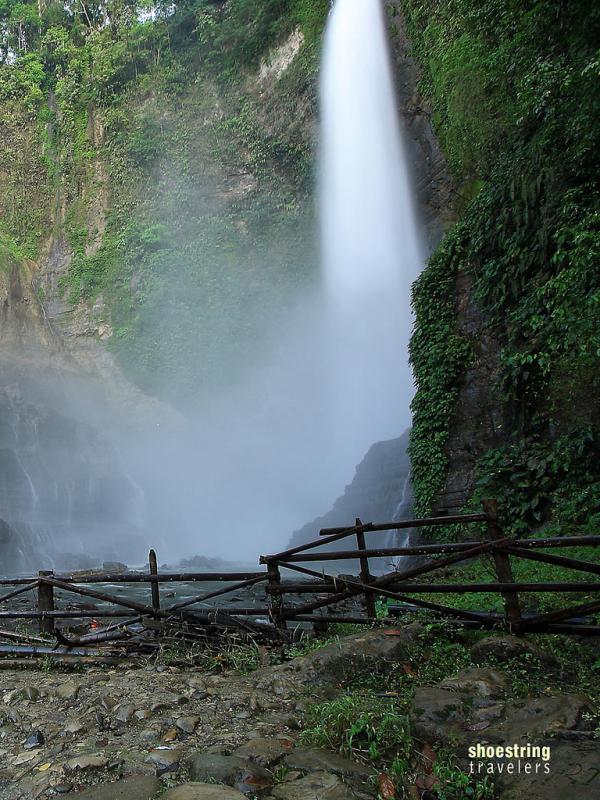 Hikong Bente: a closer view.

The second falls – Hikong Bente – may be reached by descending a stairway of 774 steps from Hikong Alu. The descent is not all that bad but climbing the nearly 800 steps back to the main entrance could be a problem for some people. Fortunately there is an option. Our habal-habal drivers got us back on the road and drove us towards another entrance – this time to Hikong Bente itself. You can already have a good view of Hikong Bente from this road even before you get to the entrance gate. A closer view of the falls is just steps away from this second entrance.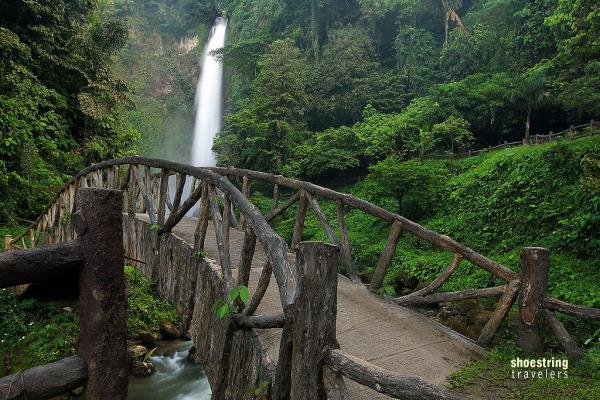 The arched foot bridge at Hikong Bente. We could already feel the water spray from the falls at the bridge.

The beauty of Hikong Bente lies not only in the 70 foot-tall falls itself, which is already pretty spectacular, but in its immediate surroundings as well. The falls lie in a wooded gorge cut by the rushing stream that forms Hikong Bente. To the left of the falls is the almost bare vertical rock wall of the gorge with lush green vegetation covering the rest of the landscape. This place has actually been developed but in a way that blends with the natural environment. An arched bridge over the stream leads to the vertical rock wall to the left of the falls while a gently sloping stairway on the right leads almost to the foot of Hikong Bente itself. The charming scenery kept us glued to this place for some time even as a prenuptial photo shoot was going on.
The 5 remaining waterfalls also have T'boli names: Hikong B'Lebel, Hikong Lowig, Hikong K'Fo-l, Hikong Ukol and Hikong Tonok are Falls #s 3, 4, 5, 6 and 7 respectively. While the first two waterfalls mentioned above are easily accessible on foot, the rest of the seven requires some pretty hard trekking and climbing. In 2009, a zipline was opened to give tourists a bird's eye view of these falls. This zipline consists of two legs – the first at 740 meters long and the second at 400 meters. (That's more than a kilometer long!) We didn't take the zipline because of Leo's recently injured lower back but we had a chance to at least see how long and high it was from the starting point. At 200 meters above the ground at its highest elevation, this zipline is said to be the tallest in the country to date (2014).
T'daan Kini Falls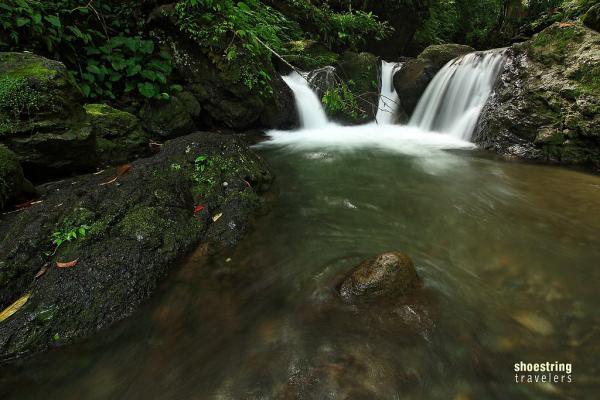 T'daan Kini Falls' second tier.
Somewhat off the beaten tourist path but now becoming more popular is theT'daan Kini Falls in Barangay Lamlahak. We almost never got here because of concerns about doing a long hike. In the past going to these falls requires 45 minutes of brisk walking from the jump-off point at Sitio Talibu. However, Jhung, our habal-habal driver and Department of Tourism-accredited guide convinced us to make the trip. As it turned out, the habal-habals can now drive on a trail to a point where the walk to T'daan Kini is only 10 – 15 minutes long. We even had a friendly local dog named Brando who accompanied us to and from the falls. (Was there a way we could have given this dog a tip?)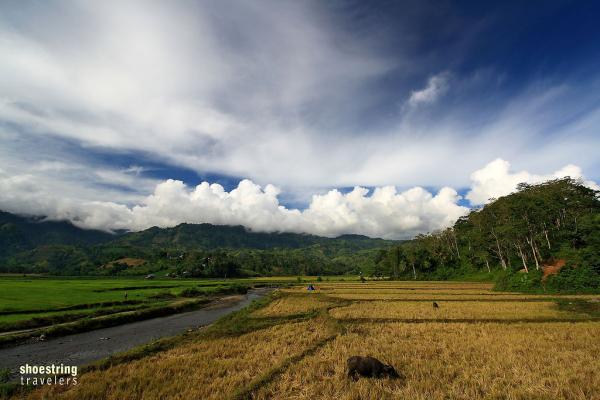 T'daan Kini jump-off point: the stunning scenery at Sitio Talibu as viewed from the main road.

The starting point for this trek was already a visual treat. Sitio Talibu is a pretty village situated just below the scenic foothills in this part of Lake Sebu. The stunning scenery featured verdant rice fields watered by crystal-clear springs that led all the way to T'daan Kini Falls itself. With Brando happily chugging along we motored off into the forest housing the falls. En route we crossed the stream twice on bamboo foot bridges while the habal-habal drivers forded the stream on their own. All around us was pristine forest scenery broken here and there by the rushing waters of the crystal-clear stream.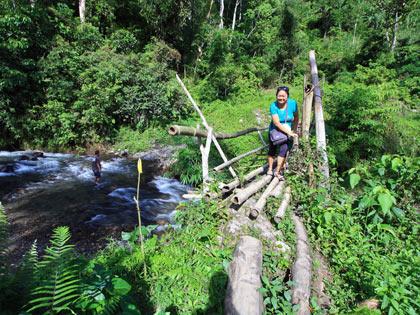 Crossing a bamboo foot bridge on the way to T'daan Kini Falls.

T'daan Kini Falls is small compared to the Seven Falls but no less beautiful. It consists of 5 or 6 small cascades arranged in two tiers flowing through moss-covered rocks. "T'daan" means the meeting of 'cold and hot water' in T'boli although the water we encountered here was cold – albeit refreshingly cool after our short hike. It was no problem for Leo to wade into the cold waters and begin shooting the falls from different angles. In retrospect T'daan Kini was a pleasant surprise for us. The refreshing coolness of the clean waters, the lush forest vegetation and the over-all beauty of the environment made us thankful that our habal-habal driver and guide refused to give in to our reluctance in visiting this place.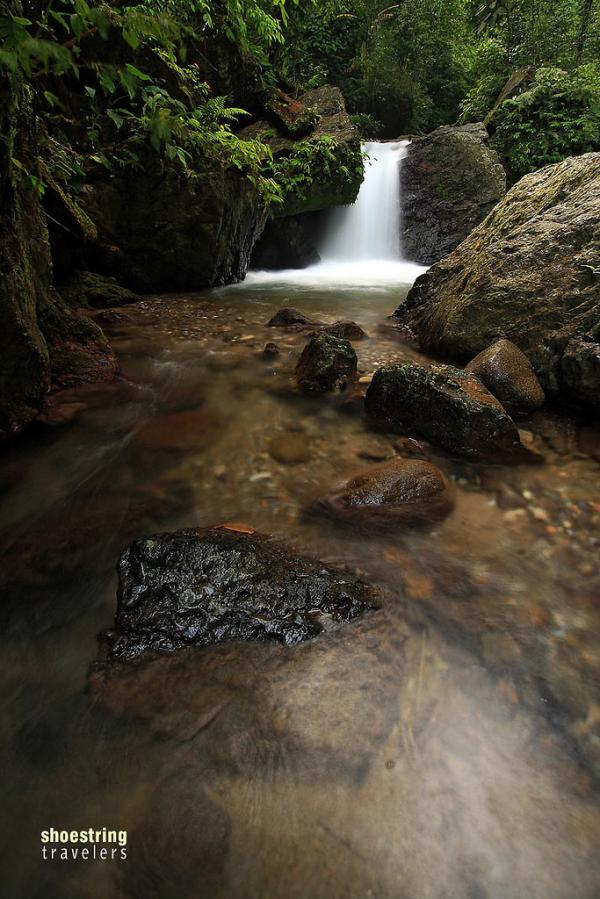 T'daan Kini's first tier.
With still wide swaths of relatively untouched forest, Lake Sebu surely has more waterfalls waiting to be discovered. Some of these are beginning to show up on blogs such as Mahel Falls which requires a long uphill trek toSitio Kangko, a far-flung community located at the foothills of theSaranggani mountain range, and afterwards a forest hike including fording streams on the way.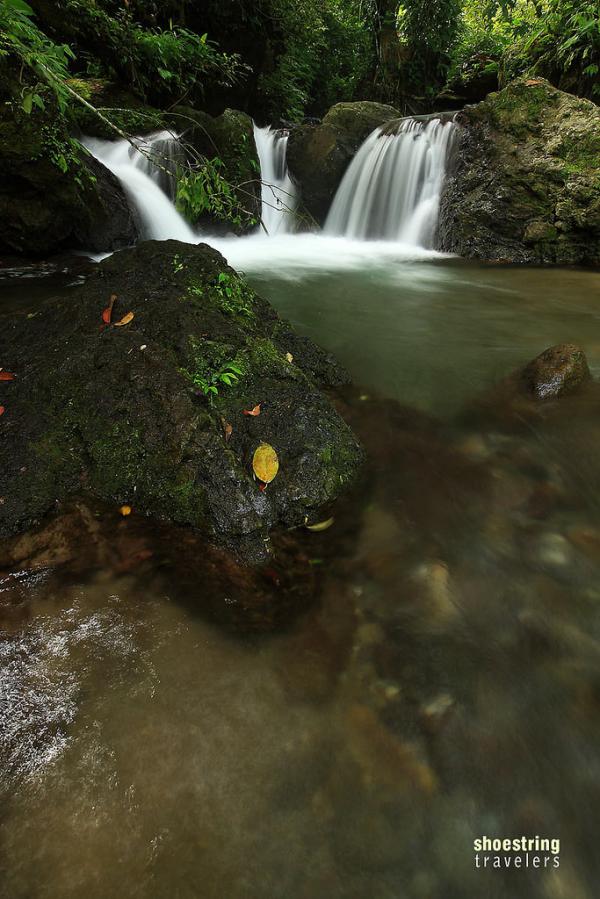 Can't have enough of beautiful T'daan Kini Falls
Most of these little known falls are of course tucked away in the forest. Such is the Barrio Siete Falls which is also situated at 3,300 feet above sea level. Some rigorous trekking through virgin forests and leech-infested trails is required to get there (and probably passing through private property); but once you're through you are amply rewarded by the sight of the 30 feet multi-cascade falls. And then there's K'nalum Falls which is surrounded by a rock wall and has a small catch basin of crystal-clear waters. A roller-coaster habal-habal ride through grassy hills and a trek through rice paddies will take you to this picturesque waterfall.
For tips on getting to Lake Sebu and touring the area and the Seven Falls please go to this page.
Rating:
0 people rated this.