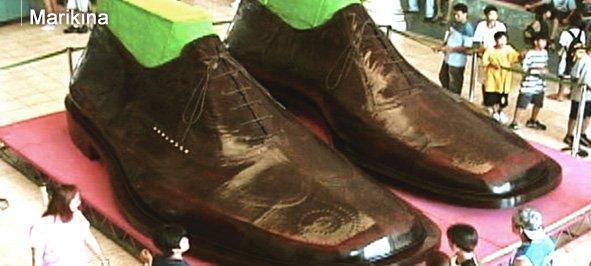 Do you want to try the largest shoe in the world? Head up to the City of Marikina where the largest shoes ever in the world is found. Officially recognized and certified by the Guinness Book of World Records, the pair of shoes measure 529 centimeter (5.29 meters) long, 237 centimeters (2.37 meters) wide, and is made of genuine leather.

The upper lining of the shoe took 77 days to finish, from August 5, 2002-October 21, 2002. Due to its sheer size, it was built at the Marikina Sports Center. Upon completion, the shoes were displayed at the entrance of the Sports Center, and then later transferred to the Marikina Riverbanks where it is located until present.

Did you know? If you are a person 125 feet high, then the shoe will fit you. The shoe can fit 30 people and can produce 250 pairs of regular shoes from the materials used.

Do you want a glimpse of the shoe? You can see the shoes by visiting the Marikina Riverbanks Center. It's at the far end of the mall and beside several shoes on display for sale.
Getting around
Currently, elevated light rail systems run through Marikina City. The first or last station of LRT 2 is Santolan located along Marcos Highway. The station connects to Claro M. Recto Avenue in Manila.
Public transportation within the city, like in most of the urban areas in the Philippines, is facilitated mostly using inexpensive jeepneys and buses. Tricycles (motorbikes with an attached two seater carriage) are the usual transportation used for short distances, while Taxi cabs are used by the upper middle class. The roads are organized around a set of long narrow and circumferential roads that radiate and circle in and around the city.

Rating:
1 people rated this.