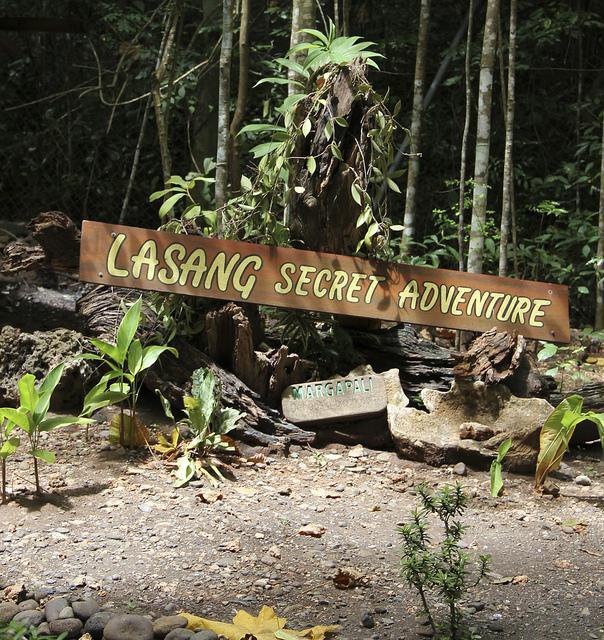 Lasang is located in the town of Initao, Misamis Oriental. It is part of the Initao-Libertad Protected Landscape and Seascape and the newest tourist attraction in the province. The park is managed by the Region 10 Provincial Tourism.
Lasang Secret Adventure Park has an old myth. It is believed that the forest is the home of "Apo" or spirits, which dwell in the thick and vast forest floors and anyone who dares to enter the area will never come back. But then, it is only a myth! And once you visit the place, you will appreciate its beauty and realize that Mother Nature is indeed generous.
Lasang Secret Adventure Park is Misamis Oriental's adventure surprise to its visitor. At the entrance of Lasang, you will see Rosalinda. It is a female monkey that greets all the visitors entering the vicinity of the place. The "secret mountain" has a zipline, five hanging bridges, and a 100-meter board with an 80-foot spiral staircase. Because of this, it is possible for visitors to explore and experience the "inner sanctum" of Lasang which is predominantly characterized by century-old and naturally-grown trees. You will also have a chance to see its wildlife.

The park has a tarsier, considered as the world's smallest monkey, and hundreds of long-tail macaque monkeys. This place is also a home for many endangered animals like monitor lizards (palao), flying lemurs (kagwang), and chicken-like dark-brown fowls known as megapodes (kahael). Imperial pigeons (bawod), native doves (alimokon), emerald doves (manatad), and serpent eagles are the rare birds that can be seen in Lasang.
The entrance fee to the park is 250php for adults while students and senior students have 20% discount. So, pack your bags now and head up to Lasang!
Rating:
0 people rated this.