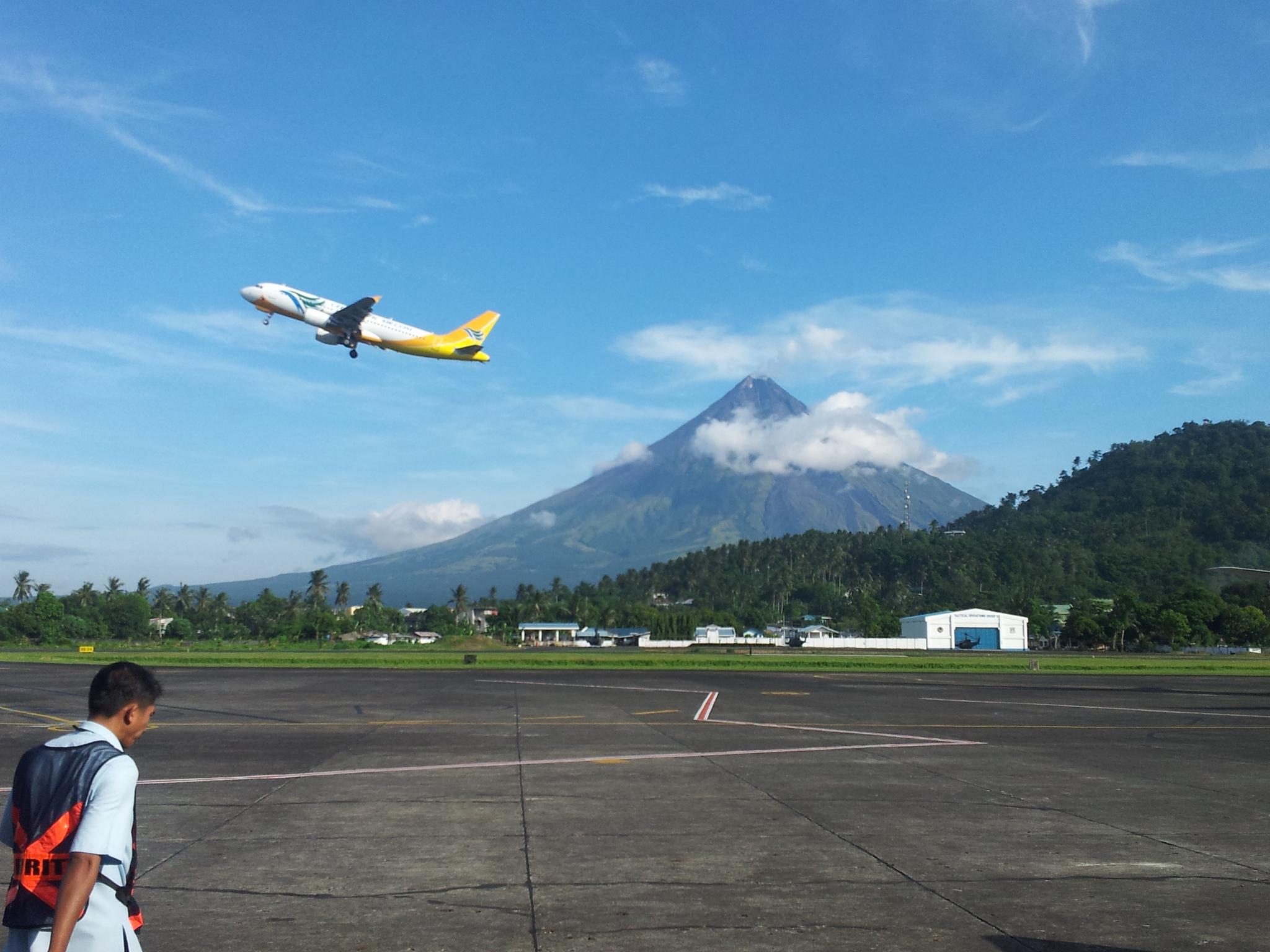 Legazpi Airport in the Philippines is a major airport in the Bicol Region, serving the vicinity of Legazpi City in Albay. It has a single runway with dimensions of 2280 x 36 meters, longer than those of the former airports of Bacolod City (1958 x 30 meters) and Mandurriao in Iloilo City (2100 x 43 meters), the airport can handle medium-sized civilian jets and military aircraft.
Legazpi Airport Panorama

History
The jet age came to Legazpi in the late 1960s, and by the '70s Philippine Airlines (PAL) introduced regular service to/from Manila using British Aircraft Corporation's BAC 1-11's. In the late 1980s, PAL introduced Boeing 737-300s. YS-11's provided airlink to Mactan, Cebu, Masbate, and Virac. When PAL phased out the YS-11's and the short-lived Shorts SD-360 'Sunriser,' Fokker 50s replaced them. Prior to the debilitating labor strike in 1998 which caused PAL to temporarily cease operation, Legazpi Airport served as the airline's hub in Bicol, serving Manila, Cebu, Masbate, Virac, even Catarman, Samar. Today, it serves not only local clients but also transient passengers from southern Camarines Sur and the province of Sorsogon.
Aside from PAL, Filipinas Orient Airways and Air Manila International served the airport prior to 1972, the declaration of Martial Law in the Philippines. Through the years, other airlines came and went: Air Philippines for some time served Legazpi with YS-11's and 737-200s. Asian Spirit served Pili for flights to/from Manila and Cebu and has since ceased operations with six million pesos in collectibles from local (Naga or Pili) franchisees. Asian Spirit might introduce flights to Legazpi aside from its sectors in Virac and Masbate. At present, Aboitiz also regularly calls on Legazpi. South East Asian Airlines, using the 19-seat LET-410, plies Cebu-Legazpi-Cebu Mondays and Fridays.
When Pope John Paul II visited the Philippines in 1981, his itinerary included Legazpi City. The Papal plane was a chartered PAL Boeing 727 tri-jet. President Ferdinand Marcos arrived in his own jet; First Lady Imelda, and the then-Minister of Defense, Juan Ponce Enrile, arrived with their own retinues on separate jets.
In the mid-1990s a Harrier jump jet of the US Marines made an emergency landing here. Nearby Alicia Hotel housed the unexpected guests for days while the aircraft was being repaired. During that time, day and night, the airport site became an aviation museum of sorts with curious on-lookers taking a glimpse at the heavily guarded fighter plane, exactly the same piece used in the Schwarzenegger film True Lies.
In February 2000, during a lull in nearby Mayon Volcano's eruption (which suspended regular commercial service), a chartered Boeing 727 tri-jet from Guam landed, bringing relief goods for evacuees.
On September 15, 2001, coming home from her state visit to Japan, President Gloria Macapagal-Arroyo flew to Legazpi non-stop from Tokyo using a chartered PAL Airbus A320, highlighting the capability of the airport to handle international air traffic. On November 26, 2003, a Cebu Pacific DC-9-32 brought delegates to the Philippine Institute of Certified Public Accountants (PICPA) delegates on a charter flight from Cebu.
Airlines and destinations
Airlines Destinations
Airphil Express Cebu, Manila
Cebu Pacific Cebu, Manila
Philippine Airlines Manila
Zest Airways Manila
List of some of the accommodations in Albay
Alicia Hotel - F. Aquende Drive, Albay District, Legazpi City

Casa Eugenia Hotel and Restaurant - Tagas, Tabaco City

Hotel Casablanca - Peñaranda Ext., Legazpi City

Hotel La Trinidad - Rizal St., Legazpi City

Hotel Venezia - Renaissance Gardens, Washington Drive, Legazpi City

Pepperland Hotel - Airport Road, Legazpi City

Jennifer's Garden Apartelle - J. Estevez St., Albay Dist., Legazpi City

Hotel Victoria - Rizal St., Legazpi City

Avenrose Suites - Washington Drive, Legazpi City

Cliffstone Inn - Lidong, Sto. Domingo, Albay

Ibalong Travelers Hostel - BDB Bank Bldg, 210 J.P Rizal St

Divine Tourist Inn- A. Luna St., Divino Rostro, Tabaco

Neuhaus Tourist Inn - Magayon Dr., Daraga, Albay

Sambitan Tourist Inn - Diversion Road, Ligao, Albay
Getting there
By Air
Airlines from Manila have daily scheduled flights from Legazpi City to Manila and vice versa.
Manila to Legazpi City

Legazpi City to manila
By Land
Several aircon tourist bus companies ply the Manila-Legazpi route daily, an average nine-hour travel time, passing through scenic roads.
By Rail
By train, the average travel time is 16 hours via the Philippine National Railway, the country's sole train transport service.
By Sea
Several shipping lines offer regular trips from the Visayan region to the island province of Masbate to Albay via mini ports of Pilar and Donsol, Sorsogon.
Getting Around
Buses and jeepney's are generally the main mode of transportation in getting around Albay's destinations. Pedicabs and tricycles are also available for short distance travels. Taxis and rent-a-cars are also available.
Rating:
2 people rated this.