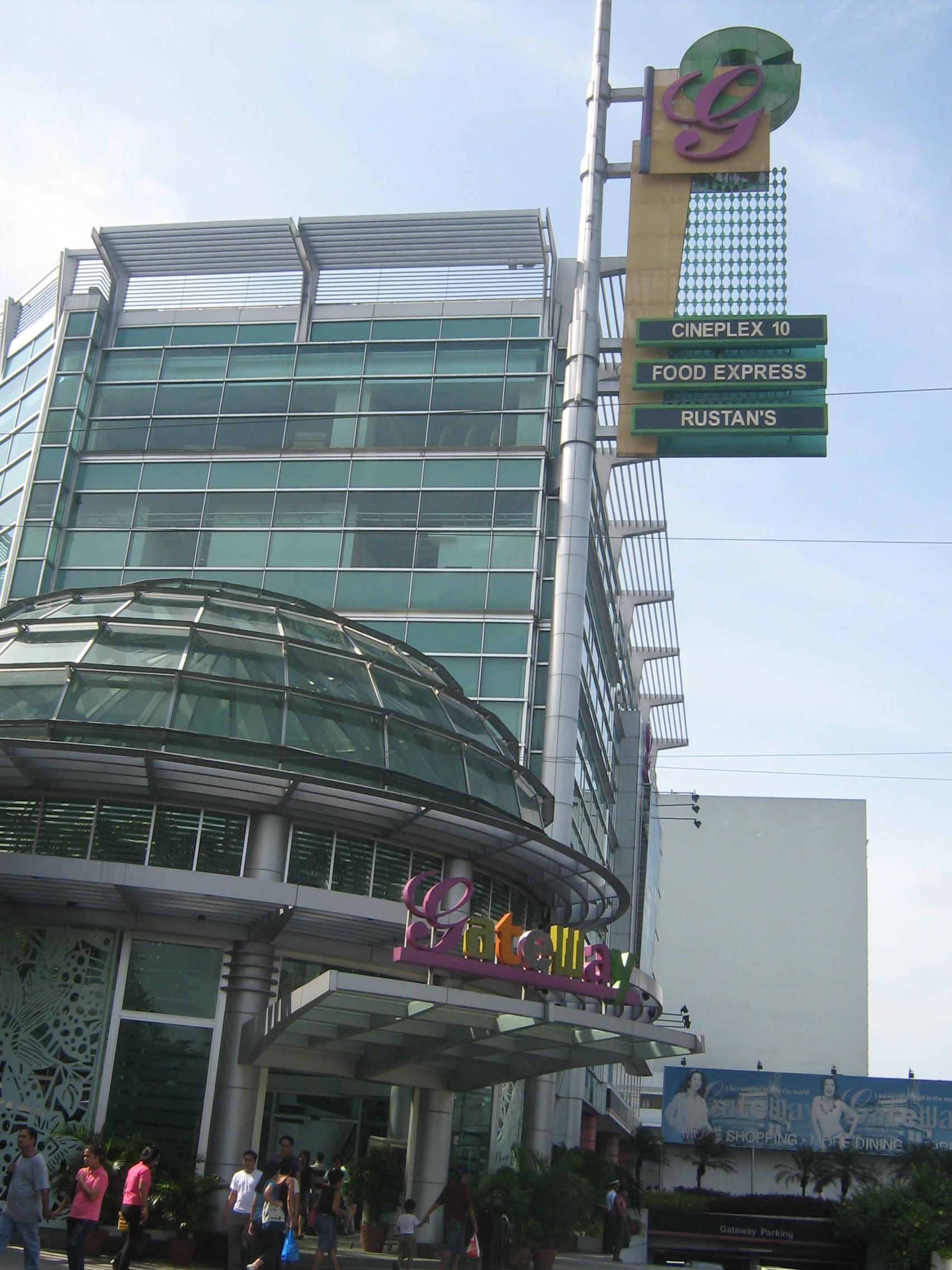 Gateway mall at Araneta Center
The Araneta Center is a 35-hectare commercial area in Quezon City, Philippines. Araneta Center Inc. (ACI), controlled by the Araneta family, is the owner, developer and manager of Araneta Center, which brings in an estimated 1 million visitors daily. The centerpiece of the complex is the Araneta Coliseum (renamed Smart Araneta Coliseum in 2011), the largest entertainment venue in Asia with a seating capacity of 15,000. It opened as the world's biggest indoor arena in 1960.
The Araneta Center is currently being redeveloped into a mixed-use area that will integrate residential and office buildings to a redeveloped shopping and entertainment complex. In 2004, ACI's landmark project, the Gateway mall opened its doors to the public. Gateway forms part of the redesign of the Araneta Center. The Center itself is undergoing a massive 20-year redevelopment plan. Walkway structures for railway transit line commuters have been constructed to serve as an all-access way for shoppers to roam freely around the complex.
Araneta Center at Night

Notable Establishments
Gateway Mall comprises five levels of shopping, dining and entertainment. Gateway has 10 cinemas with digital sound and full stadium seating including the first La-Z-Boy theater in the country; "The Oasis," a one-of-a-kind[citation needed] interior floating garden open to the sky; and the Fabergé Egg-like "Pavilion" which serves as Gateway's ceremonial entrance.
The Gateway Tower is a 30 level office skyscraper adjacent to and directly connected on 4 levels to the award-winning Gateway Mall.
Aside from its location, The Gateway Tower will possess 80,000 square meters of office space, ceilings that exceed the height of most other office buildings, as well as 5 levels of retail and 3 levels of basement parking.
Ali Mall is the first fully enclosed shopping mall in the Philippines. Named after famed boxing champion Muhammad Ali, it has a total area of over 62,000 square meters and houses four levels of specialty shops, entertainment outlets, designer boutiques, five cinemas, Ali Mall Movie Guide parking, and a food gallery. Ali Mall
• Over 250 stores anchored by Handyman, Mercury Drug, National Bookstore & Rustan's Expresslane. • Food Strip and Food Gallery offering a variety of food choices: Gerry's Grill, The Classic Savory Chicken,Pancake House, Tokyo Tokyo, Max's Restaurant, and many more • 5 cinemas Ali Mall Movie Guide ( • Integrated multi-level carpark
Farmers Plaza is Araneta Center's gateway to EDSA.[clarification needed] Renovated and expanded in 1999, the five-level complex is the first ever commercial condominium in the Philippines. Farmers Plaza offers 60,400 square meters of prime retail space occupied by cheap merchandise outlets.
A 5-level shopping complex with a mix of international and local shops, dining outlets and entertainment facilities.Farmers Plaza
• Over 230 stores anchored by Rustan's Xpresslane, National Bookstore, Handyman, Mercury Drug & Value Point. • Directly linked to the MRT-3 station • Located along Metro Manila's 2 busiest thoroughfares: EDSA and Aurora Boulevard • Mall Hours: 10am to 9pm.
Farmers Market is a market selling fresh produce and other goods. It has a total floor area of 12,000 square meters.
Commanding a view of the metropolis is the 22-level Aurora Tower. It offers an 18-storey commercial/office space, underground parking, a helipad and penthouse. The Isetann Department Store occupies the building's first seven floors. The Araneta Group's headquarters occupies the four top floors.
Soon to rise on the South East quadrant of the Araneta Coliseum is Novotel Manila Araneta Center, a deluxe business hotel connected to Gateway Mall. Located in the center of the business and entertainment districts of Quezon City, the hotel will have 417 rooms, a 1,000 capacity ballroom, a gym, a bar lounge. Plus all-day dining, spa, swimming pools, and 3 levels of basement parking. The hotel will also offer function rooms.
Araneta Center Master Plan
The Araneta Center Master Plan will mix retail, entertainment, commercial, hotel and residential uses in a complementary, transit oriented development pattern within lush "garden city" environment that will attract a wide range of public and private activities.[citation needed]
Integrated into the whole development will be an information technology backbone that will provide communications, networks, utilities, and other technology support facilities.
Where to stay
Here is the list of some of the accommodations that can be found around the city of Quezon. It offers good services and comfortable rooms for all visitors.
Imperial Palace Suites - Timog Avenue Corner Tomas Morato Avenue, 1103 Quezon City

Torre Venezia Hotel - 170 Timog Avenue cor Scout Santiago St.,, 1100 Quezon City

Dangay Suites - 99-A Dangay Street, 1105 Quezon City

Eurotel Araneta Center, Cubao - General Araneta Corner General Roxas Streets, 1109 Quezon City

The Sulo Riviera Hotel - Matalino Road, Diliman, Quezon City

Sir William's Hotel - 39 Timog Avenue, 1103 Quezon City

Lemon Tree Inn - 18 Scout Magbanua Street near corner of Quezon Avenue, Barangay Paligsahan,, 1103 Quezon City

Robbinsdale Residences - # 14 Araneta Ave. corner Palanza St., 1113 Quezon City

Mezza Residences Condote - Aurora Boulevard Corner Araneta Avenue, Guirayan Street, Barangay Dona Imelda, 1000 Quezon City

La Breza Hotel - Mother Ignacia St., 7876 Quezon City

Crowne Plaza Galleria Manila - Ortigas Avenue corner ADB Avenue, 1100 Quezon City

Eastwood Richmonde Hotel - 17 Orchard Road, Eastwood City, Bagumbayan, 1110 Quezon City

Stone House Bed and Breakfast Quezon City - 1315 E. Rodriguez Avenue, 1100 Quezon City

Fersal Hotel - Annapolis - 49 Annapolis Street, Cubao, 1100 Quezon City

The Oracle Hotel - 317 Katipunan Avenue, 1600 Quezon City
Getting around the city
Public transportation within the city, like in most of the urban areas in the Philippines, is facilitated mostly using inexpensive jeepneys and buses. Tricycles give access to more secluded areas, while taxi cabs are available to navigate any course.
This City has 3 Circumferential Roads. The following are:
C-3: Sgt. Emilio Rivera Avenue and Araneta Avenue

C-4: Epifanio de los Santos Avenue or EDSA

C-5: Mindanao Avenue, Tandang Sora Avenue, Congressional Avenue Extension, Katipunan Avenue and E. Rodriguez Avenue
Railway
Currently, two elevated light rail systems and one heavy rail system run through Quezon City: LRT 1 – at EDSA (C-4) connecting North Avenue and Baclaran (Manila) LRT 2 – at Aurora Boulevard (R-6) connecting Santolan (Pasig City) and C.M.Recto Avenue (Manila), and MRT 3 – at EDSA (C-4) from Taft Avenue (R-2 in Pasay City) to North Avenue.
An elevated rail transit system (MRT-4) that was supposed to follow the general alignment of Quezon and Commonwealth Avenues (R-7) was shelved. In its place, a 22 kilometer rail system will be built. The MRT-7 project will commence at North Avenue, connecting the MRT-3 at its northern terminus. It will then go through Commonwealth Avenue, then through Regalado, Quirino Highway, ending in San Jose del Monte, Bulacan. The system has a proposed spur line to connect itself to MRT-2 in Katipunan, passing through the University of the Philippines Diliman and Katipunan Avenue.
The following elevated railway stations in the city (Only 13 Stations):
MRT-3 (with 5 Stations):

North Avenue- (Connected to LRT-1 Yellow Line)

Quezon Avenue

Kamuning

Araneta Center-Cubao- (Connected to LRT-2 Purple Line)

Santolan

LRT-2 (with 5 Stations):

Gilmore

Betty Go-Belmonte

Araneta Center-Cubao- (Connected to MRT-3 Blue Line)

Anonas

Katipunan

LRT-1 (with 3 Stations)

Balintawak

Roosevelt

North Avenue- (Connected to MRT-3 Blue Line)
Rating:
1 people rated this.