Constantly driven to hone young minds and prepare students to achieving their professional goals, the Manuel L. Quezon University (MLQU) recently held its 69th Commencement Exercises honoring graduates across all academic programs. This year's ceremony highlighted the outstanding metamorphosis of the MLQU students into becoming catalyst of change and visionaries of the future.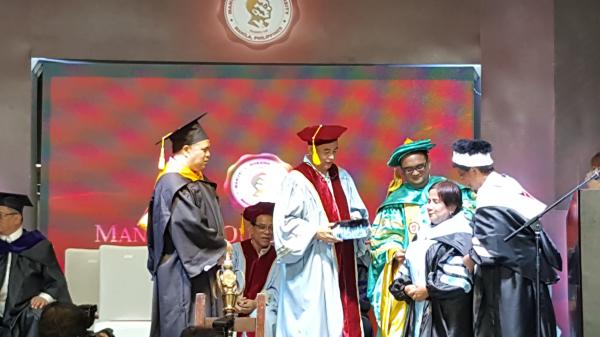 As the country's future enablers and leaders, the university's newest batch of graduates are expected to carry MLQU's ethos in making a positive impact to society
"Your graduation is your most successful achievement as a young adult and a result of your years of hard work and dedication to your studies. As graduates, you are now part of the country's richest resource. We are very proud to each and every one of you", said MLQU President Isagani G. Germar.
"In the years that MLQU has been your second home, this institution has prepared and honed you to be the best version of yourselves and be the catalyst for change. As you face the world beyond the four walls of this university and seek out triumphs, never doubt yourself. You are the key to making the unbelievable, believable and the impossible, possible'', noted Germar while addressing the graduates.
Gracing this momentous event were Congressman Sonny Belmonte and former Vice President Noli de Castro who delivered the commencement address.
Since its inception in 1947, the university has given its graduating students a special treat after years of hard work and determination in MLQU. In 2015, the MLQU 67th Commencement Exercises with the theme "MLQU welcomes the Nation Builders" highlighted the excellent graduating students of the university who gave a remarkable contribution to the nation. The 68th Commencement Exercises 2016, on the other hand, recognized past President Benigno S. Aquino III by giving him an honorary degree of Doctor in Public Administration (Honoris Causa).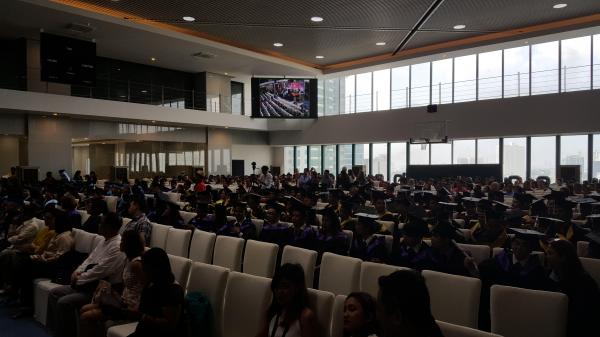 Since 2014, when property developer New San Jose Builders, Inc. (NSJBI) acquired ownership of MLQU, the university continues to create legacy for the Filipinos. The University made momentous transfer to Quezon City in August 19, 2016, corresponding with the 138th birth centennial of Philippine Commonwealth president, Manuel Luis Quezon. Dubbed "Quezon Is Home", the event features MLQU's symbolic move to continue its legacy from Quiapo, Manila, to QC with the unveiling of the late president's portrait done by National Artist for Painting Fernando Amorsolo which was housed for the longest time at the MLQU Quiapo campus.
The esteemed university's coming home to QC is timely as learning opportunities is made more accessible with the university's location along EDSA. Furthermore, its venerable set of course offerings are expected to consistently bring out the best refined
students in the country that is demanded by many different companies around the globe. "Wherever life brings you, MLQU will always be proud of all your successes. We know
that you will be influencers on that new path you are taking. Continue achieving greater things for the glory of God, for your personal successes, and for our Alma Mater. Shape the future and be the game changers now! Congratulations, graduates!" the university President concluded.
MLQU is continuously beefing up its roster of faculty members and deans who are known practitioners from their respective industry. Adding to the list of MLQU notable deans are former Chief Justice Reynato Puno, Regent & Dean Emeritus College of Law; former Supreme Court Associate Justice Jose Perez, Dean School of Law; Professor Eric Soriano, Dean School of Accountancy, Business and Real Estate Management; and DPWH Undersecretary Raul Asis and former UP Dean of Architecture Danilo Silvestre, special lecturers to name a few.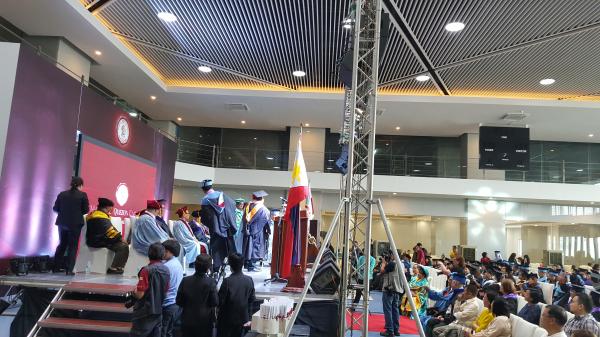 Alongside the enhancement of MLQU facilities and faculty, the basic education program for kindergarten to senior high will be offered at MLQU SPACE this coming June.
Visit MLQU SPACE for more information and inquiries about the latest courses and certification offerings or contact 09176759184 or (02) 215-3898. Visit the website at mlqu.edu.ph or its Facebook page at mlquofficial.
Rating:
0 people rated this.