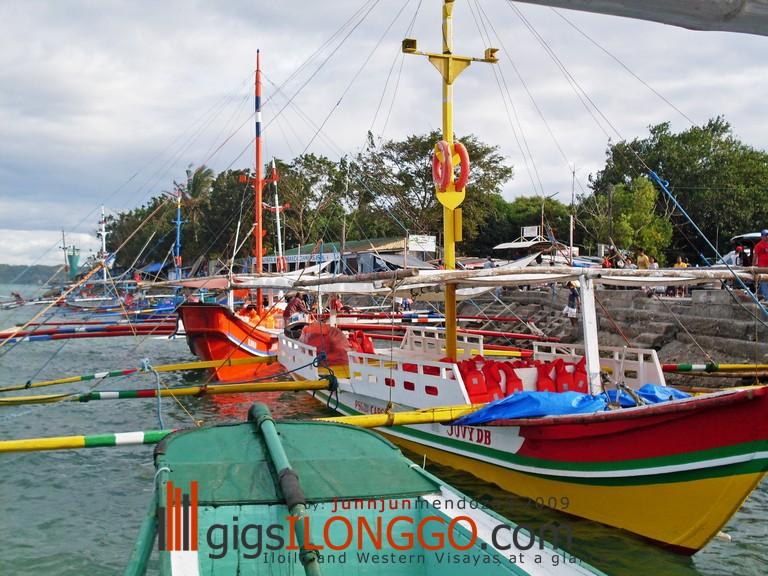 Overview
It is formerly known as "Buenavista Wharf". It was built by Lt. Douglas MacArthur in 1903 while on duty with the US Corps of Engineers. It was near this place where MacArthur, fresh from West Point Germany, was ambushed by guerillas who barely missed his head and perhaps could have changed the course of history.
The pre-war era saw the developments of Sto. Rosario. A certain engineering brigade of America troops extended hand of channeling roads from Sto. Rosario to sprouting barangays up northeast of Buenavista like Ambulong (Salvacion), Calingao (New Poblacion), and Camp Jossman Headquarter (Supang).
The said engineering brigade was manned by Douglas MacArthur, then 2nd lieutenant. They dug and raked mountains, dumped boulders of rocks, and scraped hillsides. They eventually were able to develop a port and a road stretching to a mountain at the right side of Sto. Rosario is linking it to Ambulong, Calingao and up to Punta Blanco (San Roque). Calingao would turn out to be the new seat of the municipality of Buenavista after World War II.
The existence of the roads and port was reason enough for houses to line up along the side of the road leading to the port (Punta Pantalan) and the population to grow tenfolds. Even people from other barangays migrated to Sto. Rosario. Surely, the presence of American troops was a sight to behold and to enjoy. A new lifestyle was emerging in Sto. Rosario. Barter trade with American ships in the Iloilo straight is very busy and alive. The proximity of the place to Iloilo City was a come-on to migrants. People could easily sail by a paraw back and forth to the city and to Sto. Rosario and be able to savor the excitement of city life. They could watch movies in a theater and eat in a restaurant, and the prospects of the ports, that of Sto. Rosario and Parola and the other side, are promises of a greener pasture.
Location
Sto. Rosario, Buenavista, Guimaras.
Where to Stay
Location: San Miguel, Jordan, Guimaras
Location: Islander Village, San Miguel, Jordan, Guimaras
Location: San Miguel, Jordan, Guimaras
Location: Mclain, Buenavista, Guimaras
OLP-Trappist Monastery Guest House
Location: San Miguel, Jordan, Guimaras
Location: Dolores, Nueva Valencia, Guimaras
Where to Dine
NVDS Refreshment/ Tita Nels Refreshment
Location: Mclain, Buenavista, Guimaras
Gladys Refreshment (Carinderia & Videoke)
Location: Rizal, Jordan
Paul and Michelle Kitchenette
Location: Rizal, Jordan
Toms Place Bar and Refreshment
Location: Hoskyn, Jordan
Location: Rizal & San Miguel, Jordan
Victors Restaurant 7 Fastfood Center
San Miguel, Jordan
Location: San Miguel, Jordan
How to Get There
Iloilo City is the gateway to Guimaras. Guimaras can be reached by air and boat from Manila and other origins, via Iloilo City and by pumpboat in Pulupandan, Negros Occidental. The island province is 20-30 minutes by motorboat or ferry boat from Parola, Ortiz, Muelle Loney or Lapuz Wharves in Iloilo City. Direct travel to Guimaras is possible by light planes, which can land at the Guimaras Feeder Airport.
Jeepney and tricycles are also available as a mode of transportation when touring the province from one town to another.
Check the Guimaras Official Website for more informations about the transportation schedules and locations.
Rating:
0 people rated this.