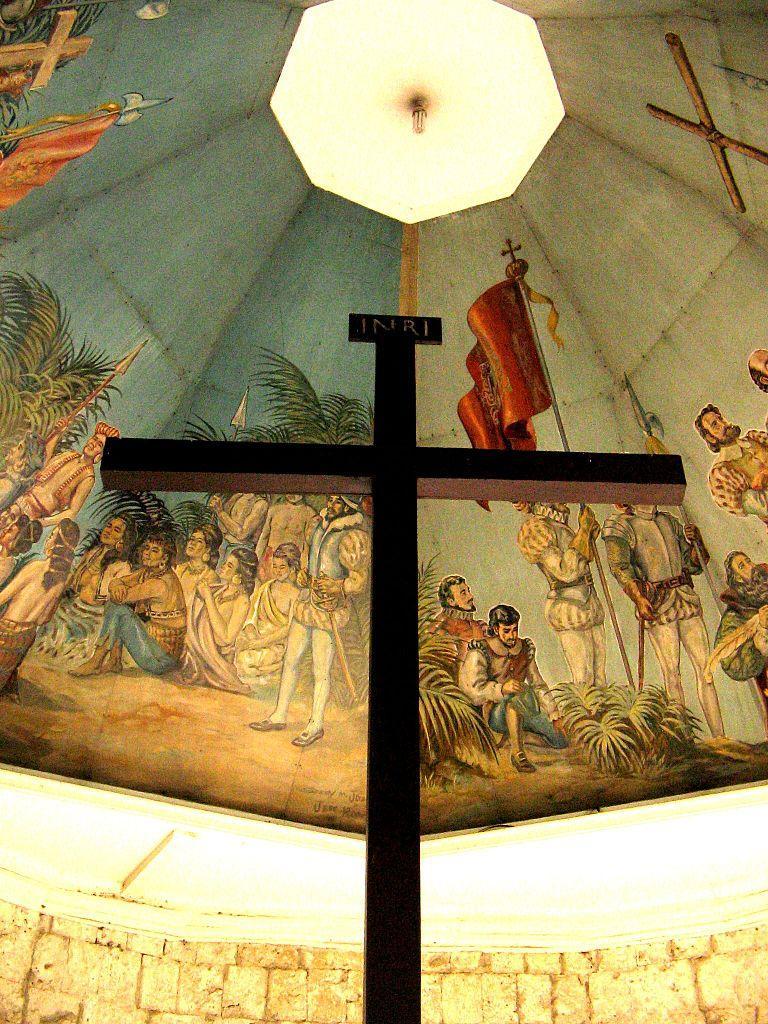 Magellan's cross is a Christian cross planted by Portuguese and Spanish explorers led by Ferdinand Magellan. They arrived in Cebu on April 21, 1521, spreading Christianity there, and consequently to the whole country. He was killed by Lapu-Lapu, the chieftain of Mactan Island, during the Battle of Mactan.
Magellan's cross is one of the most popular tourist attractions in Cebu City. The image and symbol of this cross can be seen in the seal of the city used by Cebu City Hall. The cross is kept in a small chapel in front of Cebu City Hall, next to Basilica Minore Del Santo Nino in the Magallanes Street, named after the Spanish last name of Magellan (Fernando de Magallanes).
When Magellan first arrived in Cebu, he was met and greeted by Rajah Humabon. At that time, they were not yet introduced to Catholicism. So, the King Humabon, his wife, and 800 natives were baptized by Father Pedro Valderama on April 21, 1521. It was the first Catholic mass in the Philippines. Magellan had a large cross staked up near the ocean in the name of Spain and the Catholic religion. The wooden cross signifies those events, and left an indelible mark; it depicts the rich and colorful history of Cebu.
It is believed that the existing cross is the replica of the original one, which was already destroyed. It is based on the sign that can be seen below the cross. The landing of Magellan in Cebu and the planting of the true cross has been painted on the ceiling of the kiosk, where the cross is now displayed.
Some people believe that getting a piece of the cross will protect them and give them good luck. They also make it as their personal "anting-anting" (charm). This practice is like attending different religious festivals where people use their handkerchiefs to wipe on the saints because it gives them luck, protect them and heal them.
All around the chapel are a lot of candle seller. Even if making and selling candles are just a small livelihood, they insist that they should continue selling because it's their family tradition.
Aside from Magellan's cross, two other tourist attractions can be found along Magallanes street: Fort San Pedro and Basilica Del Sto. Niño. Those three landmarks are closely related to each other in the Spanish colonial history of the country. The site is always open for guests who want to see it and there is no admission charge for it.
How to get there
From Manila there is a flight going to Cebu, which cost 1,600 – 2,500. From the airport, you can ride a multicab, jeepney, or taxi cab. Just ask the driver to drop you off Magallanes St.
Rating:
17 people rated this.