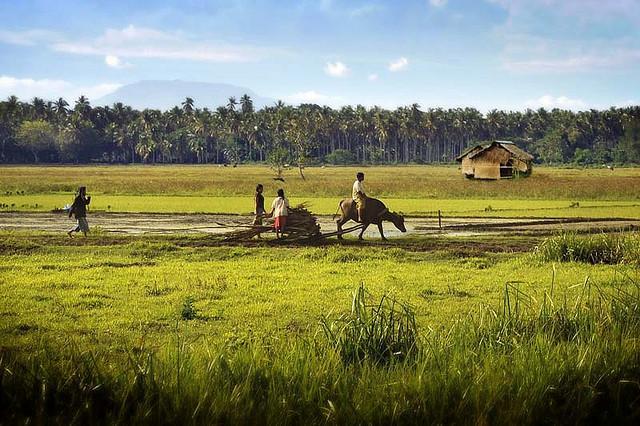 The landlocked province of Maguindanao is part of the Autonomus Region of Muslim Mindanao or ARMM. It is bounded by its neighboring towns Lanao Del Sur, Cotabato, and Sultan Kudarat. Maguindanao literally means "people of the flood plains" that occupy the Pulangi River. Sharif Aguak is its capital. It has 22 municipalities in its second district and Cotabato City as an independent component.
Maguindanao is predominantly Muslim. It can be pictured through their colorful mosques throughout the province. They practice Islamic beliefs. Crafting and weaving are one of the visual arts and crafts of the Maguindanao citizens. Their art prohibits the representation of animal and human forms in arts, and this led to the development of an abstract form of artistic carvings on wood, weaponry, musical instruments, and textiles. The musical instrument kudyapi, kampilan knife, and tube skirt or malong are examples of Maguindanao arts and crafts. Batik shirts, which became popular in the 70s and 80s and still worn by many today because of its colorful abstract summer representation and cool woven texture, are also made by the artistic hands of Maguindanao citizens.
Muslims People

The main livelihood of the province is farming, fishing, and mining. A huge supply of the tastiest and meatiest crabs and prawns may be found at Cotabato City, billed as the "Land of Crabs in the Philippines".
The province also boasts of huge natural resources and well-preserved environment. Part of the second longest river in the country is located in Maguindanao. The Rio Grande de Mindanao, also called the Mindanao River, is about 232 miles (373 kilometers) long. It starts in the mountains of Impasug-ong as the Pulangi River, and flows into the Moro Gulf. Cotabato City and Datu Piang are two other cities located along this river. This river is important to the local economy, as many agricultural products and timber are shipped via its waters.
Rio Grande de Mindanao

Maguindanao also pride themselves of celebrating their yearly festival. Shariff Kabunsuan Festival is the famous festival celebrated annually in the province in honor of the arrival of the Arab Missionary, Shariff Kabunsuan, who spread Islam in the province. Guinakit is a fluvial parade of colorful vintas and boats reenacting the arrival of Shariff Kabunsuan and his heroism.
Image of Mindanao

Cotabato City, Maguindanao

--- :)
If you have yet to see Maguindanao, then start your very promising trip to paradise! Explore it and take a peek at one of the rich cultural legacies of the country – the Maguindanao Province!
Rating:
0 people rated this.