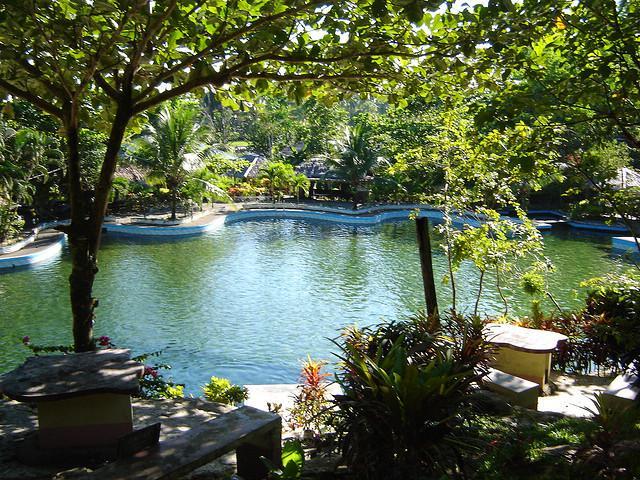 Location
Malinawa Cool Spring is located in Parang, Cantilan, Surigao del Sur. Cantilan is considered the "Cradle of Towns" in Surigao del Sur.
Overview
One of the tourist spots in the province is Malinawa Cool Spring. It is a naturally cold spring, and the area was enhanced and beautified by the local government. The spring was developed and turned into a resort for eco-tourism.
It is popularly known as "Silop" by the locals. It is also ideal in holding events because aside from the cottages in the resort, it also has a function room which caters special events. The management also allows overnight stays and accommodations.
There is a big pool and spa in the resort. The water from the pool is very cold and clear coming from the natural spring. The place is very serene and surrounded by green vegetation. It's very relaxing and comforting.
The very cool spring is surrounded by well-arranged big flat white rocks. The pool contains mineral water as it is welling from beneath the earth. Beneath the rock mountain is said to be a huge cave but because of the established swimming pool in the area, it is now hard to get in the cave.
Actually, the water from the spring is used to irrigate the nearby rice farm. Until today, the overflowing water still runs through the irrigation canal.
You can drop by here after a long exhausting day. It is budget friendly! So, if you want to have fun and enjoyment, you should try this beautiful place.
Venture to Surigao del Sur

From Manila, there are daily flights either to Butuan City, Surigao City, or Davao City which are entry poins to Surigao del Sur.

Gallery

Accommodations
• Muyco's Resort by the Bay - Tandag City, Surigao del Sur
• Shacene Pension House, Restaurant and KTV - Tandag City, Surigao del Sur
• Zyphora Garden Hotel - CANTILAN, SURIGAO DEL SUR
• Playa Pacifico Beach Resort - Tandag City, Surigao del Sur
• TJ Oasis Beachview Resort - CARRASCAL, SURIGAO DEL SUR
Rating:
0 people rated this.