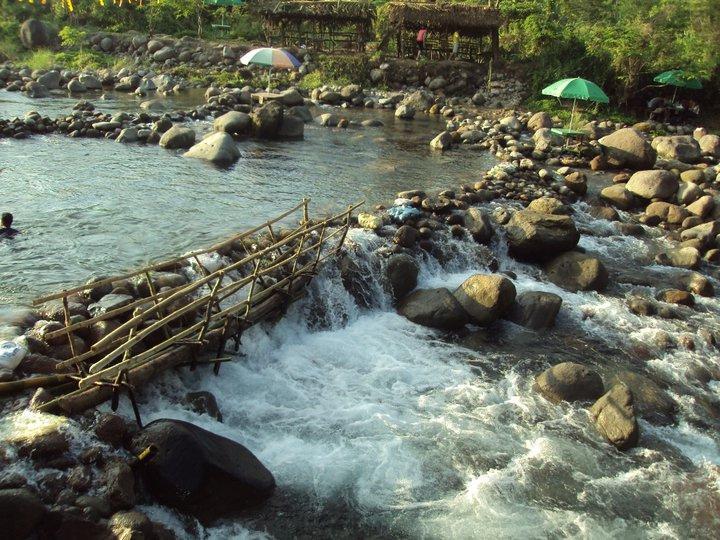 Camarines Norte is a province full of hidden surprises as most Filipinos have yet to discover the many untold wonders just waiting to be found. Unique attractions, like the Mampurog River, are just beginning to be discovered by visitors and they have never left disappointed.
Mampurog River is the most popular river resort in the province of Camarines Norte, which is located in San Lorenzo near the capital town of Daet. The river has deep, cold and crystal-clear water, z long-span hanging bridge, and lush foliage inherent in the place. The place is a very popular choice for swimming, excursions and picnics during summer. It is a good place to wade in and explore.
How to get there
By Land
Camarines Norte is about six hours' drive from Manila through lush forests and picturesque seascapes. Leave Manila before dawn and eat a sumptuous breakfast of native dishes in nipa huts along the highway. Drop by fruit vendors along the way and savor the place's most delectable fruit - the piña. Before noon, you'll be in Daet, the capital, in time for business or pleasure. You can ride a bus from different bus companies like Amihan, Superlines, and PhilTranco in the terminal located in Pasay and Cubao.
By Air
Camarines Norte can also be reached by air through the Pili Airport in Camarines Sur. Airline companies like Zest Air, Philippine Airlines and Cebu Pacific have routes from Manila to Pili, Camarines Sur. From the airport you can take a bus or a cab to Daet via Naga City, Camarines Sur's capital and home to Bicol's Patroness - Nuestra Señora de Peñafrancia.


Rating:
0 people rated this.