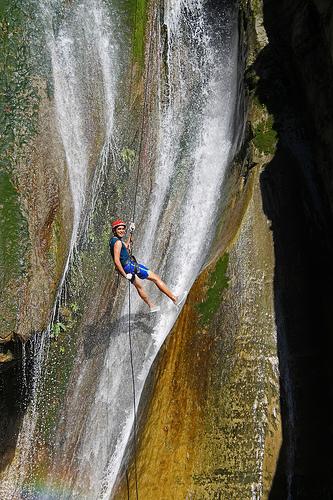 Rappelling at Mapawa Nature Park
The Mapawa Nature Park is one of the must-visit destinations in Cagayan de Oro City where both adventure and nature lovers are most welcome. It is the best adventure attraction in the city and it offers different kinds of fun outdoor activities to the curious and adventurous and presents the visitor with a spectacular view of Cagayan de Oro's pristine environment filled with lush forests, streams and landscape.
The fascinating Mapawa Nature Park is located just a few-minute ride from the Malasag Eco-Tourism Village. Visitors can find a small waterfalls in the area where they can enjoy swimming. There are also picnic tables set nearby under gigantic trees.
The Mapawa Nature Park offers many wonderful activities for its visitors, like:
A guided trek to the big waterfalls and a mini forest

Ziplining

Horseback Riding

Swimming

Camping

Rappelling

Group Activities
The area is open from Tuesday to Sunday, 9 am to 5pm, during weekdays and 7am to 5pm on weekends. The park also accommodates overnight stays for a minimum of 10 persons. Visitors should rent a car or motorcycles if you plan to visit the adventure park because there is no public transportation in the area.
Mapawa Nature Park is an ideal place for relaxation. It is also a perfect place for everyone especially for your family and barkada outings. Visitors shouldn't miss visiting this one of a kind attraction in the Philippine south.
Location

Mapawa Nature Park, Cugman, Cagayan de Oro City, Misamis Oriental, Philippines.
Accommodations
A number of accommodations can be found in the city that offer good accommodation and services to all travelers. Here is the list of some of the hotels in the city.
Hotel Koresco - Pueblo de Oro Golf Estates Airport Road, Lumbia, Cagayan de Oro

Pryce Plaza Hotel - Carmen Hill, Cagayan de Oro City

Chali Beach Resort - Cugman, Cagayan de Oro City

Coconut Bay Beach Resort - Baloy, Cagayan de Oro City

Country Village Hotel - Villarin Street , Carmen, Cagayan de Oro City

De Luxe Hotel - Capt. Vicente Roa St. , Cagayan de Oro

Demiren Hotel And Restaurants - Tiano-Kalambaguhan Sts., Cagayan de Oro City

Harbor Lights Hotel - Old Road, Gusa, Cagayan de Oro City

Hotel Ramon - T. Neri – Burgos Street , Cagayan de Oro City

Middleton Apartelle - Lirio Extension, Carmen, Cagayan de Oro City

Philtown Hotel - A. Velez – Makahambus St. , Cagayan de Oro

Ridge View Chalets - Xavier Estates, Airport Road , Upper Balulang , Cagayan de Oro City

Southwinds Hotel - Capt. Vicente Roa Ext., Cagayan de Oro City

Vip Hotel - Velez cor. Pacana Sts., Cagayan de Oro City

Cagayan Parkview Hotel - T. Neri St. , Cagayan de Oro City

Bonair Inn - Osmena St. , Cagayan de Oro City
Getting there

Cagayan de Oro is accessible by land, air and water transportation.
By plane
Lumbia Airport, often called Cagayan de Oro Airport, the airport serves flights from Cebu, Manila and Davao. Airline carriers such as Philippine Airlines, and Zest Airways and budget and regional carriers such as Cebu Pacific and Air Philippines.
By boat
Cagayan de Oro Port is a modern International seaport situated near the estuary of Cagayan de Oro River, it has an anchorage depth of 18 meters and is around 400 meters from the shoreline. It serves regular boat trips to and from Manila, Cebu, Tagbilaran, Bacolod, Dumaguete, Iloilo, Iligan and Jagna, Bohol. The port has two authorized cargo-handling operators and is one of the busiest seaports in the Philippines.
Super Ferry

Cebu Ferries

Trans Asia

Negros Navigation

Sulpicio Lines

Gothong Lines
By bus
Cagayan de Oro is quite sufficient when it comes to land transportation. You can easily roam around the city by any means of land transport. There are three integrated bus and jeepney terminals, which offer regular land trips:
Agora Integrated Bus Terminal offers regular land trips to and from Gingoog, Bukidnon, Kabacan, North Cotabato, Butuan, Surigao (in the Caraga region), Davao, Tacurong and Balingoan (ferry going for Camiguin). Recently, the terminal is on a huge renovation.
Eastbound-Gusa Jeepney Terminal offers regular land trips to and from the eastern towns of Misamis Oriental, Camp Philips, Libona and Manolo Fortich in Bukidnon.
Westbound-Bulua Integrated Bus and Jeepney Terminal offers regular land trips to and from the western towns of the Misamis Oriental including Laguindingan and El Salvador, Iligan, Marawi, Oroquieta, Ozamiz, Dipolog, Pagadian, Zamboanga and some parts of Western Mindanao.
From Davao, one bus every 30-60min, 7-10h duration depending on weather/traffic/road construction, multiples stop including lunch+diner break. Bus station is inside city market, few (mid/expensive) hotels nearby, jeepney R2 to Pesoria for a town center.
Getting Around
Bus, jeepneys, taxis, multi-cab and the motorela (similar to Thailand's tuk-tuk) are the main mode of land transportation within the city.
Rating:
7 people rated this.