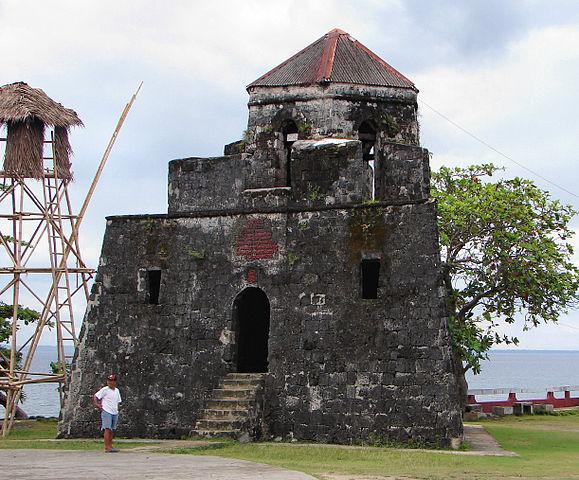 A scenic relic from the Spanish era, the Punta Cruz Watchtower has ardently observed the town of Maribojoc and the surrounding areas in its centuries of existence, serving as a landmark linking the town's present to its past.

Maribojoc Town was a fishing village when the Jesuit priests Juan de Torres and Gabriel Sanchez landed in Baclayon in 1595. The Maribojoc parish, officially known as "Parroquía de Santa Cruz," was founded in 1767 when the Jesuits left Maribojoc. The town was one of the nine big villages founded by the Augustinian Recollect friars when they took over in 1768. It was during the time of the Recollects that the foundation of the Maribojoc church was laid in 1798 on what was once a swampy land and was finished in 1816. At the back of the church is a flight of stone stairs built in 1864. Earlier, in 1796, the Punta Cruz watchtower was built as a lookout against marauding pirates.

Town of Maribojoc, in Bohol
Maribojoc Church

Punta Cruz Watchtower

The Punta Cruz Watchtower is a curious triangular watchtower which oversees the seas south of Bohol. From its windows at the top you can see Cebu, Siquijor, and Mindanao. The Spanish constructed it in 1796 as a lookout post against pirates and Muslim marauders who at that time where a plague to the people of Bohol.

Remnants of similar triangular towers can be found in a number of other places along the coast of Bohol, such as Panglao, Dauis, Loay, and on Pamilacan island, but this tower is the most intact.

Today the Punta Cruz watch tower still provides an excellent view. The site now offers a small stall for buying drinks and snacks and makes a good spot for a picnic and a swim, although you'll have to watch out when you climb on the very sharp rocks.

How to get there
A connecting flight to Tagbilaran is available every day and takes an hour or so. By boat it would take an entire day. From the Tagbilaran Integrated Bus Terminal in Dao, buses going to Tubigon can drop you off at Punta Cruz, then it is about 500 meters by foot to the watchtower.
Accommodations in Tagbilaran:

• The Peacock Garden - Upper Laya, Baclayon, Bohol, Philippines 6301
• Amorita Resort - Easter A. Lim Drive, Brgy. Tawala, Barangay Tawala - Panglao Island, Bohol, Philippines 6340
• Panglao Blue Water Beach Resort - Panglao Island, Danao Beach - Panglao Island, Bohol, Philippines
• Amun Ini Beach Resort & Spa - Bas Dako, Candabong, Anda, Bohol, Philippines 6311
• Eskaya Beach Resort and Spa - Barangay Tawala, Panglao, Bolod Beach - Panglao Island, Bohol, Philippines
Other Accommodations:

• Punta Cruz Diving Resort - Barangay Punta Cruz, Maribojoc, Philippines
• Nipa Hut Village Loboc - Valladolid, Loboc Near Maribojoc, Philippines
• Mabuhay Breeze Resort - National Highway 3778, Panglao Island Near Maribojoc, Philippines
• Hope Homes - Daorong, Danao, Panglao Island Near Maribojoc, Philippines
• Ocean Bay Beach Resort Cebu - Poblacion, Dalaguete, Dalaguete Near Maribojoc, Philippines

Rating:
0 people rated this.