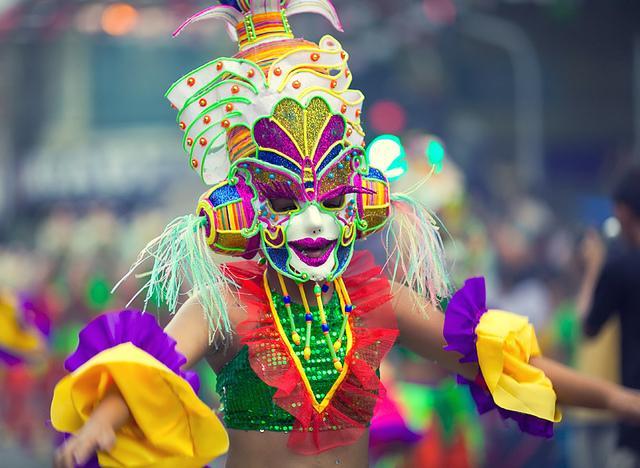 Bacolod City, the "City of Smiles," celebrates its annual MassKara Festival every October 1-20. The peak of this jovial event happens on the third weekend of October nearest to the 19th, the city's Charter Day.
A Hopeful History
It was supposed to be just some sort of a culminating activity to spice up a rather routinely civic-military parade, awarding ceremonies, and a literary-musical program for a city charter inauguration anniversary. However, the spearheads of this festival saw its true purpose of uplifting the morale of Bacoleños during the 1980s crisis and tragedy.
As the capital of Negros Occidental, the "Sugar Bowl of the Philippines," Bacolod suffered from a worldwide sugar crisis – a time when sugar production was very high while the price plummeted down – because of the introduction of sugar substitutes like high fructose corn syrup in the United States. Back then, sugar production was the lifeblood of all Negrenses and the crisis was a big blow to their livelihood.
April 22, 1980 was a date scarred by a great sense of loss and grief. Negros Navigation's luxury liner MS Don Juan, carrying many Negrenses, including those belonging to prominent families in Bacolod, collided with the tanker Tacloban City and sank. An estimated 700 lives were lost in the tragedy.
This depressing course of events led to the first MassKara Festival held in 1980. The original proposal was to hold an annual parade using masks to capture the crisis in Negros, but it was turned into a lively streetdancing and merrymaking festival. Therefore, the initial MassKara Festival was a loud statement that no matter how tough and bad the situation is, the people of Bacolod City would continue to struggle, survive, and triumph.
The Bacoleños' strong declaration of resilience had spoken for the whole Filipino population. In times of hardship and adversity, Filipinos always fight and survive… with huge smiles on their faces.
A Playful Etymology
The word "MassKara" is a portmanteau, a fusion of the words "mass" meaning "many or a multitude of people," and "cara" which means "face" in Spanish. A prominent feature of the festival is the mask worn by participants; masks are always adorned with smiling faces. MassKara thus means a multitude of smiling faces. The word is also a pun of "maskara", the Filipino term for "mask".
The concept of combining the English word "mass" and the Spanish word "cara" is a mind product of then Art Association of Bacolod president, the late Ely Santiago, with the support of the late city councilor and chairman of the Committee on Tourism, Romeo Geocadin, and former Negros Occidental Department of Tourism head and now city mayor of Bacolod, Atty. Evelio R. Leonardia.
Colorful Activities
The highlight of the MassKara Festival is the streetdancing competition where different dance troupes wearing glittery costumes and smiling masks dance, stomp, jump, pulsate, and gyrate on the major streets of Bacolod City. Also, the city's public plaza is transformed into a lively beer garden during this festival. Other major activities include the MassKara Queen beauty pageant, carnivals, drum and bugle corps competitions, food festivals, sports events, musical concerts, agriculture-trade fairs, garden shows, and other special events organized ad hoc every year.
A Festival Different from All Others
The MassKara Festival is here to stay, an icon for Bacolod as the City of Smiles. Today, with the more than four hundred fifty thousand Bacoleños giving their warmest smiles, MassKara becomes a festival of a thousand smiles per minute, projecting the Bacoleño's ability to smile, to be gregarious and charming, and to shoe their instinct to survive and triumph over trials and challenges. MassKara is neither history nor is it anchored on any historical, religious or cultural event. MassKara is simply his story – the Bacoleño as a human being whose innate capacity for goodness, happiness, and beauty is expressed in the sights, sounds, colors, and rhythms of people celebrating the might and bounty of the Great Creator.
How to Get There
By sea
From Manila, you can ride either of the three: Sulpicio Lines, WG&A Philippines, or Negros Navigation to get you to Bacolod.
By air
From Manila, Bacolod is just a 45-minute plane ride. Airline companies that have routes going to Bacolod are Philippine Airlines, Cebu Pacific, and ZestAir. A one-way ticket approximately cost 1,500-2,300 pesos.
Rating:
18 people rated this.